Exclusive: How Prince Harry and Meghan Markle's Royal Wedding is Changing Lives in India
While thousands across the globe wait in anticipation to watch Meghan Markle-Prince Harry's wedding ceremony, four members of an Indian charity foundation -- Myna Mahila Foundation -- will be at the biggest event of the year, sporting traditional Indian sarees.
With Meghan Markle and Prince Harry all set to tie the knot tomorrow in a lavish ceremony, self-taught London floral designer, Philippa Craddock, will design the blooms for the nuptials, even as all eyes are on London's St. George's Chapel in Windsor where the royal ceremony will take place.
And while thousand across the globe wait in anticipation to watch the ceremony on their television/mobile screens or for that matter on the streets of Windsor, four members of an Indian charity foundation will be at the biggest event of the year, sporting traditional Indian sarees.
Based out of Mumbai, Myna Mahila Foundation -- one of the seven foundations picked by Meghan Markle and Prince Harry for their wedding guests to donate money in lieu of traditional wedding gifts -- was established by 23-year-old Suhani Jalota in 2015, to 'create a network of young female entrepreneurs in urban slums that produce low cost, high quality menstrual hygiene products'.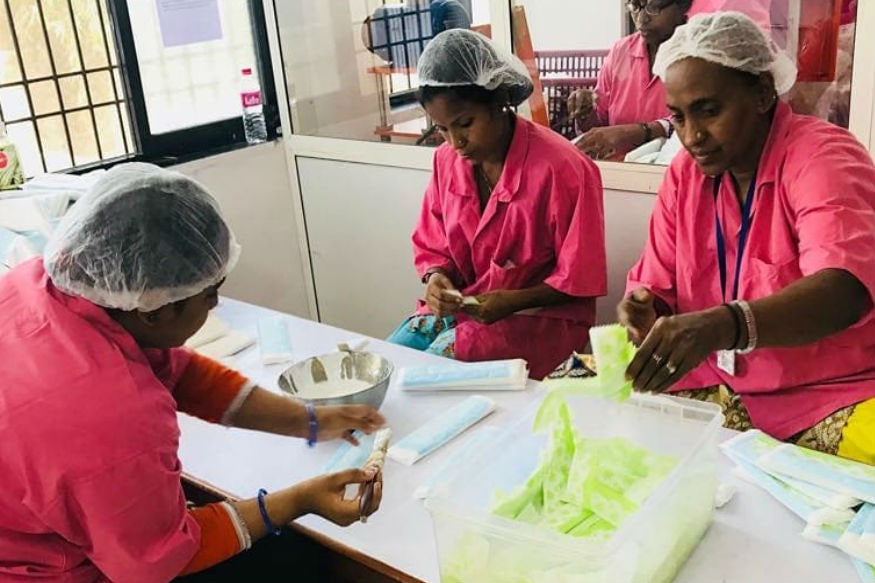 (Photo: Women entrepreneurs making low cost sanitary pads/ Myna Mahila Foundation Facebook page)
Almost three years later, Sunahi's Myna Foundation has grown by leaps and bounds.
And now, with global spotlight on the foundation, the young entrepreneurs are 'super excited' and 'honoured' about the opportunity.
So, before the representatives of Myna attend the big day, we spoke to founder Suhani Jalota about her reaction when she came to know about her charity being one of the seven, how she thinks this will help the foundation and the cause, and much more.
"We came to know about this a month before it was announced publicly, in March or so. We were super excited but at first it was just shock. All of us are really honoured to be a part of this," said Suhani Jalota in an exclusive chat with News18.com.
Speaking about how being one of the seven charities would help the foundation and its cause, Suhani told News18.com, "We have 2 million NGOs in India today. A majority of them are not as much civil society oriented or as working on the ground as one would like them to be. So, in that kind of a scenario there's a lot of credibility that is lost for the NGO sector which this kind of an association really helps us in establishing the importance of what we are doing and the credibility of the organisation as a whole."
"This has really helped and done for us is give us that support and pillar that now we could essential be able to build upon and know that as a global platform we have this credibility that will help people know what we are working on with women out in the slums is very important to look at. And not so just in terms if how we can expand our scope within the slums, now I think there's a lot more partnership and collaboration likely to happen," she added.
On the lighter side, talking about the interesting pick of attire for the big day (the dress code for the royal wedding is a day dress and a hat for females) -- Raw Mango sarees -- Suhani said, "We wanted to wear something that was more traditional and representative of India, because that is what we are representing there as well, so, we are all wearing sarees."
Speaking about choosing Raw Mango in particular Suhani said it was something they had wanted to be associated with because the brand espouses the vital need for bringing in the older traditions of Indian weavers from different parts of India to the forefront and yet doing it in a very minimalistic way, which in turns gives a employment to a lot of people.
Get the best of News18 delivered to your inbox - subscribe to News18 Daybreak. Follow News18.com on Twitter, Instagram, Facebook, Telegram, TikTok and on YouTube, and stay in the know with what's happening in the world around you – in real time.
Read full article