GET Stock

Quotes


AIFW SS '18: Milind Soman Talks About 'Deivee', Walking the Ramp After Years
The silhouettes used in the collection were inspired by the women of India and designed to offer maximum comfort from the treadmill to the dance floor.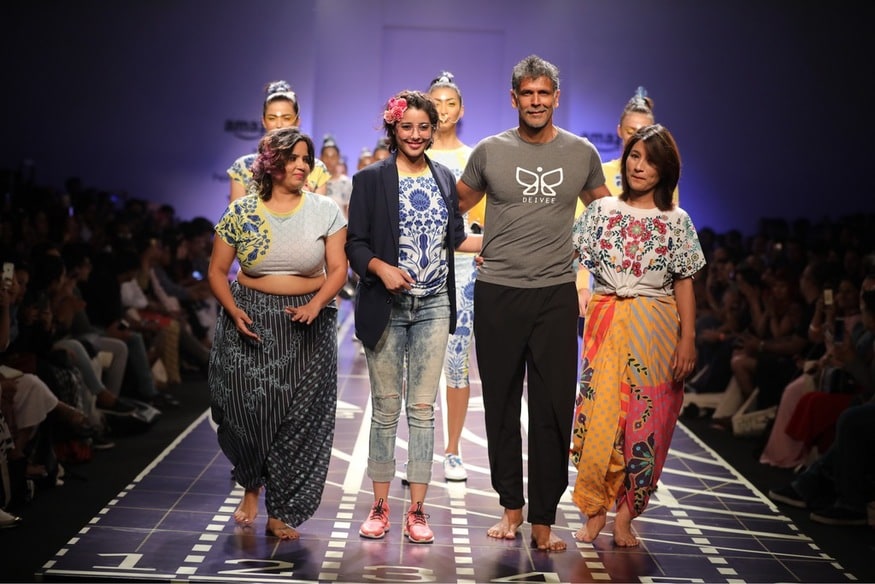 (Photo: W Five Communication)
India's first supermodel, actor, Pinkathon ambassador, fitness enthusiast and heartthrob of thousands of girls, Milind Soman, who is redefining fitness at the age of 51, returned to the ramp after a gap of nearly seven years at the Spring-Summer 2018 edition of Amazon India Fashion Week (AIFW) on Wednesday, only this time he showcased a collection in collaboration with designer Nida Mahmood for 'Deivee', an active lifestyle brand founded by him.
"The last time I walked the ramp was about 6-7 years ago. I felt good actually. It's like cycling or swimming that you never forget. The ramp was beautiful, right height, the lights were amazing and the audience was great, I could feel a lot of positive energy from them. It was nice. I loved it. I would like to do it again," said Milind Soman in an exclusive interview to News18.com at FDCI Amazon India Fashion Week when asked what was it like to be back on the ramp after so long.
When asked what was the idea behind Deivee, he said, "Because I am a runner and I had seen the kind of wave, awareness in the country that fitness is important, running is important, but I saw that women weren't running that much, so I started Pinkathon, which in turn got thousands of women running. I also noticed that one of the factors that women weren't running was the idea in their minds that if I am wearing saree, salwar-kameez because that is what I am comfortable in, maybe this (running) is not for me. So, we want to change that mindset. We have to be free in the way we think, that, it's not about clothes."
"We wanted to make sarees, kurtas more fun to workout in. It doesn't mean that if you are wearing regular sarees you can run," Milind added.
Nida showcased a collection that was a celebration of India and the Indian Woman. A collaboration between Nida and Deivee by Milind Soman, it was made of four distinct lines representing a region of the country and took inspiration from the region concerned's rich culture, colours and textiles.
Speaking about collaborating with Nida, Milind told News18.com, "We were looking at a designer to create a collection especially for something like a fashion week, otherwise, we have a regular collection for different kinds of action cities like yoga, running and so on. So, because we wanted to be here (AIFW), we wanted it to be extra stylish."
The silhouettes used in the collection were inspired by the women of India and designed to offer maximum comfort from the treadmill to the dance floor. Keeping the theme of inclusiveness and body positive imagery of brand Deivee, the range is designed for everybody.
Talking about the collection, Nida Mahmood, in an exclusive interview to News18.com said, "The endeavour is to create clothing which is not just for already fit looking women but it is meant for people who are shy to go out and exercise because they are worried what people will say. So, we have silhouettes that are meant for different body types. Also, we are doing running sarees for women who feel comfortable in sarees."
The highlight of the collection was that its made of 100 percent recycled plastic bottles. This sustainable leisure range also has the first-ever running sari, which ensures the collection is suitable for all Indian women across shapes, sizes and sensibilities. This collection is a true celebration of India and the beautiful Indian woman.
The showstoppers for the show were Mann Kaur, a 101 year old runner who holds the world record for 100 metres for her age category; Dolly Singh, a plus size Yoga teacher who promotes body diversity and body positivity; Anshu Jensempa, wWorld record holder who climbed Mt Everest twice within 5 days and V. Nanammal, a 98 year old yoga teacher.
Also Watch
| Edited by: Mugdha Kapoor Safaya
Read full article