Tasty treats! 7 recipes you can rely on for a no-fuss Holi party
From appetizers to desserts, these recipes are as special as the festival itself.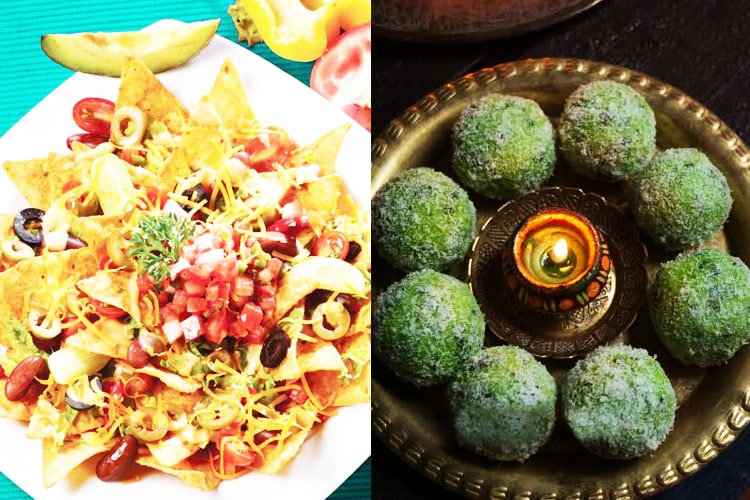 From appetizers to desserts, these recipes are as special as the festival itself.
In a few parts of India, Holi celebrations have already kicked off. However, for most of us there is a day to go for the much-awaited festival of love and colour. While most of your friends and family members are busy buying water guns, perfumed powders and Holi colours, you could think of whipping up some yummy dishes.
From appetizers to desserts, these recipes are as special as the festival itself.
Potato Cheese Shotz 
INGREDIENTS
Potato Cheese: 5
Fresh Parsley: 1 bunch
Cheese Slice: 1
Pineapple Slice: 1
Thousand Island Dressing: 2 tbsp
Black Olive: For garnishing
Red Pimento: For garnishing
METHOD
Cut pineapple and cheese slices into 1/2 inch pieces, keep.
Deep fry McCain Potato Cheese Shots for 2:30 min at 175° C
Slit into two lengthwise
Place a small leaf of parsley
Place a cheese slice topped with a pineapple slice
Desi Chatpata Nachos Bhel
INGREDIENTS
1 big packet of 150g Cornitos Nacho Crisps (10 Flavour Choice)
1 medium potato (boiled and diced)
1 tomato (diced)
1/2 capsicum (diced)
1 onion (diced)
1 medium cucumber (diced)
2 tbsp Imli Chutney
100g Chunky Salsa
50g Boiled Red Kidney Beans
1 tbsp Coriander Chutney
5-6 pcs of Sliced Jalapeño
Salt and chili to taste
Grated Cheese and Coriander Leaves chopped to garnish
METHOD
Take a bowl and mix all the ingredients except Nachos
Arrange Cornitos Nacho Crisps on to your serving platter.
Lay the mixture on it. Garnish with fresh mint and coriander leaves. Serve immediately.
Paan Ladoo
Recipe by By Chef Bhakti Arora, Sattviko, Image by food blogger Alaka Jena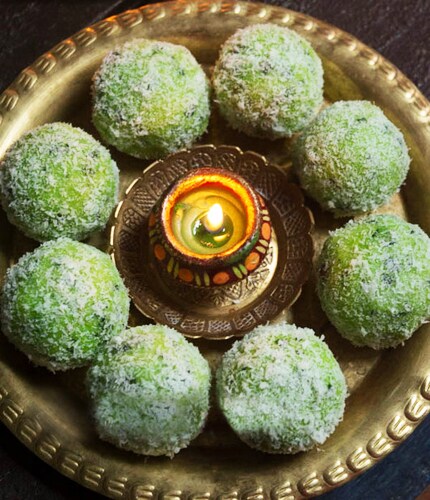 INGREDIENTS
Khoya / Mawa: 1/2 cup
Sweet Dry Petha: 2 medium size pcs
Grated fresh Coconut or dry coconut powder: 1/2 cup
Milk Maid / condensed milk: 3 tbsp
Crushed Fennel (saunf) : 1 tsp
Cardamom powder: 1/2 tsp
Cashews: 5 - 6
Paan (Betel) leaves: 6 leaves
Gulkand: 2 tbsp
Fresh rose petals for garnish
Cashews for garnish
For coating
Desiccated coconut: 1/2 cup
Khus syrup / concentrate: 1 tsp
Fennel powder: 1/2 tsp
METHOD
Grate the sweet dry petha pieces in a bowl. Add grated khoya & coconut powder. And mix well.
Add the condensed milk to the coconut & petha mixture along with crushed fennel seeds, cardamom powder & chopped cashews. And mix well
Wash and finely chop the betel / paan leaves and add the same to the laddu mixture. mix well and keep it in the refrigerator for 10 mins for the mixture to set well. so that the laddu can be rolled easily.
Take a small portion of the laddu mix and flatten it a bit in the centre of your palm.
Put 1/2 tsp of gulkand in the centre as stuffing and roll the laddu ensuring the gulkand remains in the center and doesn't come out.
Make smooth round laddu with gulkand stuffed center of the entire mix.
Now in another bowl mix desiccated coconut, khus syrup & fennel powder together. it will be slightly dry green colour mix.
Roll the stuffed laddu on to this khus & coconut mix. And top each laddu with half a piece of cashew.
Garnish with silver varq, fresh rose petals
Beetroot Gujiya
Recipe by Chef Shailendra Singh, Pride Plaza Hotel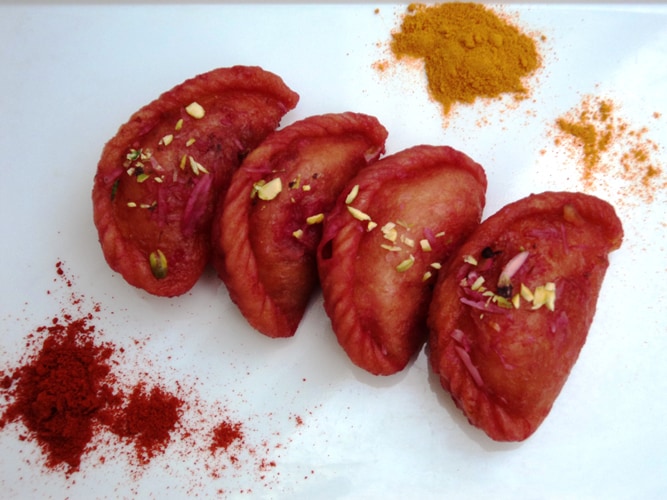 INGREDIENTS
Maida: 500gm
Ghee: 150gm
Water: 200gm
Mawa: 300gm
Badam: 20gm
Pista: 20gm
Salt: 5gm
Sugar: 300gm
Beetroot: 150gm
Beetroot juice: 100 ml
METHOD
Mash khoya and mawa. Roast it in a deep pan on medium heat till it turns pink.
Take it off the burner and let it cool. Add all the other filling ingredients to the khoya and keep aside.
To prepare the covering, sieve flour and salt and rub in five tablespoons of ghee. Add enough water and knead into firm dough. Cover it with a moist cloth and keep aside for fifteen minutes. Divide the dough into small balls and roll each ball into a small puri of four inches diameter.
Spread a puri on a greased gujiya mould and fill a tablespoon of the filling mixture on one side. Moisten the edges of the puri and fold one side of the mould over the other.
Press the edges and remove the excess dough and reuse. Prepare all the gujiyas and spread on a damp cloth
Heat sufficient ghee in a deep pan and deep-fry the gujiyas, in batches on medium heat, till they turn golden brown.
Drain onto an absorbent paper. Cool and store in an airtight tin
Barf Ka Gola
METHOD
Take soft sliced ice in a bowl
Mould it in a glass to get the right shape. Insert an Ice Cream Stick in the center
Take it out of the glass once ice has taken the desired shape and it's hard to hold the stick
Pour the desired Dessert sauce - chocolate, strawberry or/and peach, over it.
Holi Hurricanes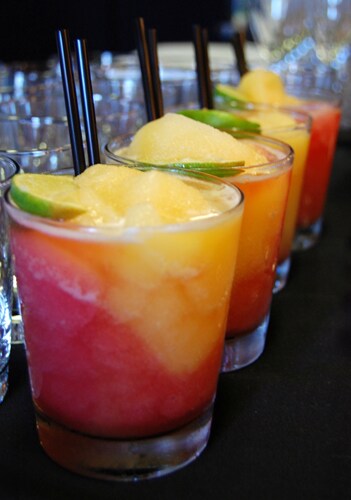 INGREDIENTS
1 cup melon, cut in pieces
1 cup pineapple, cut in pieces
1 cup mango, cut in pieces
1 cup strawberry halves (1/2 pint)
1 cup orange juice
2 tablespoons sugar (optional)
Crushed ice
METHOD
Place all of the ingredients, except for the crushed ice, into a blender and puree until mixture is smooth.
Add the crushed ice and continue to process until combined. Transfer to 4 tall glasses and serve immediately.
Attach is High Res picture too.
Fresh Kaffir Lime Leaf Thandai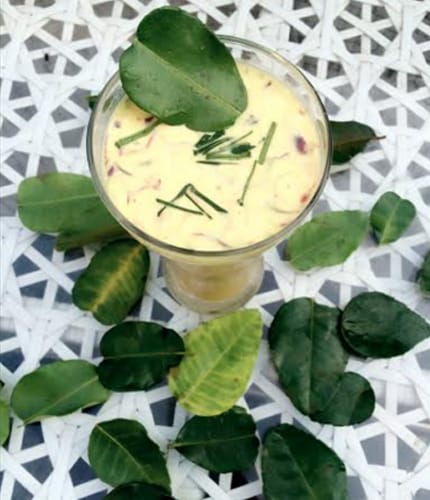 INGREDIENTS
Full cream milk 1 1/2 litres
Fresh Kaffir Lime Leaf: 6
Almonds blanched and peeled: 50
Pistachios blanched and peeled: 40
Melon seeds soaked: 3 tablespoons
Saffron: A few strands
Sugar: 1 cup
Green cardamoms: 8
Cinnamon: 1/2 inch stick
Black peppercorns: 10
METHOD
Grind together almonds, lime leaf, pistachios and melon seeds with a little milk to a fine paste. Bring milk to a boil in a pan. Add saffron and mix.
When the milk begins to boil add sugar and simmer till the sugar melts. Grind green cardamoms, cinnamon and black peppercorns to a fine powder.
Add the paste to the milk and mix well. Simmer for three to four minutes. Add the powdered masala to the milk and mix well. Chill the milk and serve.
Get the best of News18 delivered to your inbox - subscribe to News18 Daybreak. Follow News18.com on Twitter, Instagram, Facebook, Telegram, TikTok and on YouTube, and stay in the know with what's happening in the world around you – in real time.
Read full article