THE TIPPLING POINT | Alcohol Kills. Especially if You Mix Your Drinks With Stupidity
All of you have heard of Alexander the Great. But how many of you know what killed him? A few people say typhoid. A few others vote for yellow fever (AIDS became fashionable only later). Some others believe poisoning.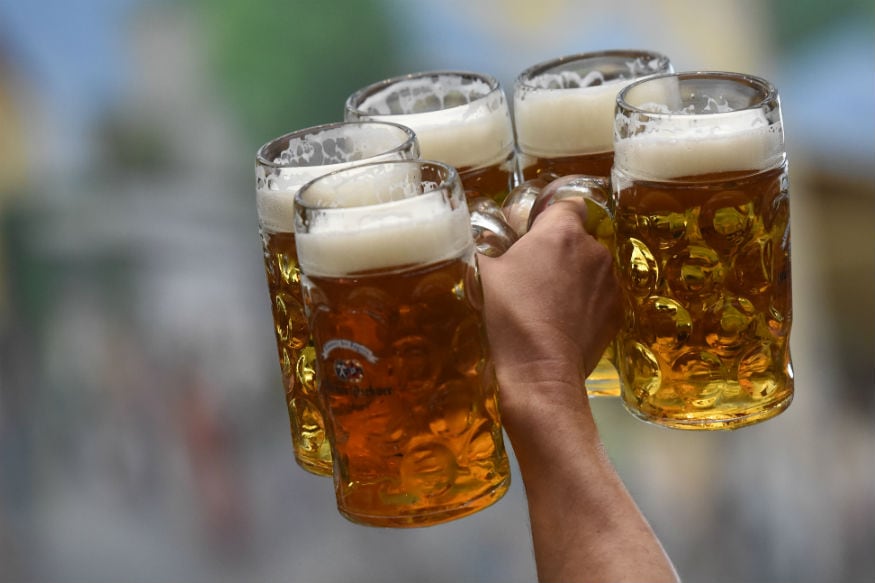 Representative Image.(Credit: Getty Images)
Drinking kills. Those ads along the road are right. Cirrhosis. Heart attacks. Kidney failure. Stupidity. What was the last thing I said? Yes, stupidity. There are men, famous for many reasons, who despite being drunkards, did not give in to cirrhosis or heart failures, those natural modes of dying from alcohol.
Instead, the poor fellows mixed alcohol with a generous quantity of stupidity and woke up at the other side of life the following day. Completely dead.
All of you have heard of Alexander the Great. But how many of you know what killed him? A few people say typhoid. A few others vote for yellow fever (AIDS became fashionable only later). Some others believe poisoning.
There are many stories doing the rounds about the mysterious death of the great conqueror at the prime age of 33. Sorry sir, but one man cannot die many deaths, unless he is that Shakespearean coward ("Cowards die many a death…")
I pick what is yummy for a drink columnist. One historical account tells us that Alexander, despite all his shrewdness, entered into a drinking contest with his rival. The first round went like soft pineapple juice to our hero. He downed 12 pints of alcohol. And smiled at his opponent. But pretty soon his smile vanished. He saw his rival upped the ante by downing one more.
Alexander geared himself up for the ultimate challenge and ordered the next batch of 12 pints to beat his rival. He drank as he had to live up to that sobriquet or whatever it was — 'the Great'. At the end, he might have lost the match, but didn't despair a bit seeing the joy of his opponent. He simply died on his rival.
Alexander was nothing before Attila the Hun, that scourge of god and fierce leader of millions of barbarians who pillaged country after country in the 5th Century BC.
He met his worst foe on his wedding night.
After a drinking bout related to his wedding, he stumbled out of his tent in pitch darkness to take a leak. While peeing, he tripped, fell over and broke his nose (Don't imagine. Only his nose). Too drunk to check his bleeding face, he got back to his bed and passed out. He was too dead to wake up in the morning. The man who shed the blood of millions, died suffocating on his own blood.
Some cynics downplay this last heroic act of the warrior by spreading the canard that, Attila had an injury in his oesophagus and died of it. But the drink writer throws his weight behind the first historic version. Death by alcohol.
If it was Attila's decision to take a leak that undid him, it was a resolution not to pee that killed Tycho Braho, a 16th century Danish astronomer, whose pioneering work led to Newton's discovery of gravity.
Statutory warning: Muscles will involuntarily tighten far below your bellybutton, when you read this account.
Well, Tycho Braho was attending a feast where wine was flowing freely. He drank copiously and listened to the bubbly banter around him. Then his face grew grim. He felt the first waves of pressure building up in his bladder.
But, those days, it was considered a breach of etiquette to leave a host's table to go for a pee. One had to control one's urge. Tycho the astronomer, threw his eyes skyward in silent prayer, crossed his legs to dam(n) it and continued drinking, suffering with a plastered smile, all the bores yapping around him. He hid his pain behind the long floating moustache, now drooped down, reflecting his flagging spirits.
Sadly, Tycho's bladder didn't share his sense of decorum. It burst finally, as one historical account tells us. The poor man died a very painful death, after 11 days. FIR. Death by alcohol. To be exact, death by unnecessarily holding on to all that beer sloshing inside a fragile, small, intestine.
Many believe it was after this incident, pee-breaks were introduced in drinking sessions around the world. I think it is time for one.
(Manu Remakant is a freelance writer who also runs a video blog - A Cup of Kavitha - introducing world poetry to Malayalees. Views expressed here are personal)
Get the best of News18 delivered to your inbox - subscribe to News18 Daybreak. Follow News18.com on Twitter, Instagram, Facebook, TikTok and on YouTube, and stay in the know with what's happening in the world around you – in real time.
Subscribe to Moneycontrol Pro and gain access to curated markets data, trading recommendations, equity analysis, investment ideas, insights from market gurus and much more. Get Moneycontrol PRO for 1 year at price of 3 months. Use code FREEDOM.
| Edited by: Nitya Thirumalai
Read full article