All About Bo-Tai: Zorawar Kalra Breaks The Mold Again With New Contemporary Thai Restaurant And Bar
The just opened Bo-Tai is a contemporary Thai concept restaurant in Delhi, the likes of which hasn't been seen before. Literally.
Massaman curry with stem rice (All pictures courtesy: Bo-Tai)
What is the one mainstream cuisine, popular around the world, which is absent from the Delhi, and indeed Indian, dining scene, in that it doesn't have its own restaurant? Go on, guess. The self-avowed foodie will probably say Peruvian, or Scandinavian (we get it, you've all seen
Chef's Table
), but the actual answer lies a lot closer home.
I am speaking, of course, of Thai, and before you begin pointing satay sticks in response, allow this elucidation. Thai dishes, especially Som Tam and red/yellow/green curries, have become almost ubiquitous to pan-Asian menus of eateries large and small, but always as a sidekick, they're hardly ever a lead player or the focus of the food. As noted by restaurateur Zorawar Kalra, one of the most enticing features of Thai food simultaneously makes it challenging to feature as a stand-alone cuisine that can continually entice today's diners, who are ever-hungry for an experience, and not merely a meal.
Which brings us to Bo-Tai, which threw open its doors to the public on Wednesday. The brainchild of Kalra, who is the MD of Massive Restaurants and a constant disruptor of the country's dining scene (his Farzi café proved that Progressive Indian cuisine can be fun and casual without a heavy price tag, while other brands like Pa Pa Ya and Masala Library continually raise the bar in their respective categories), Bo-Tai is a contemporary Thai concept restaurant, the likes of which hasn't been seen before. Literally.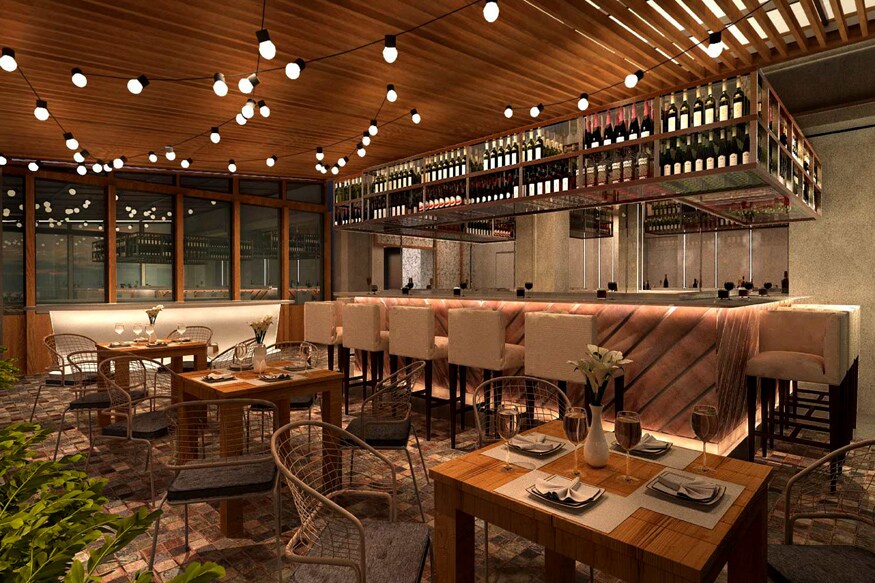 Situated a mere pebble's toss from the Qutub Minar, Bo-Tai dominates the upper story of the Kutub Boulevard in Mehrauli, and what a story it is, dear reader. The restaurant's twin terraces, command stunning full-frontal views of the old erection (pun totally not intended), while its interiors tell an entirely different tail, er, tale.
This is because the inside seating is dominated by its island bar, and for good reason. With a bleeding-edge beverage menu designed by the team of Artesian (a London establishment voted the world's best bar for four years), Bo-Tai has a cocktail collective like no other place presently in the city. And while most of the drinks comprise a swirl of spirits, designed to haunt your senses long after having been imbibed, there are also treats for the teetotaler. The bar also offers a Temperance selection, comprising cocktails sans alcohol but imbued with new-age herbal and floral distillates that provide complexity and flavours, without the accompanying stress on your liver.
In any case, the cocktails are as delish as they're Instagram-able, each presenting a picture so pretty that you really do not want to spoil it; drinks like the gorgeous, gin-based Full Moon Festival served in a transparent glass sphere bedecked with flowers, or the or the Banana Pancake Trail, a debauched dessert cocktail which makes the family-friendly pancake into an adults-only libation. Luckily, you can wash down your regrets with their heady contents.
Then of course there is the dining menu, which provides its own beguiling of the senses. While Thai cuisine boasts a holistic homogeneity of all the flavors (sweet, sour, salty, bitter and umami, bound together with more than a dash of spice) it's this same uniform complexity across most of its dishes that can become repetitive, even boring.
Bo-Tai tackles this by, firstly, providing an outré take on traditional Thai dishes in terms of presentation and execution (while keeping the centuries-old flavours intact), and, secondly, medleying in some robust Italian-inspired grills to provide an alternate flavor profile. The end result is a syncretic mosaic of traditions as well as innovations from both the East and the West, meaning that Bo-Tai has its feet firmly planted in Southeast Asian heritage, while looking towards a globalized future.
So you have a traditional Thai Larb Kai (a chop-up of chicken, basil, chillies and onions spiked with lime, as sharp as a Marvel Cinematic Universe one-liner) served in Continental-style phyllo tart shells, their crispiness adding a whole new dimension to the dish. A Raw Mango and Soft Shell Crab Salad, enmeshed with a zesty Tamarind marinade, features ridiculously fresh and soft crustaceans, with the tartness of the fruit cutting beautifully through the potent brininess of the crabs.
At this point, it would be remiss of us not to mention the Green Curry. Imagine every (good) Thai curry you have ever had in your life got together and had babies, and their babies had babies and so on, until there was a final, single Super Thai Curry. Yeah, that curry would be only be fractionally as awesome as the Bo-Tai Thai Curry. I don't have children but if I did, and was forced -- for whatever ludicrous reason -- to choose between them and the curry, I'm afraid Junior(s) will be out of luck.
As Anthony Bourdain wrote in
Kitchen Confidential
, "Tant pis, man".
Read full article
Countdown To
Elections Results
To Assembly Elections 2018 Results