Chef Hemant Oberoi Looks Back at His Career & the Future of Food in New Show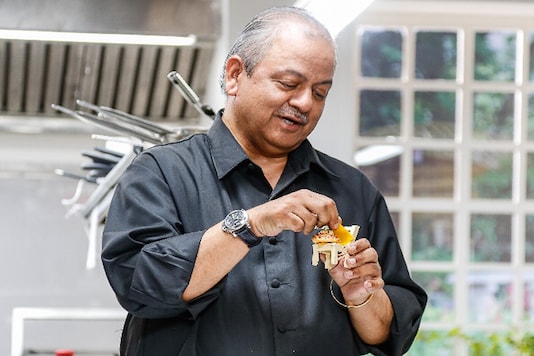 Chef Hemant Oberoi (All images courtesy: Living Foodz)
Oberoi always refused networks interested in working with him on a series as he wanted to focus on the actual food rather than the filter it would look best pictured under.
Last Updated: November 14, 2017, 14:48 IST
FOLLOW US ON:
Over a long, successful career which culminated with him becoming the grand executive chef at the storied Taj Mahal and Palace in Mumbai and having final say in all culinary matters in the Taj's luxury division of hotels and palaces, Chef Hemant Oberoi had many a hallmark (and Kodak) moment. From creating menu for world leaders to introducing his Indian clientele to cuisines from other countries to opening new restaurants for the Taj in India as well as abroad, Oberoi has had his finger in (and probably baked) a lot of pies. However, with Food Memoirs with Hemant Oberoi, which recently began airing on Living Foodz, the chef is in an unfamiliar role of TV host.
Despite retiring from the Taj group a couple of years ago, Oberoi has in no way hung up his apron. Apart from the restaurants he helped set up in Singapore and San Diego, the chef also recently opened his eponymous restaurant in Mumbai's Bandra-Kurla Complex. But planning and opening new restaurants is nothing new for the man who established and ran some of the country's best fine-dine restaurants; what is new is stepping in front of the camera.
While everyone and their food editor regularly court Oberoi for a recipe shoot or food video (a request rarely granted), the chef has never been interested in doing a cookery show. In sharp contrast to most of his peers in the industry, Oberoi always refused networks interested in working with him on a series as he wanted to focus on the actual food rather than the filter it would look best pictured under. That's why Food Memoirs... comes as a surprise to many in the food biz.
"The only reason I did this show was because it's being produced in a way never done before. I'm sure this will change the how cookery shows are made in the future," said Oberoi, of the show that covers his journey into food, and beyond. Speaking to News18, Oberoi said that the show delved not so much into recipes and factoids as much as what goes into the planning of a dish, a menu or a restaurant.
Using instances from his life as a chef, the show looks back at memorable meals created for dignitaries from around the world, as well as exploring the thought process that went into making them memorable. It shows how Oberoi, over his career, looked not only at the wants of customers of today but also the needs of the diner of tomorrow.
It also explores the innovations he created as well as the forgotten classics that he resurrected. "We brought temple cuisine into restaurants for the first time in the country, after traveling to, and trying the food of, religious places around India, from Vaishno Devi to the Golden Temple and beyond," says Oberoi, reminiscing about the food festival he curated at Masala Kraft in the Taj Palace in Mumbai.
Other highlights from the show include the menu he created for the Obamas ("an unusual take on Indian food, tailored to their personal tastes; something they both enjoyed), the biryani he served to George Bush in a jar ("he loved it") and the long friendship he's enjoyed with Rishi Kapoor built around a mutual love of food and eating.
Biryani in a bowl, as cooked for George Bush
Now that he's dipped his toes into the often addictive world of Television, would he perhaps be willing to do future shows? Oberoi certainly seems enthused, saying, "I'd love to be able to provide more exposure to India foods. We have such a vast country and I'm sure that not even 5 per cent of regional Indian dishes have been showcased. I think that would be a great show."
It really would.
Next Story