French Chef Asks to Be Stripped of Three Michelin Star Rating
Chef Sebastien Bras of Le Suquet in southern France asked that the Michelin Guide remove his restaurant from their coveted three star rating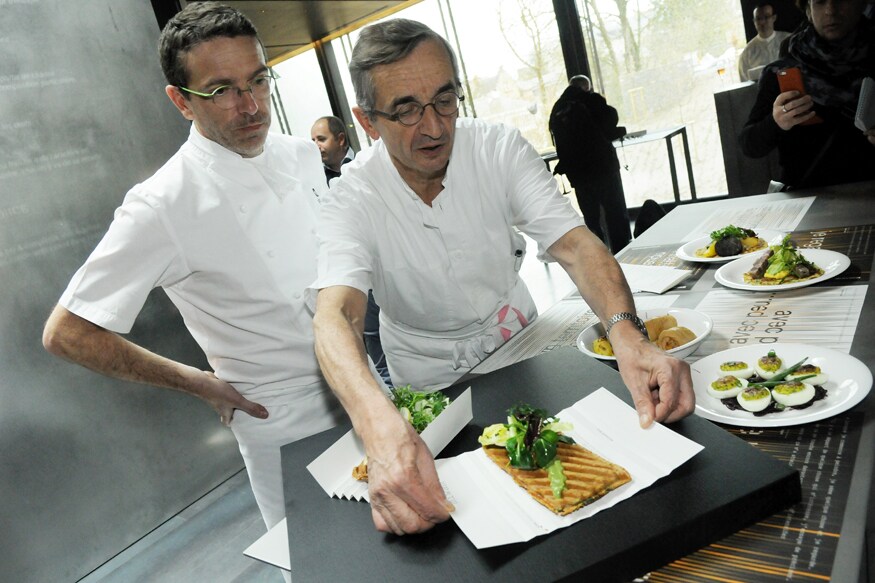 French father and son chefs Michel and Sebastien Bras in their restaurant Le Suquet (Image courtesy: AFP Relaxnews)
A chef in southern France with three Michelin stars says he wants to be stripped of the distinction because of the "huge pressure" to dish up flawless fare each day. Sebastien Bras's Le Suquet restaurant in the village of Laguiole joined the elite club of French three-star restaurants, which currently numbers 27, in 1999.
Last week, the 46-year-old said he wanted to be dropped from the 2018 edition of the Michelin Guide to "start a new chapter". While winning the coveted distinction had been "a source of a lot of satisfaction", maintaining its exacting standards had also put him under "huge pressure", he told AFP, adding, "You're inspected two or three times a year, you never know when. Every meal that goes out could be inspected. That means that, every day, one of the 500 meals that leaves the kitchen could be judged."
"Maybe I will be less famous but I accept that," he said, adding that he would continue to dazzle diners' palates "without wondering whether my creations will appeal to Michelin's inspectors".
Michelin said it was the first time a French chef had asked to be dropped from its gastronomic bible in this way, without a major change of positioning or business model. "We note and we respect it," Claire Dorland Clauzel, a member of the French tyre maker's executive committee, said of his decision. But she said the request would not lead to Le Suquet's "automatic" removal from the list, and would have be given due consideration.
Bras, who took over the business from his father a decade ago, said that like "all chefs" he sometimes found himself thinking of Bernard Loiseau -- the Frenchman who committed suicide in 2003, an act widely seen as linked to rumors that he would lose his third Michelin star. But "I'm not in the frame of mind," he hastened to add.
Bras is not the first chef to walk away from the ultra-competitive world of Michelin-star cooking. A handful of French restaurateurs have relinquished their prized three-star status. In 2005, late Paris restaurateur Alain Senderens -- one of the pioneers of Nouvelle Cuisine-- caused shock by giving back his stars, claiming that diners were turned off by excessive luxury. He later reopened the restaurant under another name, with a simpler menu at a fraction of his old prices. In 2008, Olivier Roellinger closed his luxury eatery in the Breton fishing village of Cancale, saying he wanted a quieter life.
Asked about the stress endured by star chefs, Dorland Clauzel likened them to top athletes. "Excellence requires discipline and work," she said, noting, "We tell our chefs, 'You're not working for the Michelin Guide, you're working for your customers'."
Get the best of News18 delivered to your inbox - subscribe to News18 Daybreak. Follow News18.com on Twitter, Instagram, Facebook, TikTok and on YouTube, and stay in the know with what's happening in the world around you – in real time.
Read full article