Holi 2019: Here's How You Can Make Gujiyas & Other Delicacies With a Twist
Check out these easy and delicious recipes to try out this Holi.
Image: @TheTerraceKitchen/Instagram
Holi may officially be the festival of colours, but after you're done playing with gulal and soaking yourself with both water and thandai, the mind wanders on to thoughts of food. Well, at least your stomach does; your mind may still be wandering, depending on how much thandai you've had.
And while there are always mithaiwalas, for those looking to show off their culinary skills, here are some unusual, and delicious, reinterpretations of classic Holi sweets by Chef Shipra Khanna of MasterChef India fame:
Chocolate Caramel Gujiya
Chocolate Caramel Gujia
For Gujiya:
1 cup All Purpose Flour
1 tbsp Ghee
1 cup Chocolate (melted)
1 cup Caramel Sauce
Oil for deep frying
For Praline:
1 cup Sugar
½ cup Walnuts
½ cup Pistachios
½ cup Almonds
½ cup Cashews
Method:
* In a large mixing bowl take all purpose flour, add ghee and little bit of water. Knead to make a firm dough.
* Make small round balls & using little bit of ghee roll the balls with a rolling pin and cut them with a round cookie cutter.
* To make Praline: In a pan add sugar and let it melt till it's crystallised.
* At this stage add all the nuts to it, stirring quickly.
* Grease a plate with ghee and pour the mixture into it and flatten it.
* Crush the praline in a mortar pestle till it's in a powder.
* Put the praline stuffing on the cut circles, carefully bring together both the edges and join.
* Gently press the edges with a fork to get a delicate design.
* Heat oil in a kadhai, gently slide the Gujiya in and fry them till golden brown.
* Remove from oil and let them cool for a while.
* Then coat one side of the Gujiya with melted chocolate and serve with caramel sauce and sprinklers.
Gud Papda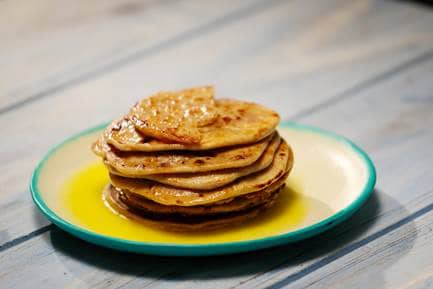 Ingredients:
1 cup Wheat Flour
2 tbsp Peanuts (roasted)
1 tbsp Sesame Seeds
½ cup Jaggery
½ cup Ghee
Method:
* In a mixing bowl, take flour, add a little bit of water and knead to make a soft dough.
* Make small balls and keep aside.
* In a mortar pestle crush roasted peanuts, sesame seeds and jaggery till it is a smooth powder.
* Roll the balls with a rolling pin and stuff them with peanuts and jaggery stuffing, cover and seal the edges.
* Now roll them again into round disks of medium thickness.
* Heat a flat pan and cook Gud Papda with a little bit of ghee until done from both sides.
* Remove. Serve hot with a generous helping of pure ghee on it.
NRI Waffles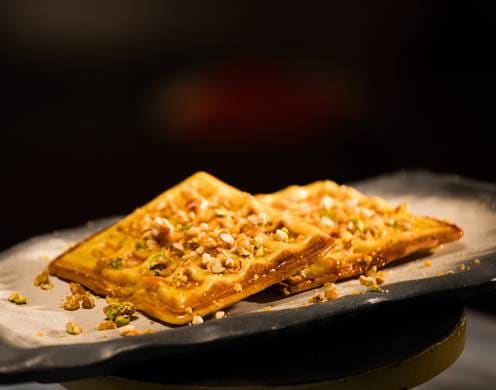 Ingredients:
1 cup All Purpose Flour
1 tsp Baking Soda
½ cup Khoya
1 tbsp Butter
250ml Milk
1 cup Sugar
Pinch of Kesar
Pinch of Cardamom Powder
Method:
* In a large mixing bowl add all purpose flour, baking soda, khoya and butter. Start mixing it while adding milk to it.
* Heat the waffle maker and coat it with butter. Pour the mixture in it and let it cook till it's crisp and golden in colour.
* To make Sugar syrup: In a pan put one cup of water then add sugar. Now add kesar and let it cook. Now add cardamom powder to it and mix well.
* Serve the waffles hot and dripping with sugar syrup. Garnish with dry fruits.
(Recipes courtesy: Chef Shipra Khanna, 'Snack in the Box' airs on Living Foodz)
Get the best of News18 delivered to your inbox - subscribe to News18 Daybreak. Follow News18.com on Twitter, Instagram, Facebook, Telegram, TikTok and on YouTube, and stay in the know with what's happening in the world around you – in real time.
Read full article