GET Stock

Quotes


McDonalds India Shuts Shop in North and East Zones, So What's Next
McDonalds India is definitely not loving it, having closed down 169 stores in the North and East zones of the country
Representative Image (Image courtesy: Reuters)
1996. It wasn't as landmark a year as say a 1984, yet it wasn't without its moments. Prince Charles shocked people across the world who believe in happily ever-afters by ending his marriage to Lady Diana. Mad Cow Disease ravaged Britain's bovine herds and affected worldwide beef sales, though it's unclear if the two events were related. More significantly, it was the year DVDs were launched in Japan (never mind that they would eventually join their square relatives in analogous history) as did the internet websites of eBay and AskJeeves, augers to the 21st century's two favorite pastimes.
Closer home, a fledgling 16-day government sidled in between two political behemoths, signaling a future shift in the winds of India's sociopolitical climes. In short, it was a time of change and upheaval as well as growth. Perhaps nobody embodied this mood around the globe better than McDonald's. In 1996, it established restaurants in a 100 countries -- including India, its first location in the country having just opened in Delhi's Basant Lok market -- with the boast that it opened a new store somewhere in the world every three hours. The future beamed out from under a pair of golden arches and everyone was loving it.
21 years later, on a sultry grey monsoon day in June, that golden glow seems dulled, nary a flicker, as 43 out of the 55 McDonald's outlets in Delhi operated by the North and West India region franchisees "cease operations" and down their shutters. While this is largely due to an acrimony between McDonald's USA and its India partners that has stretched back a few years, the fact that the parent company is willing to abandon a large part of its presence in a crucial market, no matter for however short or long a time, is telling. Somewhere, somehow, the celebrated buns have gone stale, signalling perhaps a tectonic shift in the culinary landscape of the country.
And then, scarcely two months later, right now in fact, on the day of the eclipse, the conglomerate issued a statement stating it had ceasing operations in 169 franchisee outlets in the North and East zones of the country, that were jointly operated with erstwhile partner Connaught Plaza Restaurant Ltd (CPRL), the two organizations having been involved in various legal struggles for several years now.
When it first came into India, the burger giant, in blazing red and yellow, seemed unstoppable. From its first outlet in Delhi, it quickly spread to multiple metros and beyond, each outlet throwing open its doors to a swarm of customers who were eager to taste both Americana and capitalism, mostly the former. The corporation, nascent in a traditionally traditional market, behaved the perfect gentleman, eschewing all beef and pork products for the first time in its history, out of deference to the sensitivities of its new host.
Bolstered with fast (relatively) service, a sanitized environment tiled in modernism and servers festooned with bright badges and brighter smiles, McDonald's charmed us all. "It's actually service with a smile", I remember trilling excitedly to my parents as we waited for our first ever order of McChicken burgers and vanilla milkshakes (the latter their finest menu item, since, tragically, discontinued). The fact that the cashier was cheerful and seemingly efficient as well as proficient in English thoroughly impressed a nine-year old more used to cantankerous waiters, dull restaurant interiors and glacial service, (apart from inflicting him with an unfortunate snobbery which remains an affliction). And then, barely a year since its Delhi debut, McDonald's introduced India's first drive-thru, thrillingly located in my hometown, Noida, that backwater to the Capital's great sea. Hollering your order into a mic from the comfort of your car (air-conditioning optional in the mid-'90s) and then collecting it from a manned window a few minutes later? What strange sorcery was this. Graphic display boards, new pop music ("Backstreet's back! All right!"), play areas with ball pits. McDonald's introduced the Indian millennials and their equally excited parents to a whole new paradigm of dining, hitherto unseen except for in those Hollywood movie videotapes available from your local
kirana
 uncle. So what changed?
Photo Courtesy: Reuters
Well, the world did, for one. Perhaps its no accident that in 1996, the number of internet-users jumped from 1 million around the world to 10 million in just one year. And you know people: they talk. And the more the users of the internet around the world, the more they talked. And the more that more people talked, the more informed they got.
A quick time-lapse montage later, let's look at McDonald's chief product today: that storied burger. The McDonald's version is a couple of indifferently toasted buns, nestling between them (or spilling out, depending on the proficiency of your burger architect) some mechanically sliced vegetables, an inexpert squeeze of mayonnaise along with a semblance of cheese, and a burger patty that has acquired at least a superficial question mark -- ever since that allegedly false video of a giant machine pulverizing hapless featherless chickens into a plasticine-like paste went viral. Add to that that you have to line up for it to be served by an underpaid, overworked cashier who tells you need to fork out extra change for an additional sachet of ketchup. Therein lies the rub. And not the piri-piri one. This is something that seems to be endemic to international burger chains that open up here, they're serving more of the same, each product indistinguishable from the other, be it Wendy's or Burger King.
Shammi Sliders from Monkey Bar Photo Courtesy: Kunal Chandra for Monkey Bar
Compare to that a contemporary burger from a "restaurant", preferably casual: a freshly shaped patty grilled to your preferred level of doneness, layered with ingredients like wild mushrooms, streaky bacon, chorizo, or a suitable vegetarian substitute, all placed in a bun baked out of grains of your choice which are slathered with craft condiments (and those who prefer a less pretentious version have their pick of
vada pao
, Bombay and other Indian sandwiches, all seasoned with a flamboyantly Indian chutzpah and a
du jour
styling) all served in a chic, contemporary setting at your table, WITH crockery. All to channel your inner Floyd (the culinary git who condescended India's cooking, not the musical genii who condescended India's power supply) with. You really don't mind out forking out an extra 100 rupees for that.
"They're two completely different animals, you can't really compare them" says Zorawar Kalra operator of brands such as Farzi Cafe, Pa Pa Ya and most recently, Kode -- all "concept" casual dining restaurants, a category which has caused a complete disruption of the Indian culinary scene -- referring to the difference in burger basics. Kalra's brands, along with the likes of Riyaaz Amlani's Social and Smoke House Deli chains and the Olive group-owned Monkey Bar, Fatty Baos and Sodabottleopenerwalas, present across all major cities, have all changed the dynamics of smart, if not white tie dining, along with our tastes, spoiling us completely. Ramen burgers vie for space on the plate with sushi ones, while buns go technicolor. What's a McChicken to do?
Sushi Burger at Pa Pa Ya Image Courtesy: Photo Courtesy: Pa Pa Ya, Saket, New Delhi
What's interesting is that these new models, which presumably require a far greater investment in funds, time, innovation and creativity are all the rage among venture capitalists. If McDonalds and similar multinational outlets are seeing a closure of their outlets across India, the various domestic brands of these new restaurant tycoons are seeing the type of proliferation that would be the envy of certain upcoming nuclear programs. Capital-based capitalist Priyank Sukhija who plans to run 75 restaurants within Delhi itself, all in different price segments, is making good on his promise, his projects numbering in scores and spread around the country as well as other beloved Indian destinations of the middle East and London (regions where Farzi and other Kalra brands also have a presence).
This is also because these homogenized F&B concerns are geared towards an increasingly globalized Indian market, which nonetheless retains its taste for the tadka and tandoor. Finding inspiration in the innumerable cuisines present within the country, blending techniques and ingredients -- both localized as well as international, and above all, making Indian food chic, relevant and sexy, these restaurants have made us look inwards and realize that India is the new cool.
International yoga day aside, India is the flavor of choice around the globe. Haldirams and MDH spice mixes are retailed from Brisbane to the Bay Area; the latter also home to Dosa, perhaps the most popular casual dining Indian restaurant in the US. On the other American coast, Delhi import Indian Accent (the restaurant, not the dialect slash lifestyle) is redefining perceptions of Indian food in Manhattan even as Gaggan Anand does the same in the wide world (editorial prediction: expect Michelin stars for Indian Accent, New York, and Gaggan, Bangkok, in the new year's guides).
Of course it's not only a matter of taste, no matter what the glossies may tell you. Our palates and expectations may be evolving but so are the ways we engage with food.
Apart from the convenience factor ( and we can't stress this enough. Eventually we're all going to end up like the humans in Wall-E), there's the unpretty fact that 20 years ago, for most, eating at a McDonalds or from a Domino's was a not-so-subtle signal that you had arrived; you were not only aspirational, you were getting to your destination, one day hopefully culminating in regular visits to 5-star hotel restaurants, if gods and the economy were kind. There wasn't really a broad spectrum of options in between. Today, you can go to a cocktail bar for Old Fashioneds' on a weekday, a tanqueria for tacos and tequila on another, grab some contemporary artisanal regional-Indian on yet another, and an invite-only chef-curated pop-up on the weekend, each minute gorgeously captured on your social media platform of choice, and each no different from your friend, colleague and or neighbor. Today, McDonalds isn't a symbol you've arrived. It's a symbol that you're hungry/drunk/hung over and the closest Subway or Pita Pit is too far. Or is an ironic Instagram commentary on genre-fication. Clearly 'loving it' doesn't cut it anymore, unless accompanied by a hashtag.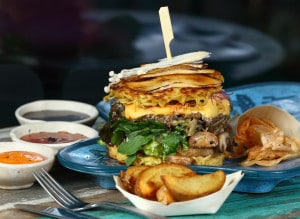 Mushroom Ramen Burger from Guppy Photo Courtesy: Guppy, New Delhi
Also Watch
Read full article