"All the stories have been told, all that remains is the storyteller." While that's not a classical adage (yet!), it is an accurate statement nonetheless. And it has never been more manifest than at Narendra Bhawan, the former home of the last Maharaja of Bikaner, Narendra Singhji, born on the threshold of Indian Independence, in 1946, and passing away at another milestone, the millennium.
Image Courtesy: Narendra Bhawan
While his highness may have passed away, his legacy has been brick and mortared at his Bhawan, now a boutique destination. Here hotel president Karan Singh Vaid, also its dastangoi, tells the story of India, both prior to and post Independence and parallel to the life of its erstwhile royal owner, in a wholly inimitable style; a regal bearing and manner of speech, with just a dash of decadence, plays no small part in the reiteration of a bygone era. And while there are no dancing girls clad in diaphanous wisps shimmering around the hotel, you can't help thinking that Karan, as we shall call him, would have had it otherwise. Indeed, that's also why the writer of this piece shall employ the royal 'we' rather than the more common 'I'.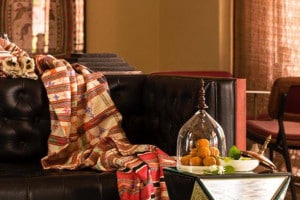 Image Courtesy: Narendra Bhawan
And what a hotel, dear reader. Part time machine and part diorama, it traces the aesthetics of a new republic (obviously India, not Star Wars) with its architecture - a homage to schools including Bauhaus, Art Deco and Indo-Sacarenic, among others. If each floor of the hotel follows a different aesthetic from the parables of India, every corner has a different story to tell of the King who dwelt in that time and this space. Rest assured, Karan tells them all with a flair far exceeding this poor account.
Image Courtesy: Narendra Bhawan
These histories and geographies are best recounted elsewhere; we shall stick to our métier, or bread and butter if you will, its cuisine. Narendra Bhawan houses a fine-dine restaurant, patisserie, cafe and pool deck -- each with their own mien and menu -- but also has other offerings, if you ask nicely, as well as remember there are no free lunches in life. This is not innuendo, but just a reminder that extras are chargeable.
So, apart from the a la carte(s), you can partake in 'Meditations on Food', another recounting of the Raj and further eras, in this case gustatory rather than architectural. Like the spices of life, there is a variety of options here, which we have segregated below. These are just a few of the culinary meditations available at the property:
Part One: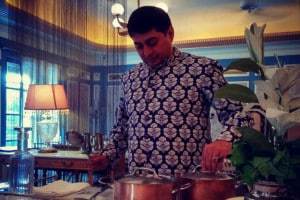 Image Courtesy: Shantanu David/News18.com
For instance, those with a literary bent of mind might like to partake of the 'Literary Menu' a six-course degustation, each episode of which is inspired from one in literature. Like the books they find their source in, the dishes and their many elements stay with you awhile. And all are imminently digestible, we hasten to add, in case the last statement gave you pause.
Since we don't want to include spoiler alerts, we shall refrain from naming either the dishes or their source material. We can assure you, however, that they are literally more luxe than the storied words that inspired them, and just as exquisitely crafted. Karan's narration of each passage prior to the course that it resulted in put words in our mouth, so we shall hasten on before we give away details.
Part Two:
Image Courtesy: Narendra Bhawan
Even if history isn't your cup of tea, Karan and the hotel make it both palatable and engrossing. They do this by taking you physically to another venue as well as back in time, recreating a royal repast which would have been de jeur for the rich, famous and blue blooded in the days of yore, and the rooms in which they dined therein.
Again, we don't want to spoil the surprise but we will mention that your dining venue has been enshrined as it was, when first constructed and ornamented, more than a 120 years ago and that you should keep your stomach empty prior. You know how heavy history can be, even if it's usually not as delicious.
Part Three:
Image Courtesy: Narendra Bhawan
In case you're feeling stuffed by this point -- who wouldn't -- why not head to the great outdoors and take in some fresh air? And whole roasted goat, of course. Ratadi Talai is an oasis in the rough scrub outside Bikaner, which served as a watering hole for wildlife and bountiful hunting spot for that most dangerous animal, man.
In past times Rajahs and their equally sybaritic courts would make for the Talai to feast and drink, presumably among other things, as well as hunt; successful or not, they were assured of dinner. As were we. Taken there at sunset, and seated amidst white canopies that reflected the bright full moon, and within sight of the picturesque ruins of an old hunting lodge, we could have stayed there forever, dear reader. The constantly refilled platters of rabbit and other game meat along with more domesticated provender didn't hurt either, of course.
Part Four: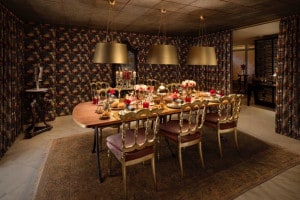 Image Courtesy: Narendra Bhawan
Just when you thought it's all fun and games, comes another meditation. First you're blindfolded and then... OK, it is more fun and games. You're seated in the private dining area of Narendra Bhawan's fine dine, called P&C (Pearls and Chiffon, a la the Maharanis of Rajputana) and given velveteen black blindfolds to put on.
For those of you thinking 50 Shades - or preferably, actual aspects of dominance and submission, literary or physical - it is true that for the course of this meal you do cede control and submit entirely. Servers noiselessly move around the enclosed space, guiding your movements between cutlery, crockery and cuisine -- Karan also lends a hand, pun intended -- and serving a succession of succulent dishes, which are both achingly familiar to your palate as well as utterly foreign to your mind, due to the muting of all other senses. Meditations on food indeed.
(The writer was a guest of the hotel during his stay)