Rama Navami Special: All You Want to Know About The Festival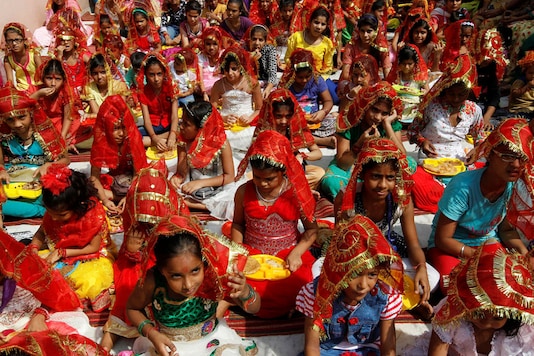 Image courtesy: Reuters
An important Hindu festival, Rama Navami marks the birthday of Lord Rama, believed to be the seventh incarnation of Vishnu.
An important Hindu festival, Rama Navami marks the birthday of Lord Rama, believed to be the seventh incarnation of Vishnu. The festival holds special importance to the Vaishnavism tradition of Hinduism.
A part of spring Navratri celebrations, the festival falls on the ninth day of the Shukla Paksha in the month of Chaitra according to Hindu calendar.
Significance:
The festival marks the decent of Lord Vishnu on earth as Rama. Lord Rama was born to King Dasharatha and Queen Kausalya in Ayodhya. The devotees celebrate this day with Rama Katha recitals, organise kanya puja, kirtan at home and pray for prosperity.
How is Kanya Puja Done?
One thing that children look forward to is Kanya Puja, where young girls are worshipped and people give them poori, halwa, and chane (black gram). The devotees who organise Kanya Puja, welcome young girls to their house.
- Wash their feet.
- Apply kumkum on their forehead.
- Tie roli on their wrists.
- Perform aarti and touch their feet to seek blessings from them.
- Then the girls are made to sit in a row and served ashatami prasad-halwa, poori, chana.
- After they are done eating, people give them money and gifts.
How to Prepare the Ashatami Prasad?
Black gram/ Kala Chana
Ingredients:
Black chana/chole
Salt
Red chili powder
Turmeric powder
Cumin seeds
Coriander powder
Oil
Cilantro leaves
Method:
Soak chana overnight.
In the morning, drain the water and wash.
Take a pressure cooker and add chana, salt and turmeric in it.
Pressure cook for 8-9 whistles.
Open the lid and check if the chana is cooked.
Take a pan and put oil.
Add cumin seeds and once they start crackling add the rest of the spices.
Add the boiled chana to it.
Bring it to boil and cook till all the water is drained out.
Poori
Ingredients
Flour
Oil
Water
Salt
Method
Take the flour in a bowl and add oil, salt and water.
Knead it into a soft dough.
Make small balls out of the dough and roll it out into small rotis.
Take a deep bottom pan and take oil in it.
Deep fry the rolled out rotis.
Take out as they turn golden brown.
Halwa
Ingredients
Sooji (Semolina)
Sugar
Unsalted butter or Ghee
Milk
Water
Cardamom Powder
Method:
Take the ingredients in 1:1:1:3 ratio. Sooji (1), sugar (1), ghee (1) water+ milk (3).
Mix sugar, milk and water in a pan.
Bring it to boil and heat till sugar is fully dissolved.
Take a heavy bottom pan and dry roast sooji on a low flame. Keep it aside.
Heat ghee in a pan and add sooji. Make sure the flame is on medium low.
Keep stirring till the sooji turns light brown.
Add cardamom and chopped nuts.
Reduce the flame and add milk-water-sugar mixture.
Keep stir to ensure sooji doesn't stick to the bottom.
Remove from heat once it reaches the dropping consistency.
Next Story