THE TIPPLING POINT | How This Captain Morgan Became a Hit on Land as Well
When in 1944 the Seagrams group discussed launching a premium rum against such giants like Bacardi, they didn't have to think twice about its name.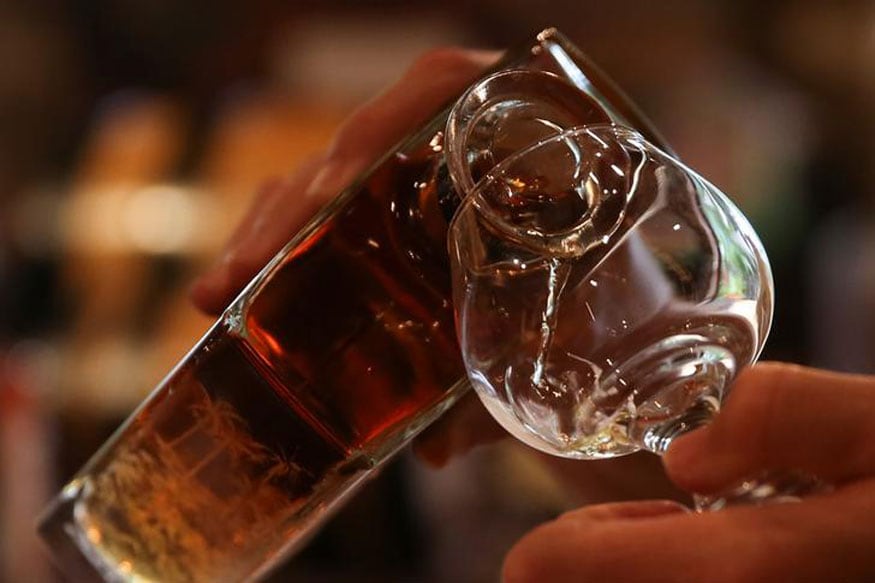 Representative image: Reuters
You loved watching the series 'Pirates of the Carribean'? Ever wondered whether those tough men could be real? Could those bearded men who stank, stuttered and staggered of all the rum they guzzled down from morning to evening, terrorise the major naval forces of Spain and England for centuries?
Yes, the pirates were the real McCoy of the time.
The pirates flourished in the big blue pond in the 16 and 17 century sending shudders up to Europe and the colonised America. Sir Henry Morgan, born in Wales was perhaps the most frightening of them.
Sir Morgan! Don't you smell a rat in the title?
Morgan was no pirate indeed, but was a privateer, employed by Charles II of England. His role: A pirate. His mission: destroy the reputation of Spanish trade on sea. England needed a lot of dirty acts back then to upset the supremacy of Spain.
A daredevil Morgan was more than willing to help his country. A new pirate was born.
Morgan's terror on sea began ever since he established a base at Port Royal in Jamaica. He then launched a series of attacks on Spanish possessions moving or unmoving, trade ships or Spanish colonies in the Caribbean islands. By then with the blessings of the English King, he had gathered a large private army. Morgan resorted to clever tactics in his robberies and pillages. Sometimes he used the cover of darkness, sometimes even human shield (he once used captured nuns) to numb his opponents. Spanish posts fell one by one. The shiver he sent across began to rattle both sides of the ocean, the continent and the Caribbean.
But every ambitious warrior at one time in his life goes overboard. Morgan did it when he conquered the largest city in the New World, Panama without knowing a treaty had already been signed between his country and Spain (Don't blame him. News traveled at a snail's pace back then).
Now Spain wanted retribution.
Captain Morgan was arrested and brought to his home country soon. But definitely not to be executed or to be thrown behind bars. By then Morgan had become a legend in his home country with his brave and patriotic acts. A pleased king set the nation's hero free, knighted him, and sent back to Jamaica where he started his job.
Sir Captain Morgan was made the vice governor of the colony.
Merrily, he lived the rest of his life there, and merrily he died of all the rum he drank (He was buried on the island but in a massive earthquake that came a few years later all those remnants were swept away into darkness save those legends that hang around his name).
When in 1944 the Seagrams group discussed launching a premium rum against such giants like Bacardi, they didn't have to think twice about its name.
Captain Morgan was launched.
Distilled from sugarcane, molasses, mash and yeast, Captain Morgan Original Spiced (all that spice was perhaps needed to commemorate the blazing feats of the real Morgan) rum is distilled in continuous still. The clear spirit is then aged up to one year before spices indigenous to the Caribbean islands and other flavourings are added.
Captain Morgan once again became a hit. This time, of course, on land.
(In 2001, Seagram sold the "Captain Morgan" brand to Diageo. The website says: For a smooth and refreshing tasting drink, Captain Morgan Original Spiced Gold is best served in a tankard over ice, with cola and a slice of lime).
(Manu Remakant is a freelance writer who also runs a video blog - A Cup of Kavitha - introducing world poetry to Malayalees. Views expressed here are personal)
Get the best of News18 delivered to your inbox - subscribe to News18 Daybreak. Follow News18.com on Twitter, Instagram, Facebook, Telegram, TikTok and on YouTube, and stay in the know with what's happening in the world around you – in real time.
| Edited by: Ahona Sengupta
Read full article