THE TIPPLING POINT | 'If It's French, It's the Best': How an American Sold Miniature France in Bottle
Trusting the instincts of the boss, his minions scanned France in detail before they spotted a distiller in Cognac region who was ready to switch over to vodka if it at all it could amp up his lethargic business.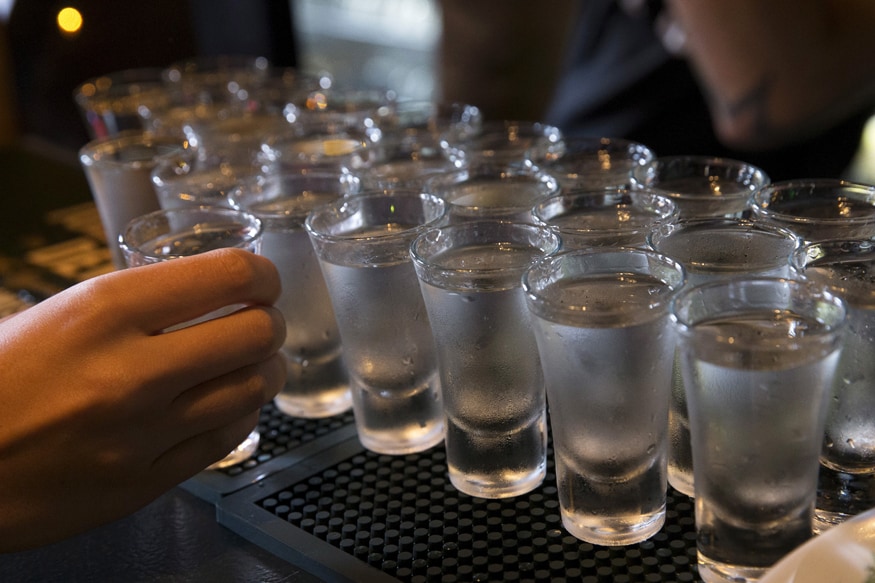 A woman takes a glass of vodka (Representational photo: Reuters)
(story continued from last week...) In 1996, after Frank's success with marketing Jagermeister, he summoned his top executives. He discussed little, instead gave them an order. Find a vodka from France. Vodka from France!
There could be raised eyebrows and stunned silence in the room. What about vodka from Russia or Poland, the cradle where it was born. How could some vodka from France get a breather amidst the deluge of vodkas flowing out from those vodka belt countries! But Frank was adamant. He repeated. Find a vodka from France.
Trusting the instincts of the boss, his minions scanned France in detail before they spotted a distiller in Cognac region who was ready to switch over to vodka if it at all it could amp up his lethargic business.
In the US, few saw any future for the incoming product. The big shots gave scant regard for Frank's move as most of their products were selling near $15 for a bottle. Anything cheaper would in course of time die out without enough financial returns, they knew. Why should they be afraid!
But Frank startled them when his vodka finally came to the market. He would sell it for $30 a bottle, twice the price of the premium vodka of the day, Absolut charged! Suicidal they thought. Murder, it turned to be. Frank with that swift move created a super premium category from void and put his vodka cheekily there. That was only step number one.
Frank knew, even though France did not have a vodka culture, the country had another image among consumers: if it is French, it would be the best. French goods, like their cuisine, were considered by many as the finest on earth.
To drive the point home, Frank saw to it that frosted glass bottles and wooden cases encase the new drink. He also insisted that the new vodka had to use French spring water filtered through Champagne limestone. Frank was building a miniature France in his bottle, quality-wise.
The final challenge was the naming for the new product. Frank had earlier tried to sell a wine named Grey Goose but it didn't fare well against the more popular Blue Nun.Though, that project fell flat he still owned rights to the name.
Grey Goose vodka! What a name!
Once Grey Goose struck the market Frank saw to it that it was accompanied by beautiful ads that listed the product as the best-tasting vodka in the world. His team indoctrinated the distributors and nearly 20,000 bartenders with the same idea. Those days if you hopped into a bar in the US and asked the bartender which was the best tasting vodka he had in its stock, he would push a glass of Grey Goose in your direction.
The arrival of Grey Goose perfectly matched with the dotcom boom in the US and this came a shot in the arm for the new vodka. People want prestige. People had money. People want to spend it for more prestige. In a bar only a $30 vodka could give them exactly that.
What can you buy that's best in the world for 30 dollars? Frank said to American Way magazine. "You can't buy a car. You can't buy a diamond ring. You can buy Grey Goose, and it's the best in the world."
The importers of Belvedere and Chopin filed suit in 2004 against Grey Goose using the tag 'best-tasting' quoting some outmoded testing methods. But by the time Grey Goose' ships had arrived.
You know the irony? Most vodkas taste the same. Once it is triple and quadruple-distilled and ran through charcoal filters, the final neutral spirit would be bleached off all its tasting agents. What would remain are only the ideas ingrained in your mind by clever advertising. Frank was king in the field.
Grey Goose revolutionised the world of spirits. By 2004, Frank was selling 1.5 million cases annually which prompted Bacardi to give him an offer Frank could not refuse. He became a billionaire. Then it was payback time for Frank.
He gave $12 million to Norwich Free Academy which gave him his first taste of education. He gave 100 million dollars to Brown university to endow scholarships for students who couldn't afford its hefty school fees. He remembered his journey.
(Manu Remakant is a freelance writer who also runs a video blog - A Cup of Kavitha - introducing world poetry to Malayalees. Views expressed here are personal)
Read full article
Countdown To
Elections Results
To Assembly Elections 2018 Results