THE TIPPLING POINT | The Traditionalists of Polish Vodka Expect You to Take it Neat and in One Gulp
The traditional connoisseurs from Poland would wrinkle their nose if offered a vodka based on anything other than the norm. They wonder why people complicate a wonderful drink by distilling it from fruits or herbs.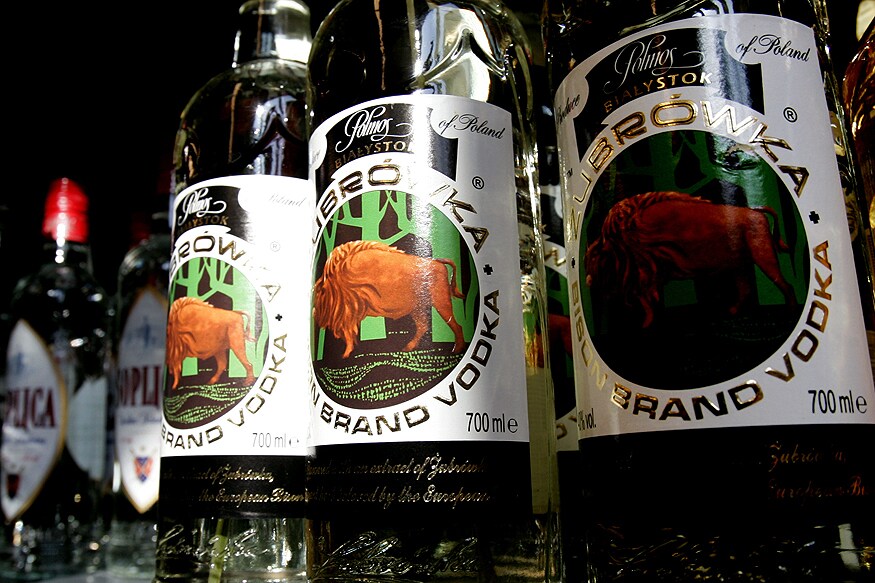 Bottles of Polish made vodka called Zubrowka (Bisons Gress) stand on a shelf at a liquor store in Warsaw. (Reuters)
Most people, when they first pick up the bottle, begin with vodkas as they think they can easily get through the parental alcohol detectors and police checkpoints. Obviously, they're all nabbed.
Vodka is simple. It is distilled from mashed potatoes or grains.
The traditional connoisseurs from Poland would wrinkle their nose if offered a vodka based on anything other than the norm. They wonder why people complicate a wonderful drink by distilling it from fruits or herbs.
But many complicate the simple.
They distil fruits, herbs, grass or whatever they can get their hand on to make vodka. Companies are interested in anything that is regionally available. That is why pineapple becomes the natural choice for the Pau Maui vodka, made in Hawaii.
Another brand, Vermont White, is made from milk!
Vodka is humble too.
That is another reason why it has become the bartenders' favourite spirit world over. It is flexible enough to mix with anything and anybody. Vodka martini, Bloody Mary, Screwdriver… you name your favourite cocktail, we will strain vodka out of your mix.
One can thus wax on for ages about the qualities of vodka and how it is made. Now, it is time to pack our bags for a trip to the most significant place among the vodka belt countries – Poland.
Did I say Vodka belt?
Well, Vodka belt is an unofficial string of countries that have a long tradition of making good vodkas. The countries are Finland, Norway, Iceland, Greenland, Sweden, Denmark, Estonia, Latvia, Lithuania, Poland, Belarus, Russia and Ukraine.
Which means if you come across a bottle of vodka from any of these countries, especially Poland, pawn anything to grab it.
In his work 'Three Sheets', Zane Lamprey refers to a Polish saying: "
Po szklanie I na rusztowanie
". It means "after the glass and onto the stage". So committed are the Poles to their drink.
Even in the 1500s, people in Poland were making a crude form of vodka for medicinal purposes. At least that is how they defend it.
Come to Poland now and you can find more than a hundred brands. The most famous ones are Chopin and Belvedere, found by the Tad Dorta, a tycoon in the Polish Vodka industry.
Take Chopin for example, you can find a magnified image of the celebrated Polish composer, Frederick Chopin, on the bottle.
In the time when the world only knew Smirnoff and Absolut, Dorta barged into the vodka industry, created a space for premium products and secured his twin vodkas there. For the first time, he introduced the frosted bottle into the market.
Dorta was a hardcore traditionalist who couldn't brook the idea of vodka not being based on potato or grains. He has other dictums as well. To him, vodka must be drunk at room temperature. If you chill it or water it down, the drink loses flavour and texture. For the perfect experience, the drink must be taken neat.
One peg in one gulp!
But Poland has already seen the last of such disciplinarians. Nowadays, people have picked up a taste for cocktails and flavoured vodkas. Some traditional Polish vodkas have long been treated with locally harvested wild grasses, fruits, roots and herbs. Brought together, they give the drinker a taste of Poland.
One of the famed Polish vodkas, Zubrowka (pronounced zhuh-BROOV-kah), made in the Lithuanian border is seasoned with bison grass. Alas, the US Government banned it on the grounds that one of the ingredients in the vodka is considered to be a blood thinner.
You won't find Zubrowka difficult to spot in a department store. There will be a signature blade of bison grass in every bottle of it. (Please give me a ring when you find one. Zubrowka must be sipped along with the man who introduced it to you).
Time to toast with the Poles.
When in Poland you realise that drinking is a public affair. In wedding parties and other ceremonies, vodka runs like water. Understand that you can't be a mild drinker and a Pole's guest at the same time. He won't stop refilling your glass or take a no from your side. Every time he fills the glass to the top he expects you to take it in one gulp, 'to the bottom'.
So manage to drink enough water or munch a Polish snack like pickles or sausages in between every toast. Also, try and miss a few turns on the pretext of a phone call or pee-breaks.
You have to drink with caution when in Poland. Never try to out-drink a Pole unless you are one.
(Manu Remakant is a freelance writer who also runs a video blog - A Cup of Kavitha - introducing world poetry to Malayalees. Views expressed here are personal)
| Edited by: Aditya Nair
Read full article
Countdown To
Elections Results
To Assembly Elections 2018 Results