What Chef Anthony Bourdain Taught Us About The Art of Living
The late Anthony Bourdain was a man of many appetites, and he made sure to cater to them all.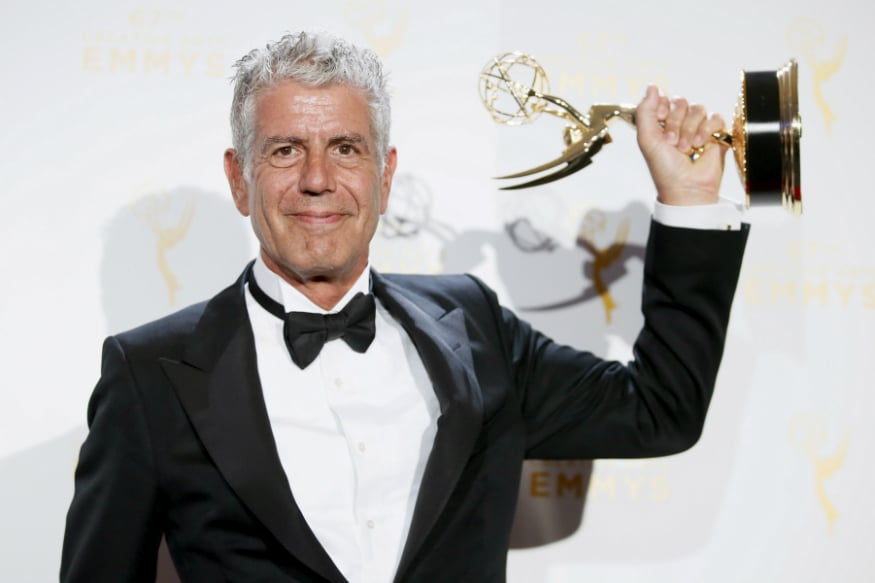 File photo of Anthony Bourdain. (Reuters)
This is the hardest thing I've ever had to write, and I once had to write a review of a fully saatvic Jain restaurant. It doesn't even help that, in a lot of ways, the late Chef Anthony Bourdain was the polar opposite of a saatvic Jain restaurant.
It's also not hard to write this because I don't have enough to say, the trouble is that there is too much. Over the last 12-odd years, through his words, both spoken and written, through his career choices, through his very manner of thinking, Anthony Bourdain has influenced my life and my own choices more than I had realized before attempting to write this obituary.
When I was unsure about what to do for college (I knew I was going to become a writer, but one doesn't go to college for that, it just happens eventually) it was reading Bourdain's Kitchen Confidential that convinced me to go to culinary school. When working in kitchens during that time, and finding the experience more stressful than sybaritic, it was books like his Cook's Tour and No Reservations (as well as their TV adaptations) that helped keep me sane. More or less. And it was while reading a murder mystery by this same chef turned writer turned TV travel host, I realized food writing wasn't a bad place to begin.
I definitely wasn't the only one he did this to.
Through his writing and his TV shows, Bourdain coaxed us to go out and explore the world, to meet someone new, to eat a previously unknown food, to down that shot of strange liquor. He taught us to step out of our comfort zone in the chance of finding something amazing, and going out again even if we didn't.
Bourdain, in many ways, revolutionized the travel show experience, tearing away its cheerful, sanitized façade. As a traveler, he was indefatigable; as a seeker of food and drink, he was insatiable. He didn't look to draw your attention to some vague tourist attraction, but rather demanded you followed him wherever his lanky strides took him, whether into a storied restaurant of impeccable pedigree, or the darkest foulest alleys of distinct dubiousness. Where others drawled pleasantries, he barked out pithy observations with what was a wholly sufferable smugness. And so we followed 'Tony', as he ate, drank, blasphemed and profaned his way across the globe, providing us an unfiltered, and wholly riotous, glimpse into the people, places and foods that occupied those far-flung places.
That's not to say that Bourdain was ever the archetypical boorish American. When needed, he would gracefully let the people he met take center-stage, and when he required, he kept his peace and reserved whatever he was thinking behind a carefully contrived mask of interested civility. However, once you and he were alone again, so to speak, the mask would drop and Tony would proceed to tell his viewers exactly what he thought without mincing his words.
Indeed, one could argue that Bourdain was one of the few travel hosts whose observations about the places he visited, and the people who lived there, were as, if not, more anticipated than those exotic locales themselves. He was nominated for two Emmys, one of which was for his coverage of the Lebanon, when its own most recent civil war was in its terrible infancy. That was another one of his trademarks, he never limited himself to just the cuisine of a place, but observed the locale that shaped it and the people who cooked it. Bourdain didn't just go looking for a good or interesting meal, he went looking for stories, and usually found something to eat along the way.
And, of course, he had his own stories to tell. He first came into the public eye following the publication of his first quasi-memoir and guidebook to commercial cooking, Kitchen Confidential: Adventures in The Culinary Underbelly, which itself was an extension on an article he wrote for the New Yorker, on why you shouldn't order fish on a Monday. And sure, practicing and future culinarians (including a 17-year-old kid looking for a fun, non-academic way to spend college) all loved it for its scathingly accurate picture of the high-pressure, boiler-room environment of restaurant and hotel kitchens, but that was just one element of the book. Elsewhere there were lurid recollections and illegal behavior, lessons for aspiring chefs as well as warnings to their customers. Most of all there was a sincere love of, and fascination with, food.
Among Bourdain's many appetites was a love of language, as is evident from his erudite, yet economical, writing style. He may have been a flaneur, but he'd probably use a less pretentious word. Following the success of Kitchen Confidential, and apart from his increasingly popular food and travel shows, Bourdain continued to write articles, travelogues, non-fiction and even fiction.
One personal favourite is Bobby Gold, a noir novella about the trials and triumphs of its titular character, a Jewish bouncer of a shady nightclub and restaurant. Apart from its pitch black humor and gleefully pulp plotline, it introduced me to what I still consider one of the most decadent dishes I've read about: thick buttered toast lather with a thick layer of bone-marrow, and nothing else. It doesn't sound like much, until you realize the amount of bones that must have been split open to get so much of that buttery manna. And in a way, it's a metaphor for Bourdain's life and work: unusual, simple yet complex, clearly decadent, and sans trappings.
And so while I never got to realize my dream of meeting, and eating and drinking with Anthony Bourdain, I can only be grateful for the path he helped unknowingly lay out for me. It's been a good ride mostly. He clearly didn't know I even existed and while I had every intention of remedying that, it wasn't to be. As he wrote so penetratingly in Kitchen Confidential, "tant pis, man!"
Get the best of News18 delivered to your inbox - subscribe to News18 Daybreak. Follow News18.com on Twitter, Instagram, Facebook, Telegram, TikTok and on YouTube, and stay in the know with what's happening in the world around you – in real time.
Read full article