Ganesh Chaturthi 2017: Bring Home Ganesha Tomorrow, Avoid Moon Sighting Tonight
Ganesh Chaturthi 2017 celebrations begin from August 25 till September 5. The festival celebrates the birth and homecoming of Lord Ganesha.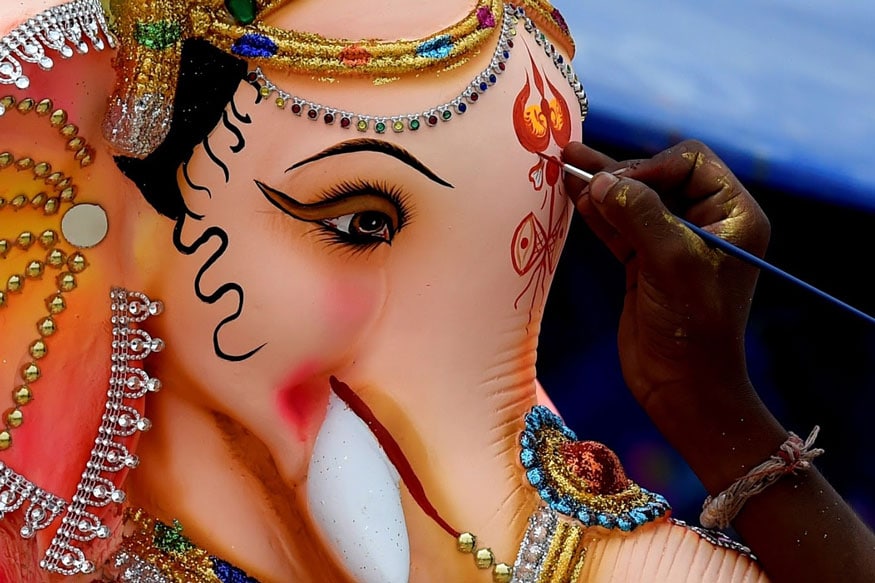 (Image: PTI)
Ganesh Chaturthi celebrates the birth and homecoming of Lord Ganesha – the God of wisdom, fortune and prosperity. As per Hindu calendar, Lord Ganesha was born during the Shukla Paksha of Bhadrapada month thereby Ganeshotsav marks the 10-day celebration and falls during the August-September months. However, this year the festival will be for 11 days due to Dasamati on August 31st and September 1st. Ganesh Visarjan - immersion of Ganesha will be held on 5th September.
Ganesh Chaturthi 2017 – Sthapana Rituals and Shubh Muhurat
As per Hindu Mythology, Lord Ganesha was born during Madhyahna Kala or the Mid-Day. Therefore, Ganesh Sthapana and Puja is considered auspicious during this time. Ganesh Sthapana is completed by Ganesh Puja or Shodashpachara Ganapati Puja according to Vedic rituals. The Shubh Muhurat to bring Ganesha Home and perform the Ganesh Puja from 11:06AM to 13:39PM tomorrow i.e. August 25th 2017.
Why Avoid Moonsight During Ganesh Chaturthi?
The Ganesh Chaturthi tithi will begin tonight at 20:27PM till 20:31PM tomorrow. According to vedic rules, one must avoid moonsight during specific timings as it can lead to Mithya Dosham or Mithya Kalank which means that the onlooker can be falsely accused for stealing. As per the legend that goes behind Mithya Dosham – Lord Ganesha had cursed Chandra Dev that anyone who would see him on Shukla Chaturthi during Bhadrapada month would be cursed with Mithya Dosha and would be dishonored in the society. People fast during Ganesh Chaturthi to seek the Lord's blessings and stay away from Mithya Dosha.
Time to Avoid Moonsight on Ganesh Chaturthi 2017
On 24th August 2017 - Avoid Moonsight from 20:27PM to 20:43PM
On 25th August 2017 - Avoid Moonsight from 09:10AM to 21:20PM
(the Moon is present during the day as well however due to sunshine it doesn't show)
What if You See Moon During Ganesh Chaturthi?
According to Puranic rituals, if anybody looks at Moon during the Ganesh Chaturthi, he can chant the below mentioned mantra and get rid of the Mithyam Dosha by seeking blessings of Lord Ganesha!
The festivities of Ganesh Chaturthi are witnessed with great pomp and show across the states of Maharashtra, Delhi, Madhya Pradesh, Gujarat, Goa, Karnataka, Kerala, Andhra Pradesh, Telangana, and Tamil Nadu. Artisans prepare for Ganeshotsav months in advance by making Ganesha Idols and other arrangements. Pandals of Ganeshotsav are seen everywhere and people praise the Lord by performing rituals accompanied by singing and dancing to the tunes of Traditional as well as Bollywood numbers. Chants of 'Ganpati Bappa Morya' are sung with great passion and 'Modaks' doled to serve the Lord of Good Times!
Get the best of News18 delivered to your inbox - subscribe to News18 Daybreak. Follow News18.com on Twitter, Instagram, Facebook, Telegram, TikTok and on YouTube, and stay in the know with what's happening in the world around you – in real time.
| Edited by: Mugdha Kapoor Safaya
Read full article