Gucci Unveils Ode to the 80s on Opening Day of Milan Fashion Week
Gucci's Alessandro Michele unveiled on Wednesday a loud and proud ode to the 1980s on the opening day of the latest Milan Fashion Week, with big bangs, square suits and enough sequins to drown a disco.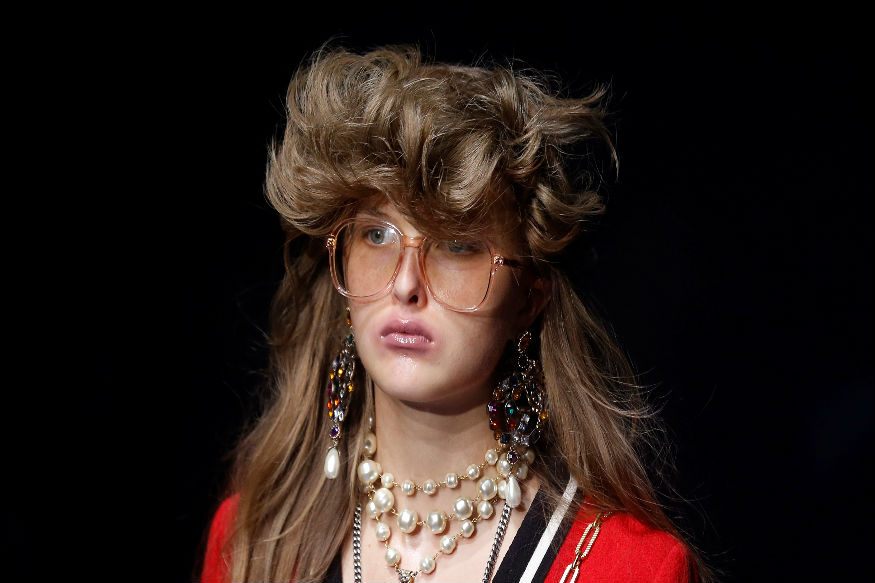 (Photo:A model displays a creation from the Gucci Spring/Summer 2018 show at the Milan Fashion Week/ Reuters)
Alessandro Michele burrowed further into his love for the bookish chic that has led the once-flagging house to white-hot success since he took creative control in 2015. In a smoky near-darkness pierced by flashes of light, Gucci showed off a Spring/Summer 2018 collection that included plenty of large round glasses, satin, and even a striped and shiny track suit. The idea guiding the show, according to Michele's notes, is a refusal "to turn the page and stubbornly dwelling on a narration that consolidates on the beauty of the show".
That meant a runway, best described as Atlantis on a foggy night, set among massive sculptures of some of humanity's greatest symbols including a smiling Buddha and Thoth, the long-beeked god known as Egypt's wisest.
The clothes were confident in their embrace of the past, including a satin suit trimmed in sequin stars that looked like something out of David Bowie's wardrobe. There was also a brown three-piece suit that you could almost imagine in a faded Kodachrome photo -- except that the model wearing it had hands encrusted in rings and slick white shades.
"It requires courage to slowly linger; to stay with care," Michele's notes said.
He certainly did that and took a bow to the applause of celebrities like Salma Hayek -- whose husband Francois-Henri Pinault heads the French group Kering that owns Gucci. The show was Gucci's first since Kering announced a pledge earlier this month to ban ultra-thin models from its brands' advertising and runways. From appearances, it seemed to have kept its word.
The power of zips
Milan kicked off with shows from smaller up-and-comers, including Japanese designer Atsushi Nakashima, who unveiled bright colours, space-agey silver ponchos and clothing bisected with lots of shiny zips.
For Nakashima the zips are a reminder of humanity's better impulses in an uncertain time that has seen North Korea fire missiles directly over his homeland. "This is the reason for the collection... putting together, understanding each other to have more communication," he told reporters through a translator. "We can connect with each other." There is still plenty more to come over the next five days left of Milan's runway strutting.
Expectations are building for British talent Paul Surridge, who will on Friday show off his maiden collection since being named creative director in May of Roberto Cavalli, known for its sexy rock'n'roll attitude.
Husband-and-wife team Luke and Lucie Meier are presenting their first designs on Saturday since being tapped in April as creative leads of minimalist stalwart Jil Sander. The Meiers, a rare married duo of co-directors, come from Dior for her and Paris-based menswear brand OAMC via iconic streetwear label Supreme for him.
Very good times, for some
"Lucie and I work together very naturally," Canadian Luke Meier told Vogue in June of his Swiss-born wife. "We have had an open dialogue about the approach to design for over 15 years and have often spoken of working together one day."
Newcomers to the Milan calendar also include the-sirius, a young Seoul-based label known for futuristic designs, which will indulge its ultramodern urge with a show Thursday on the campus of Milan's Leonardo da Vinci Museum of Science and Technology. But it would not be fashion week in Italy's capital of clothes and accessories without the kings and queens of the multi-billion euro luxury goods industry like Fendi, Ferragamo, Versace, Moschino and Prada.
These European behemoths -- or some of them, anyway -- are seeing sales jump after years troubled by the triple whammy of a slowdown in Asia, currency volatility and customers staying at home after a string of terror attacks in Europe.
"While in the past good meant good for everyone... now the situation is very good for some and very bad for others," said Stefania Saviolo, a fashion and luxury expert at Milan's Bocconi University. "It depends on the category, the brand, it depends on many things," she told AFP. The rebound has been led by houses like Gucci which saw its sales in the first quarter of 2017 grow at their fastest pace in 20 years.
But the flip side is labels like Prada that just cannot seem to remember where they put the secret sauce. Prada has put some of the blame for soft sales on tourists being driven away by a strong euro.
| Edited by: Mugdha Kapoor Safaya
Read full article
Next Story
Next Story
Also Watch

Jet Airways Crisis: "It Was Like A Family" Jet Employees Cry For Its Revival
Countdown To
Elections Results
To Assembly Elections 2018 Results