Assembly Elections 2019
Exit Poll Results
News18
»
Lifestyle
»
health and fitness
3-min read
Be a Ray of Hope For This 6-year-old
Syeda has been diagnosed with acute lymphoblastic leukemia.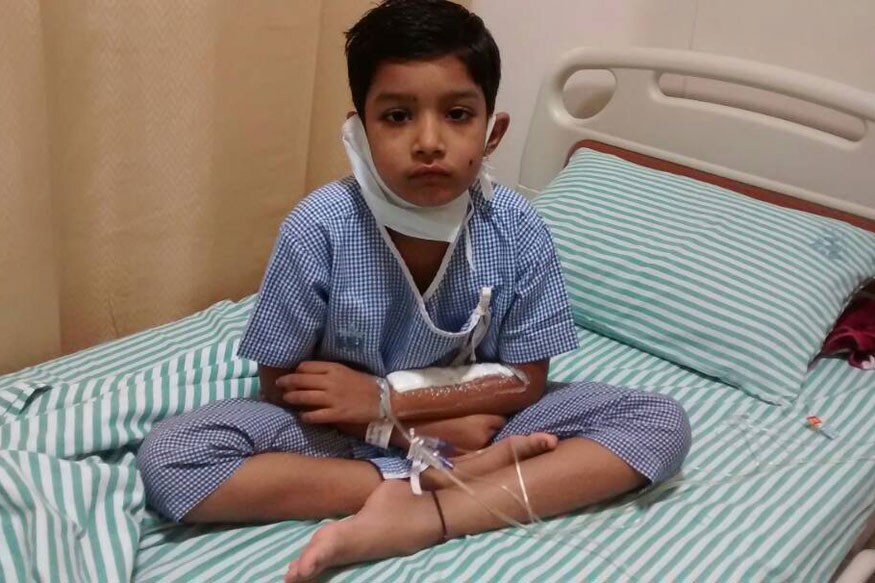 Image: Partner Content
A lot can change in an instant. The course of our lives changed when we first moved from our family home in Mysore to a small room five minutes away from the hospital after our six-year-old was diagnosed with acute lymphoblastic leukemia in the fall of 2015.
With the scanty money and prayers for a miracle we began our journey of getting the best treatment for her. Our only strand of hope now is the contribution made by caring strangers through
Ketto.org
.
It was the month of October, just before her mid-term exams, Syeda had already missed three days of school on the pretext of high fever. My husband and I were very concerned, so after the fifth day when her fever did not reduce and stayed steady at a 104-105 degrees, we rushed her to the JSS hospital in Mysore. She had already lost a few kilograms and looked frail, her hands were covered in big bruise marks which she scratched at incessantly till blood oozed out. The doctors were concerned about her sudden weight loss and put her on the drip immediately. They increased her dose of antibiotics and suggested that we run a few blood tests.
Two days later we were summoned into the doctor's clinic – he told us that Syeda was diagnosed with Acute lymphoblastic leukemia – words that meant nothing to us, but from his tone and expression we knew that it was serious.
He explained that she was suffering from cancer of the blood and bone marrow which affected the rate of production of her red blood cells, white blood cells and platelets and that it needed to be treated immediately. The very next day my husband quit his job, we gathered our belongings and left for Bangalore in the hope that more qualified doctors and better hospitals would save our darling daughter from the most dangerous of childhood cancers.
My husband Syed worked seven days a week as a salesman at a silk saree emporium in Mysore with a monthly income of Rs 15,000 which paid for the schooling of the kids and other household expenses. Savings were low and mostly in the form of gold that we acquired when we wed 17 years ago. We have since sold our family home in Mysore to pay for Syeda's treatment and now live in a small rented room five minutes from the hospital and spend most of our days at the children's ward there. Syeda has since, undergone multiple rounds of blood transfusions and three rounds of chemotherapy. The road to her recovery has been challenging, filled with equal measure of hope and despair. She was believed to be reacting positively to her treatment with an increase in her RBC count and low recorded number of leukemia "blasts" up until December 2016 when the bone marrow reported suggested a sudden relapse. Her lymphoblasts were recorded at 80% - considerably high, reflecting the persistence of the disease. Dr. Sunil Bhat, the Head of Pedeatric Haemotology Oncology and Bone Marrow, who is overseeing her treatment suggested that we opt for a Bone Marrow Transplant (BMT) as curative treatment.
We have already spent a total of Rs 6 lacs for her treatment and chemotherapies, we have exhausted every last resource available to us – mortgaged our home, sold our jewellery, borrowed from friends and family.
The BMT suggested by the doctors costs a staggering Rs 30 lacs – an amount we can't dream of collecting. As a last resort we have decided to start a fundraising page with
Ketto.org
in her name, in the hope that kind individuals will come forward and contribute to help fund this life saving surgery. The money will be used to pay for the extensive surgery and other medical bills. Just yesterday we got a call from the doctor saying they have found a willing donor whose bone marrow matches that of Syeda's and we now have one month to get the finances in place.
We have found new hope in this long and painful battle and are prepared to go the extra mile to save her life. As parents of an ailing child, every day we hope that god will grace us this one last miracle and we will be able to take Syeda home, back to her family, her friends and her joyful school days.
Please help us pay for her BMT by logging on to
Ketto.org
.
| Edited by: Manila Venugopal
Read full article
Countdown To
Elections Results
To Assembly Elections 2018 Results