GET Stock

Quotes


News18
»
Lifestyle
»
health and fitness
2-min read
Could Healthy Eating Also Boost Kids' Happiness?
The study has also found that a good diet is associated with better self-esteem and fewer emotional and peer problems in children, regardless of body weight.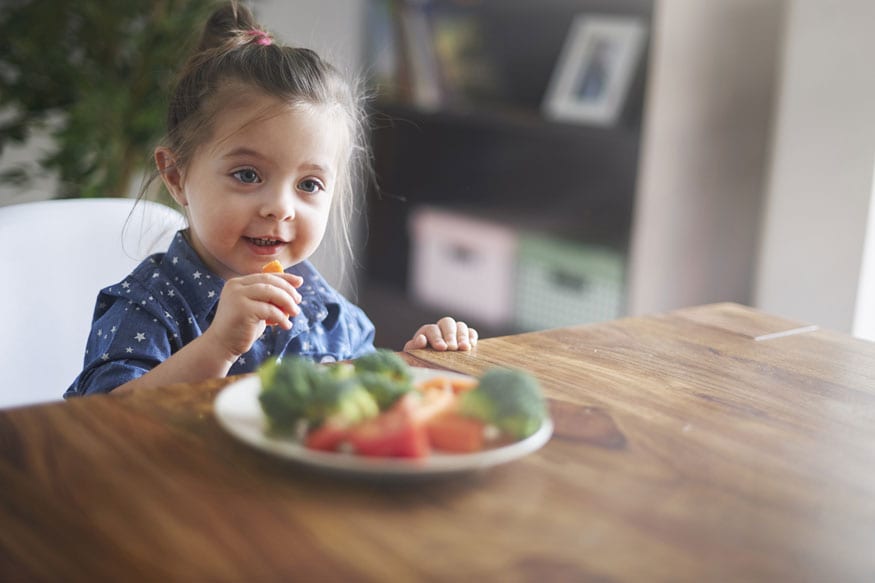 New research suggests that following a healthy diet could improve children's overall wellbeing and happiness as well as their physical health. (Photo courtesy: AFP Relaxnews/ gpointstudio/ Istock.com)
In addition to the many known benefits of healthy eating, a new European study has also found that a good diet is associated with better self-esteem and fewer emotional and peer problems in children, regardless of body weight.

Carried out by researchers from The Sahlgrenska Academy, University of Gothenburg, Sweden, the study is the first to analyze the individual components included in the Healthy Dietary Adherence Score (HDAS) and how they are linked with children's well-being.

The HDAS looks at how well we stick to healthy dietary guidelines, which include limiting intake of refined sugars, reducing fat intake and eating fruit and vegetables.

A higher HDAS indicates better adherence to the guidelines and therefore, healthier eating.

The team looked at 7,675 children age two to nine from eight European countries (Belgium, Cyprus, Estonia, Germany, Hungary, Italy, Spain and Sweden) which all follow the same healthy eating guidelines.

At the start of the study period the children's parents were asked to report how often per week their kids ate food from a list of 43 items in order to calculate each child's HDAS score.

The team also assessed the psychosocial well-being of the children and took height and weight measurements, repeating all questionnaires and measurements two years later.

The results showed that a higher HDAS at the beginning of the study period was associated with better well-being overall, better self-esteem and fewer emotional and peer problems, such as having fewer friends or being picked on or bullied, two years later.

The associations found were similar for children who had normal weight and children who were overweight, with Dr. Louise Arvidsson, the corresponding author, commenting that, "It was somewhat surprising to find that the association between baseline diet and better well-being two years later was independent of children's socioeconomic position and their body weight."

More specifically, the team found better self-esteem was also associated with following the guidelines on sugar intake, better relations with parents and peers was associated with fruit and vegetable intake, and fewer emotional problems were associated with fat intake.

Consuming fish 2-3 times per week, in accordance with guidelines, was also associated with better self-esteem and no emotional and peer problems, and intake of whole meal products were also associated with no peer problems.

However, the authors did note that children with poor diet and poor well-being were more likely to drop out of the study, and were therefore underrepresented at the two-year follow-up. The study is also observational and relied on self-reports from parents, which can be prone to errors and means no conclusions about cause and effect are possible.

"The associations we identified here need to be confirmed in experimental studies including children with clinical diagnosis of depression, anxiety or other behavioral disorders rather than well-being as reported by parents," advised Dr. Arvidsson.

The findings were published in the open access journal BMC Public Health.
Read full article
Countdown To
Elections Results
To Assembly Elections 2018 Results