News18
»
Lifestyle
»
health and fitness
8-min read
From Fat to Fit: Lose Weight Like Bhumi Pednekar
From fat to fit, lose it like Bhumi Pednekar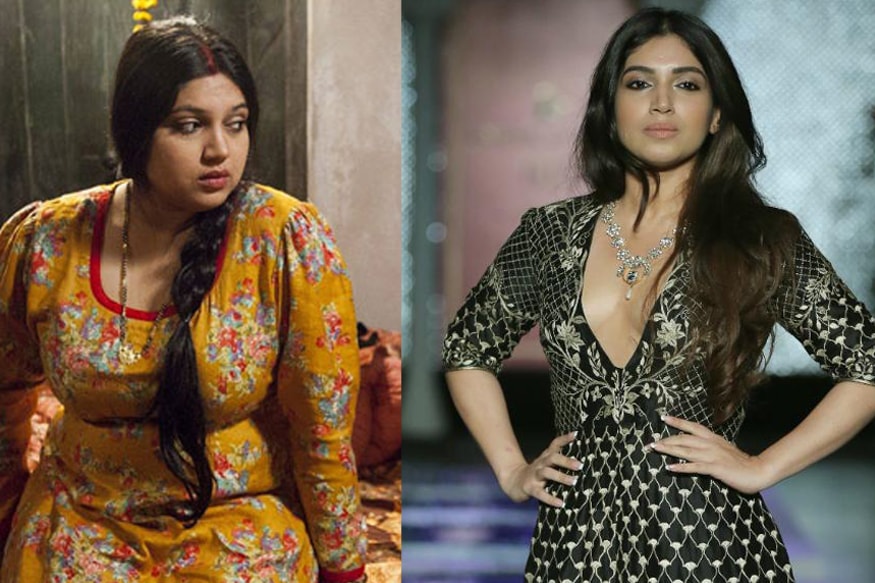 Image: A still from 'Dum Laga Ke Haisha'/ Yogen Shah
Bhumi Pednekar, who made an unconventional debut in Bollywood, has been widely lauded for her performance as an overweight woman in the film Dum Laga Ke Haisha. Bhumi had gained around 30kgs for the film but post the film she was back in her jawdropping slim avatar and how she pulled it off could be an inspiration for many who are struggling to shed pounds and looking forward to a body as fit and chiseled as Bhumi's.
Breakfast:
Bhumi starts her mornings with a glass of warm or detox water and thirty minutes later, she has muesli with skimmed milk and flax or sunflower seeds. Then comes the king-sized breakfast (an hour before gymming) of whole-wheat bread with 2 egg white omelets and a fruit (papaya or apple). She alternates between cardio and weights at the gym; it is rigorous so 5 boiled egg whites after that are a must. There is nothing healthier than kick-starting your day with a breakfast like this.
Lunch
Simple, home-cooked wholesome food that includes roti, sabzi and dal. She eats everything but a healthy version of it. "My rotis are not made of wheat but of bajra, jowar, nachni, soya, chana or rajgira and topped with a little white butter. You can mix all these grains together to make a power-packed multi grain roti or use them individually."
"My dal has tadka and the sabzi has oil but olive oil used in moderation. There is always a bowl of homemade dahi or a glass of chaas (with salt and some jeera) to go with the meal. On days where I'm out or in the mood for a different flavour, I opt for other healthy options like grilled chicken, brown bread vegetable and grilled chicken sandwich (I like using hummus/honey mustard, green chutney or just little olive oil if I want to grill it as a spread instead of butter or any other trans-fat spread), hummus with cucumber and carrots, nutri-nuggets or some home made chicken gravy cooked in very little oil with a bowl of brown rice. This meal would be anywhere between 400 to 500 calories and under 80 grams of carbs. I don't starve, just eat healthy and work out."
Avoid junk, opt for healthier options
It's always good to avoid junk food and opt for these yummy but healthy options instead!
Berry smoothie - Pour a glass of water into the mixer and add 2 tablespoons of yogurt. Add one teaspoon of honey and fresh berries of all kinds into it. Blend them together and enjoy!
Yoghurt cubes - You can pour a homemade smoothie into the ice cubes. Pour the strawberries shake into the ice tray and freeze it. You can make it a slushy and eat it up. The best cold snack ever!
Other healthy alternatives are: Kale & Soya chips, whole wheat lavash with hummus, or even dry roasted grains like puffed bajra.
Quit/reduce intake of refined sugar
Refined sugar - brown or white - is nothing but taste and empty calories. In fact in the process to digest it, it empties your body of a lot of vitamins and minerals.
Its just about opting for the healthier bottle. Why not have a brownie that's amazing to taste but also beneficial to the body? Be it raw honey or stevia, these natural sweeteners are a boon and affordable too.
Raw honey is good for digestion and is packed with zinc, potassium, calcium and vitamin B6. Add it to your nimbu paani, oats, even milk. You can also add it in your salad dressing. Honey can be used in various different ways. Please don't cook it at high temperatures, as it will loose it's taste and nutrients.
Stevia is actually one of the oldest sweeteners known to mankind. It's extracted from a plant and tastes very close to sugar. It has no calories or carbs. In fact it has anti-inflammatory properties and controls high blood pressure too. Use it in your morning chai or make desserts with it, as it's a super replacement to sugar.
Date syrup is also a great alternative to the sugar you would add to your mithais or pastries. It gives you energy and is full of iron. Jaggery too is packed with health benefits. It cleanses you respiratory tract, stomach, food pipe, lungs and it aids in digestion.
| Edited by: Gurleen Nagpal
Read full article
Countdown To
Elections Results
To Assembly Elections 2018 Results