News18
»
Lifestyle
»
health and fitness
4-min read
Get-Fit Tips: Workout Dos And Don'ts By Celebrity Trainer Yogesh Bhateja
While Bhateja is of the opinion that workout routines for both males and females differ due to the desired end result, fitness in itself he says has a lot to do with eating and exercising right.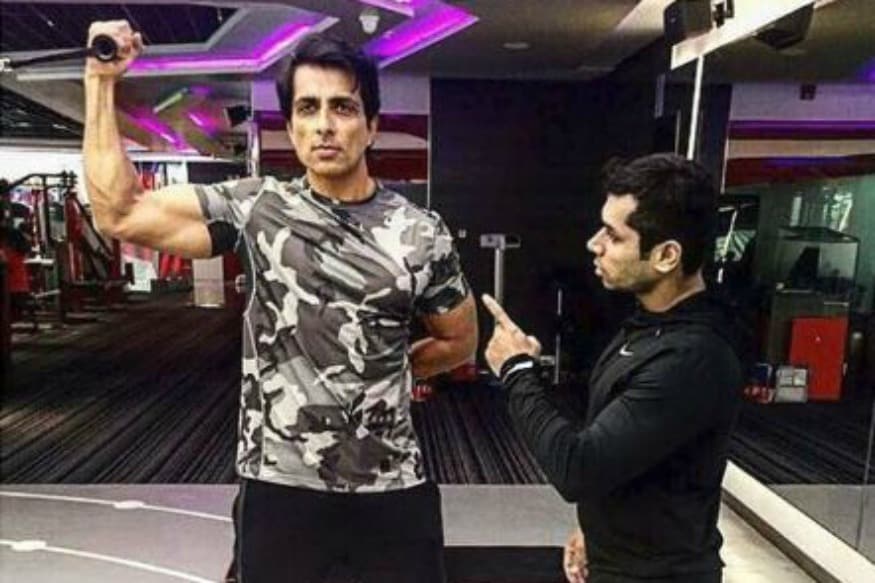 (Photo: Yogesh Bhateja/Instagram)
He began his journey as a fitness trainer around twelve years ago and for the last four years, he has been training the who's who of B-town. Yogesh Bhateja, a celebrity fitness trainer, is the man behind Sonu Sood's enviable hot bod, Neetu Kapoor and Farah Khan's fitness and Esha Gupta's attractive figure.
"Training a celebrity is very different from training a non celebrity because of their busy schedule. Also, the expected rate of result is high in limited time span," said Bhateja to News18.com.
Bhateja believes that fitness routine for an individual depends a lot on their lifestyle which includes their eating habits, drinking, smoking, etc. And the medical history of a person is extremely important in determining the type of workout for each individual.
While Bhateja is of the opinion that workout routines for both males and females differ due to the desired end result, fitness in itself he says has a lot to do with eating and exercising right.
We asked Bhateja a few questions based on health and fitness, importance of food for getting into shape, some food dos and don'ts etc and here's what he had to say.
Girls starve themselves thinking they will shed those extra kilos, is that right?
Starving is not at all a right option. Eating a planned diet, rich in fibers, proteins and controlled number of carbohydrates with good fat is going to work well. I would just say this, "Eat well and train hard.
Most men desire a six-pack ab, how can one get that?
A perfectly toned body is what every man should have. A good combination of weight and functional training followed by a planned meal that consists of all macro and micro nutrients can help an individual to achieve a good fitness level and physique. One thing that an individual should always remember is 'when you look good, you feel good'.
Three ways in which one can break the monotony of a usual workout routine...
- Always challenge yourself
- Involve body weight exercises in your regime
- Perform more isometric exercises
- Perform compound exercises
- Perform outdoor exercises or start outdoor games like soccer, badminton or swimming
This way there is something of your interest in the workout that keeps you going and motivates you to perform better.
A 5-workout move that you can suggest for people to follow regularly...
Body weight exercises are much more beneficial in making people functionally fit and confident. So here are five exercises to make them fit:
Basic/Advance
- Plank/walking plank
- Squat/overhead squat
- Farmers walk/single hand farmers walk
- Pelvic bridge/Shalabhasana
- Inchworm/Burpees
Some dos and don'ts before, during and after workout sessions...
- Hydrate yourself properly
- Don't eat anything heavy 45 minutes before workout
- Use proper workout gears for safety
- A proper warm up and stretching is a must
- Concentrate on breathing while performing exercise
- Keep a check on your heart rate while performing vigorous exercises
- Perform proper cool down and stretching exercises to avoid cramping and to promote muscle elasticity and growth
- Keep your post workout meal handy because after a good workout body needs it to recover and replenish
How important a role does food play in getting into shape?
Food plays the most important role in building up good muscular body or getting someone in a good shape. Without a planned and nutritional diet it is difficult or in fact I would rather say that it is not possible to achieve a good physique and at the same time have a bright and healthy skin. Hence it is important to keep a balance in your diet with workout.

Does when you eat matter more than what you eat?
Both aspects are important. It is about what you eat and at what time. One needs to keep a check on the nutritional value your body type demands and also the time interval you should keep in between the meals. Everyone should follow a perfectly planned meal that suits their lifestyle and daily routine. There is one simple formula, "You can't eat wrong and you can't eat always".
Some dos and don'ts for food items
- Eat lots of salads before your meal
- Stop drinking water half an hour before & after your meal
- Avoid red meat
- Avoid preserved food
- Eat in small portions every 2-3 hours
- Keep yourself hydrated throughout the day
- Try and add lots of fruits in your diet

Get the best of News18 delivered to your inbox - subscribe to News18 Daybreak. Follow News18.com on Twitter, Instagram, Facebook, Telegram, TikTok and on YouTube, and stay in the know with what's happening in the world around you – in real time.
| Edited by: Mugdha Kapoor Safaya
Read full article