GET Stock

Quotes


News18
»
Lifestyle
»
health and fitness
3-min read
How Will I Save My Only Child Without Any Money
A helpless father shares his heartbreaking story with the hope of seeking help.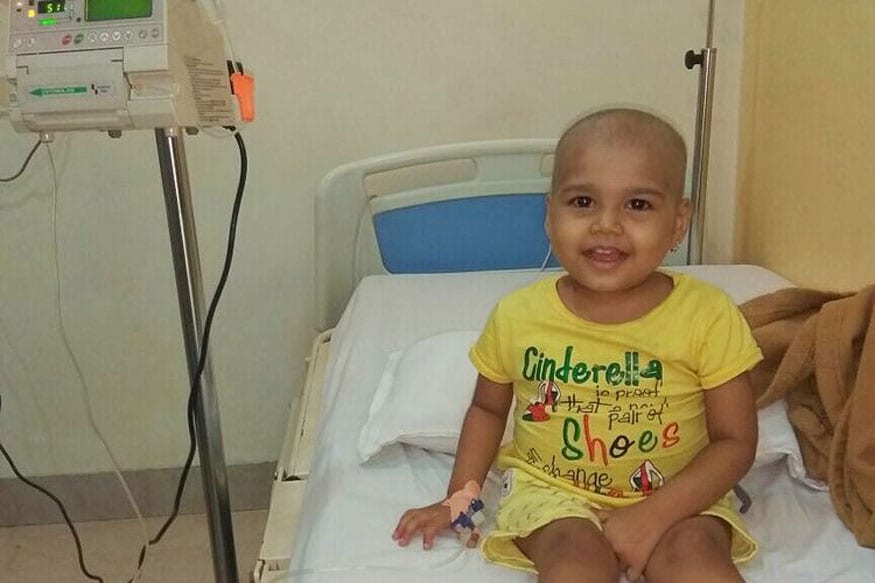 Photo courtesy: Ketto/ Partner content
"When I told Aliya about her birthday party, she excitedly ran to every house in our colony holding up 4 little fingers telling people that's how old she was going to turn. I wept all night thinking that my baby doesn't even know that it could be the last time she was celebrating her birthday."
Javed Malik, a helpless father, shares his heartbreaking story with the hope of seeking help in the form of
donations
. Your support can help him pay for the treatment so he can save his only child, little Aliya.
My name is Javed. I work at a small garment shop called 'Hajra Fashion' in Jogeshwari earning Rs. 15,000/- per month. Affording a party means skipping meals and spending more hours at the shop. But what will any father do knowing that the only daughter he has may not make it to celebrate her fifth birthday? That's why this year; I wanted to give Aliya the best birthday she could think of. I bought her a new birthday dress, bought a 6 kg chocolate cake and even purchased return gifts for all her friends knowing it could be the last time I'll see her laugh, dance and light up with excitement.
Our universe changed a few months ago, specifically on 1st March a few weeks short of her birthday. Aliya woke up in the morning with a swollen abdomen and complaints of acute pain. When her mother lifted her dress, she was horrified to see green patches around her naval. We rushed to Sushrut hospital. Till we reached the hospital, I saw Aliya struggling to breathe; she couldn't even keep her eyes open. Seeing her breathless, my hands turned cold and I could hear my heart thumping in my ear. I kept calling her name to try and keep her awake because that seemed like the right thing to do.
A few tests and one sonography later, Dr. S.H.Advani informed me and my wife that Aliya was diagnosed with Stage 4 Intra Abdomen Neuroblastoma + BM Involvement - words that meant almost nothing to me but changed my life completely. Neuroblastoma – a cancer of the nerve cells and bone marrow involvement signified that the cancer is at its most malignant and advanced stage.
I wish cancer had chosen me instead of her. How much can her fragile body even take? She doesn't eat because every time she tries to swallow her food, a wave of pain travels through her entire body. She has lost a few kilograms and looks extremely weak. Taking constant rounds to the hospital and spending long hours over there has changed my cheerful Aliya. She doesn't talk much. We try to cheer her up by showing her favourite cartoons Doraemon and Motu Patlu but unlike earlier that just doesn't do the trick anymore. I don't blame her - which 4-year-old would like visiting the hospital so often? The doctor informed me that Aliya needs a total of at least 3-4 chemotherapy sessions, once every 2 months to kill the cancerous cells in her bloodstream. Each session would last for 15 days and cost us at least Rs. 2.8 lakh. If I pay for the treatment within a month, the doctors would have a shot at saving her life.
That means, to keep the cancer cells from taking over my daughter's body, to keep her alive, I would need at least Rs. 10 lakh. Where will I get so much money from? What is the point of anything if in spite of having a job, the money I make isn't enough to pay for the treatment my Aliya needs to survive? Even selling my house wouldn't give me enough money to afford one session. I've tried to get help from every source I could possibly think of. I've run to my relatives, close friends, colleagues, I even took an advance from my shop. These days, I carry prints of my daughter's report and show it to strangers wherever I go with the hope of seeking their help.
I'm living my worst nightmare - I've ran out of money. How am I going to keep my daughter alive? This piercing thought hasn't let me eat, sleep or even think straight.
Please help me get the necessary treatment for Aliya by donating to my fundraiser on
Ketto
. Your donation will mean the world to me.
Also Watch
Read full article