GET Stock

Quotes


News18
»
Lifestyle
»
health and fitness
3-min read
Save Our Premature Baby Girl
My husband and I need Rs 13,00,000 to save my daughter from the stubborn claws of death and we need your help.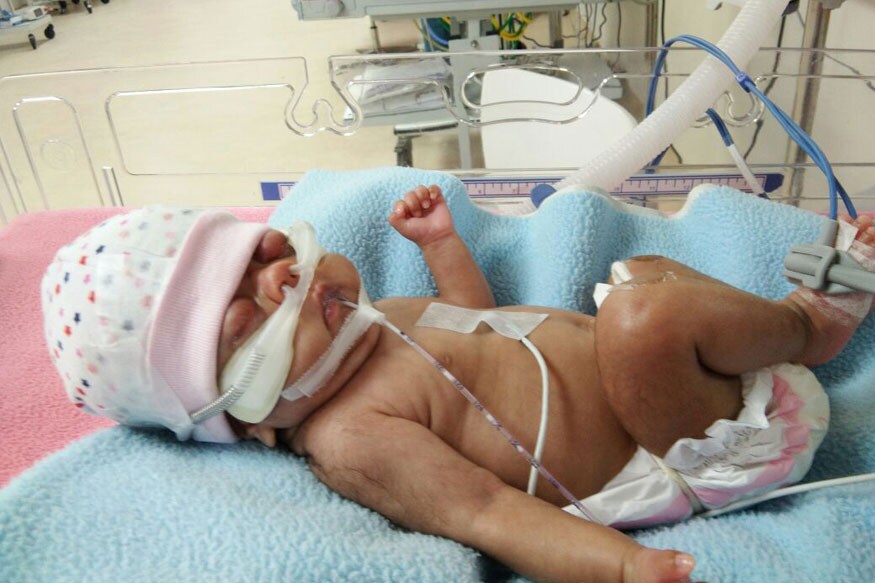 Photo courtesy: Partner Content
I'm Mamta Gandhi, a mother to an extremely premature baby. I feel powerless, terrified and I'm in desperate need of help to save my 3-month-old baby girl. It's scary sharing my story with the world like this - giving people a glimpse into such a personal struggle; something I never thought I'll do. But that's what it has come to. My husband and I need Rs 13,00,000 to save my daughter from the stubborn claws of death and we need your
help
- as fast as we can, and as much as we can. It will save my daughter and our world from collapsing.
To understand the financial crisis we're in, I'd like to tell you about my extended family. We're a big family of twelve, living in a small house located in Lalbaug. We have three daughters and my brother-in-laws have one each. A couple of years ago, one of my husband's brothers tragically passed away and the other went missing. While it scarred our family emotionally, it also left my husband with the responsibility of their respective families. From three earning members of the family, the pressure of running the entire house came down to my husband's salary of Rs. 50,000 every month. This money is now the only source of income that is being used to run the house of twelve, pay the school fees of four children and now the exorbitant medical bills of our baby. In the last week, the situation was so bad that we were forced to skip meals. In such grave times, turning to the kindness of strangers is the only option I'm left with - your
donation
will help me keep my daughter alive.
I was five months pregnant in June 2017, when my beautiful daughter came into our lives. Still having 4 more months to deliver, I started experiencing a sudden pain. My husband rushed me to the Surya Hospital. The doctors caught us off guard by saying that the baby had already started crowning. I was rushed to the operation theatre; completely unprepared for a delivery, I kept hoping and praying for a healthy baby.
On account of being extremely premature, my baby was underdeveloped and immediately shifted to the NICU (Neonatal Intensive Care Unit). I've experienced being a mother twice, but this is nothing like my earlier experiences. My baby was just 750 grams at birth; her body couldn't breathe on its own; her tiny, delicate body was pierced with needles and breathing pipes were put in her to help. And worse of it all, I can't feed her or even hold her close yet. It kills me to see her go through such painful procedures all by herself, I can't even comfort her and let her know that I'm there for her and won't let anything happen to her.
My husband and I sold my bangles and mangalsutra to gather money for the tests and medicines. Having sold all the gold that our family has ever owned, hasn't even covered one fourth of the piled up expenses. Just one day in the NICU costs a whopping Rs. 15,000 and my baby has been there since June. If we fail to pay the amount in time, we'll be forced to take her home. And taking her out of the NICU will kill her. I'm a mother; if I could take the place of my ailing daughter, I'd do with a smile. But the harsh reality is I can't. She needs more time in the NICU and we're struggling to buy it for her. We're broke, help us out.
Please donate to our fundraiser on
Ketto
and help us keep her alive.
Disclaimer: This is a sponsored article and News18 doesn't hold any responsibility for the content
Also Watch
Read full article