News18
»
Lifestyle
»
health and fitness
1-min read
Skin Cancer Detection Device Wins 2017 International James Dyson Award
The device was developed by four engineering students from McMaster University in Canada.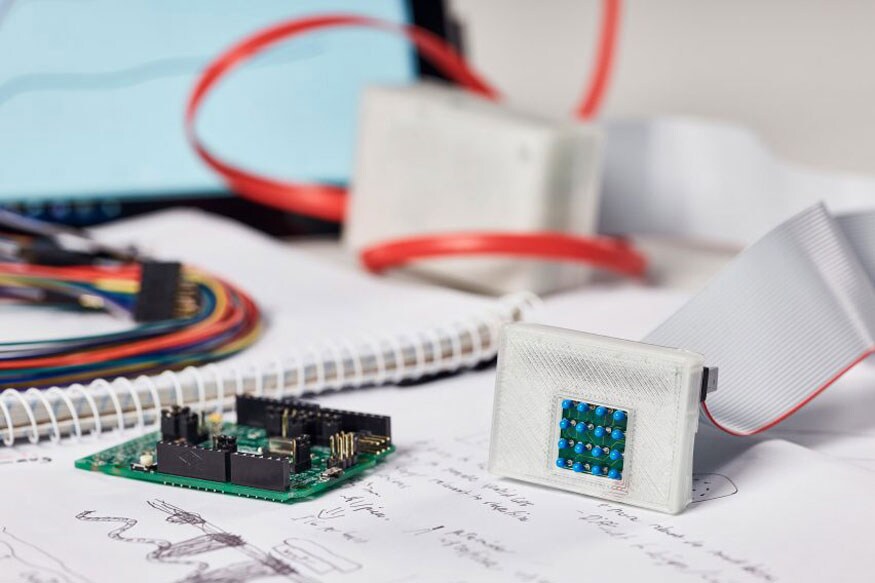 The sKan uses temperature sensors to detect melanoma in a quick and non-invasive way. (Photo courtesy: AFP Relaxnews/ Courtesy of McMaster University)
A high-tech device capable of detecting melanoma skin cancer has won the international James Dyson Award 2017. This innovative device was developed by four engineering students from McMaster University in Canada.
The device, called sKan, detects melanoma quickly, cost-effectively and non-invasively by using temperature sensors to measure skin temperature in a specific area.
Developed by four young engineering students from McMaster University in Canada, the device impressed the James Dyson Award 2017 jury with its ease of use and its potential for saving lives worldwide by improving early diagnosis rates.
Placed directly on skin, the device applies cold to the area being tested, creating a thermal shock. It then measures how long skin takes to return to its initial temperature. The faster this occurs, the greater the likelihood of melanoma, since cancerous cells regain heat more quickly than healthy cells.
Results from the device are then transferred to a computer which creates a heat map, showing how long different areas of skin took to heat back up.
With the $40,000 prize money, the team of engineers who developed the device plan to hone their design and develop a prototype, before envisaging clinical trials in the longer term.
Each year, 200,000 new cases of melanoma are diagnosed worldwide. If detected in time, 90% of skin cancers can be treated. Seventy percent of skin cancer cases are linked to excessive sun exposure, mainly intermittent and intense periods of exposure during childhood.
The James Dyson Award is an international design award that celebrates, encourages and inspires the next generation of design engineers. Run by the charitable trust of the British inventor James Dyson, the award is open to current and recent design and engineering students in 23 countries.
Last year's award winner was American student Isis Shiffer with her folding, recyclable cycle helmet -- called "EcoHelmet" -- designed for people using bike-sharing schemes.
| Edited by: Manila Venugopal
Read full article
Countdown To
Elections Results
To Assembly Elections 2018 Results