Assembly Elections 2019
Exit Poll Results
News18
»
Lifestyle
»
health and fitness
2-min read
Walking The Dog Makes Seniors More Active
The people who owned or walked a dog had higher levels of physical activity than those who didn't.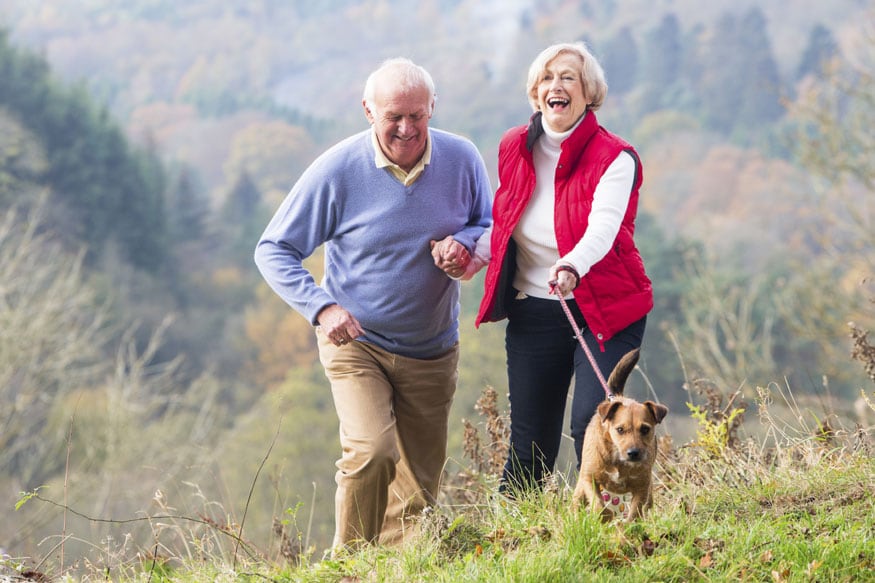 Photo courtesy: AFP Relaxnews/ SolStock/ Istock.com
New UK research has found that seniors who walk their dog have higher levels of physical activity than non-dog owners, even during the colder winter months.
Carried out by researchers from the University of East Anglia (UEA) and Centre for Diet and Activity Research (CEDAR) at the University of Cambridge, the team assessed the activity levels of more than 3000 older adults.
Participants were asked if they owned a dog and if they walked one, and were asked to wear an accelerometer, a small electronic device that constantly tracks physical activity, for a seven-day period.
The results showed that those who owned or walked a dog had higher levels of physical activity than those who didn't, with dog owners sedentary for 30 minutes less per day, on average.
The team also found that although when the days were shorter, colder, and wetter, all participants tended to be less physically active and spent more time sitting, dog walkers were still more physically active on these days and more likely to head outdoors even when the weather was bad.
Shorter days and bad weather are already known to be one of the biggest barriers to staying active outdoors, making the findings important when looking for ways to encourage activity in the colder months.
"We were amazed to find that dog walkers were on average more physically active and spent less time sitting on the coldest, wettest, and darkest days than non-dog owners were on long, sunny, and warm summer days," commented project lead Prof Andy Jones, "The size of the difference we observed between these groups was much larger than we typically find for interventions such as group physical activity sessions that are often used to help people remain active."
Although the researchers caution against simply recommending everyone own a dog, due to animals being such a large responsibility, they do suggest that the findings could be useful for looking at potential programs to support activity.
"Physical activity interventions typically try and support people to be active by focusing on the benefits to themselves, but dog walking is also driven by the needs of the animal," explained Prof Jones, Being driven by something other than our own needs might be a really potent motivator and we need to find ways of tapping into it when designing exercise interventions in the future."
Professor Andy Jones also explains more about the study's findings in a short video available now on YouTube.
| Edited by: Manila Venugopal
Read full article
Countdown To
Elections Results
To Assembly Elections 2018 Results