Holi 2017: Quick Tips To Have a Skin-friendly Festival This Year
Treat your skin and hair right this Holi.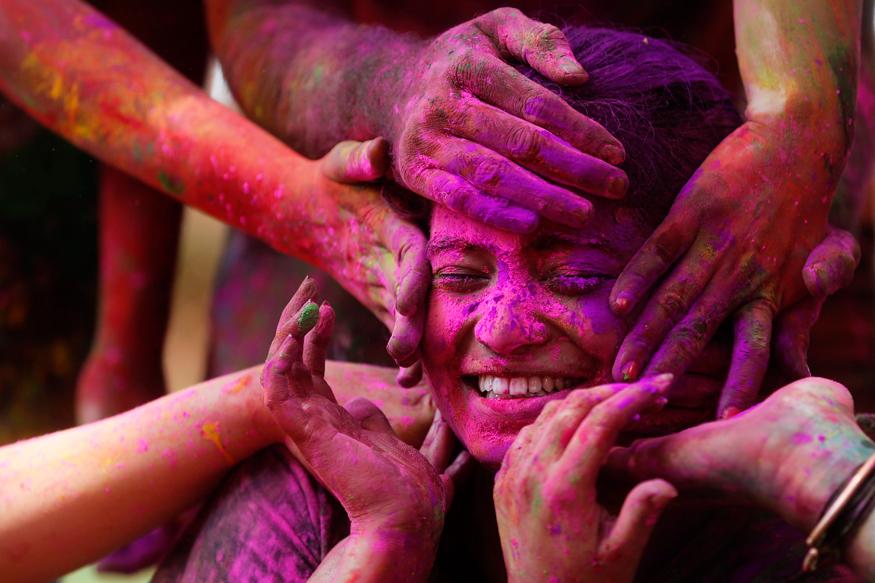 Image: Reuters Pictures
Holi – the festival of colours is finally here! The excitement for the festival is massive but people are also worried about the after-effects.
The extensive use of artificial colours can cause a great amount of damage to skin and hair. Ombre shaded hair, colour stained nails, and rough dry skin are some of the unwanted gifts that you get on Holi. And that's such a bummer, especially for girls! So, what if this year you could play Holi without any skin-and-hair tension?
Celebrity dermatologist, Dr. Rashmi Shetty has some tips on how to avoid these problems with a little care!
Pre-Holi
Moisturizing your skin is very essential. Applying a layer of coconut oil mixed with Jasmine oil before you step out to play Holi, will protect your skin from the damage and also act as a layer of protection between your skin and the colour. The oils are known to have antibacterial properties making them the ideal choice for skin protection.
No one wants colour stained nails. To avoid them, paint your nails with the darkest colour. It will prevent the Holi colour to stay on your nails and act as a protective coat.
Hair is another area of major concern which needs to be taken care of. Oiling your hair is the best way to protect your beautiful tresses from the colours. Moreover, colours can enter deep into the roots if your scalp is dry. To save your hair from chemical colours, use a coconut oil. Oily hair people can go for aloe vera enriched coconut oil as is lightweight and will give the required amount of protection.
Apply generous amount of lip balm on your lips so that they are well protected.
Post-Holi
You have to have a thorough bath to get rid of all the colour, dirt and grime. You should use a body wash or soap which is gentle on your skin. After bath, you can apply coconut milk based moisturizer to nourish your skin.
Wash your face with a gentle face wash. Do not scrub too hard.
In case your skin turns dry, go grab some glycerine and mix it with jasmine oil and few drops of coconut oil because of its inherent quality of moisturizing and nourishing dry skin.
You can apply coconut oil to the scalp overnight and cover it with a plastic cap. This process will help gain the lost shine and nourishment of your hair.
Use a mild shampoo on your hair and condition your hair to resume the shine of your hair.
For your feet, take a bucket of lukewarm water, add few drops of shampoo, mustard oil and coconut oil. Use a pumice stone to exfoliate dirt from the heels. Gently massage with a moisturising lotion and wear socks. This will provide deep conditioning to your feet.
| Edited by: Kriti Tulsiani
Read full article
Countdown To
Elections Results
To Assembly Elections 2018 Results