IIFA Awards 2017: Bollywood Stars Light Up the Green Carpet Despite Rain
The IIFA Awards 2017's Green Carpet had Bollywood stars dressed in their best and brightest, while the weather played spoilsport.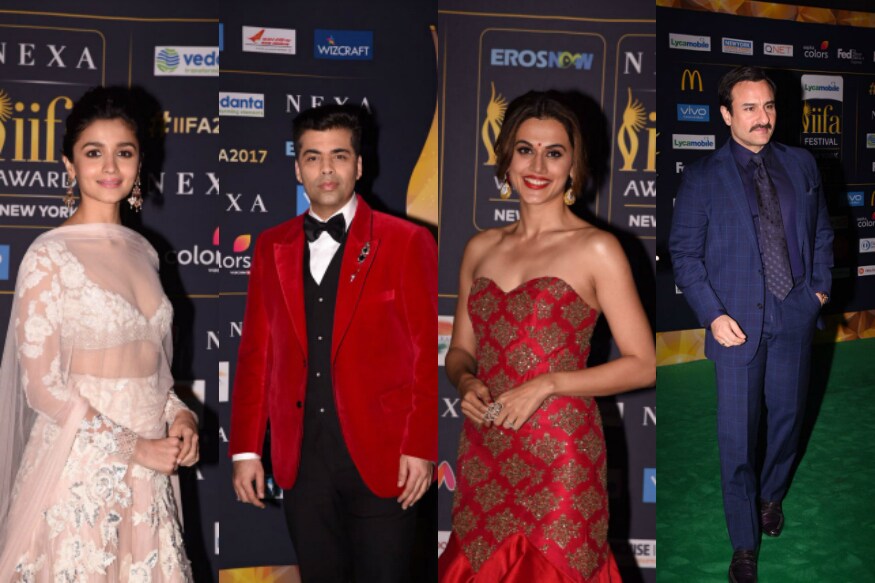 Image: Yogen Shah
The weather god wasn't kind to the IIFA Rocks gala at the MetLife Stadium in New Jersey, where Oscar winning composer-singer A.R. Rahman performed live for fans in the US. But the show went on -- and rocked. Rahman on Friday evening only took the stage for his culminating performance a few hours after the show began, but the audience was kept in high spirits with a few musical performances, banter by the hosts and the distribution of Technical Awards.
The green carpet is a highly anticipated part of the annual International Indian Film Academy (IIFA) Weekend and Awards celebration, which goes to different countries every year. But the rain dampened plans. Nevertheless, celebrities like Salman Khan, Alia Bhatt, Katrina Kaif, Shahid Kapoor, Alia Bhatt, Anupam Kher, Saif Ali Khan, Huma Qureshi, Richa Chadha, Taapsee Pannu, Shabana Azmi, Sonu Sood and Dia Mirza turned up dressed as they must on a green carpet.
Credit: @iifa awards
"It's raining in New York, loving the weather. If it does rain tomorrow, it will be awesome dancing in the rain at IIFA," tweeted Salman, who is a star performer for the main IIFA Awards night here on Saturday. Shahid meanwhile tweeted, "IIFA Rocks. Rain can't stop the party." Truly, it didn't.
Credit: @iifa awards
"Thank you for getting wet and sitting for this," said Rahman in the middle of his performance. The music played on, and the excitement levels increased as he kept belting one hit track after another with a string of singers like Hariharan, Kailash Kher, Jonita Gandhi and Mohit Chauhan joining him on stage.
Credit: @Shahid Kapoor
Rahman's performance at the MetLife Stadium came just days after some fans walked out of his concert at London's Wembley Stadium for the lack of Hindi songs.
Credit: @iifa awards
The security at the venue -- which will also host the IIFA Awards night on Saturday -- was tight, and led to a hard time for some mediapersons.
Credit: @iifa awards
Get the best of News18 delivered to your inbox - subscribe to News18 Daybreak. Follow News18.com on Twitter, Instagram, Facebook, Telegram, TikTok and on YouTube, and stay in the know with what's happening in the world around you – in real time.
Read full article