International Women's Day: Fashion as a Tool to Propagate Feminism and Celebrate Womanhood
A look at how fashion has been used as a tool to propagate feminism and celebrate womanhood.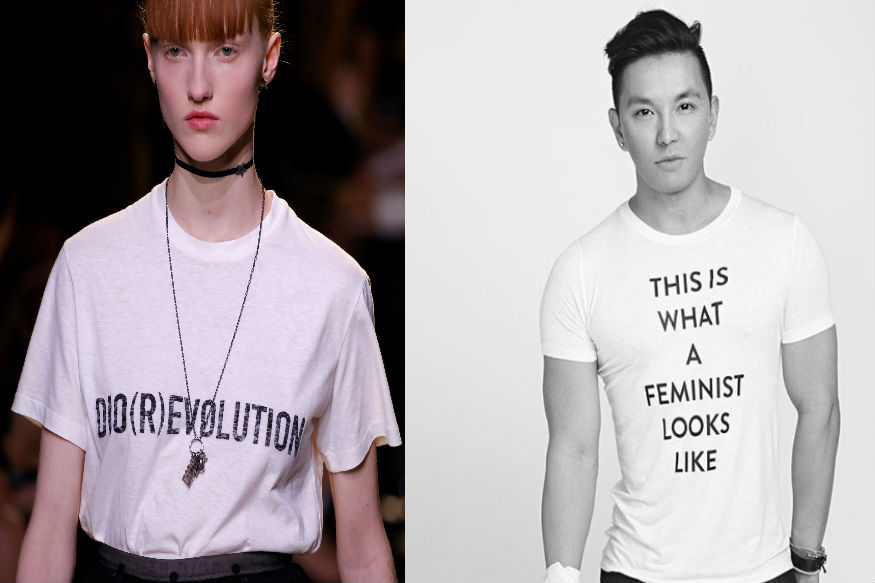 (Photo: (left to right) A model walks down the runway in a Dior creation/ Designer Prabal Gurung/ Instagram)
It isn't every day that you get to see people around the world standing up for a cause irrespective of caste, creed and colour, nationality. But the Time's Up and #MeToo movements triggered a sort of a revolution by leading women from across the globe to speak about, discuss and stand up against sexual harassment, discrimination and misconduct.
The best part is that many men too supported the cause in whichever way they could. While some sported black outfits at the Golden Globes along with their female counterparts, others from the fashion industry expressed their views on the ongoing conversation about women's place in the society, through their creations, bringing the #MeToo movement to the runway.
In fact, several brands, designers and even celebrities by way of interlinking fashion and opinion, have contributed towards the conversation and taken the movement forward in some way or another.
Actress, UN Ambassador and a vocal and leading supporter of women empowerment and the Time's Up movement, Emma Watson recently turned up at the Oscars 2018 Vanity Fair after party flaunting a 'Times Up' tattoo inked on her forearm. Although the entire idea of supporting to the cause was lost with social media users busy discussing the missing apostrophe, Emma did well to add to the conversation in her own stylish way.
Recently, well-known French fashion-house Christian Dior invoked feminism at the Paris Fashion Week by way of presenting their collection in a 'feminist setting', with a huge banner that read "Women's rights are human rights". On the floor and ceiling were posters and photos of women protesting.
Designer Maria Grazia Chiuri -- (the fashion house's first first female chief -- had her muse, British model and women's rights advocate Ruth Bell, commence the show with a black and white woolen jumper declaring, "C'est Non, non, non et non! (It's no, no and no)."
The fashion house invoked the spirit of 1960s, the year when social and sexual revolutions swept the globe, and presented their stand on the #MeToo movement through their collection.
Earlier, during the Spring of 2017, Churi, at her debut Dior show, made a powerful statement when she showcased a beaded tulle skirt teamed with a white slogan tee bearing the words "We Should all be Feminists."
Along with sending a powerful statement through the bold words, Churi made sure she sent out the message loud and clear that feminism and female empowerment was a topic that will be something that the brand will keep touching upon.
Also, quite recently, after the Time's Up and #MeToo movements found its way to the Golden Globes and the Grammy Awards' red carpet with celebrities turning up in black outfits and carrying white roses respectively as a mark of solidarity, an icon from the East -- Prabal Gurung -- took the movement one step ahead by bringing it on the New York Fashion Week runway.
Gurung, whose name has become synonymous with female-led activism, showcased his Fall 2018 line inspired by the 'superheroines' in his life, female-dominated societies like the matriarchal Mosuo tribe of China and India's activist Gulabi Gang -- 'a community of female activists who adorn themselves in pink saris symbolic of their self-proclaimed power and fearlessness'.
To say the least, Gurung's collection 'Gulabi Gang', was all about celebrating womanhood, their fearlessness, strength, grace, resilience and female solidarity.
In a previous interview with News18.com, Gurung, who spoke about the impactful finale of his NYFW show, wherein the model walked together towards the media pit holding white roses in their hands, he said, "The finale was a moment of female solidarity, a moment to celebrate the fearlessness that we've seen during these times." "It is so inspiring to see what is happening with women in our society right now, and I wanted to showcase the beauty of women supporting women. That is the world I want to live in."
Take a look.
And this certainly wasn't the first time Gurung supported the cause of feminism through his work. Last year, for his Fall 2017 collection, Gurung had models sport T-shirts with powerful slogans emblazoned on it that read, 'This is what a feminist looks like'; 'The future is female', etc.
Closer home, back in March 2017, designer Gaurav Gupta paired fashion with feminism in the perfect way by showcasing a powerful collection wherein he teamed paired his trademark sparkling, sculpted gowns with feminist slogan tees. In what can be termed as a creative masterpiece, the designer paired ballroom-ready skirts with slogan t-shirts which gave out a powerful message on feminism and women empowerment.
Take a look.
(Photo: Yogen Shah)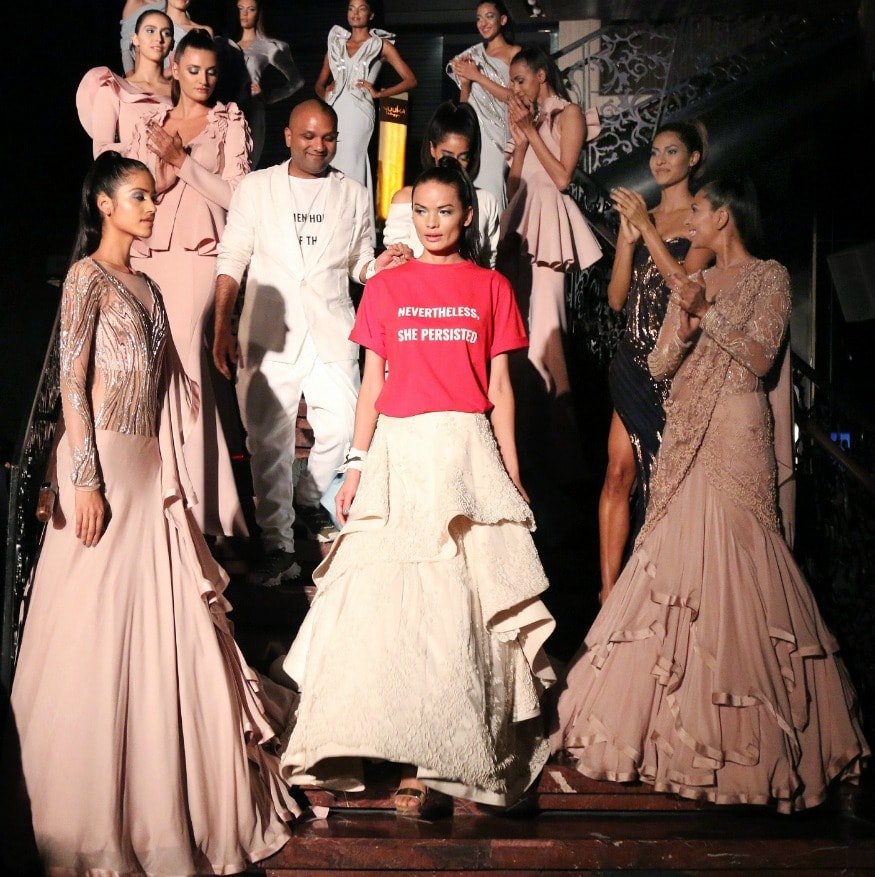 (Photo: Yogen Shah)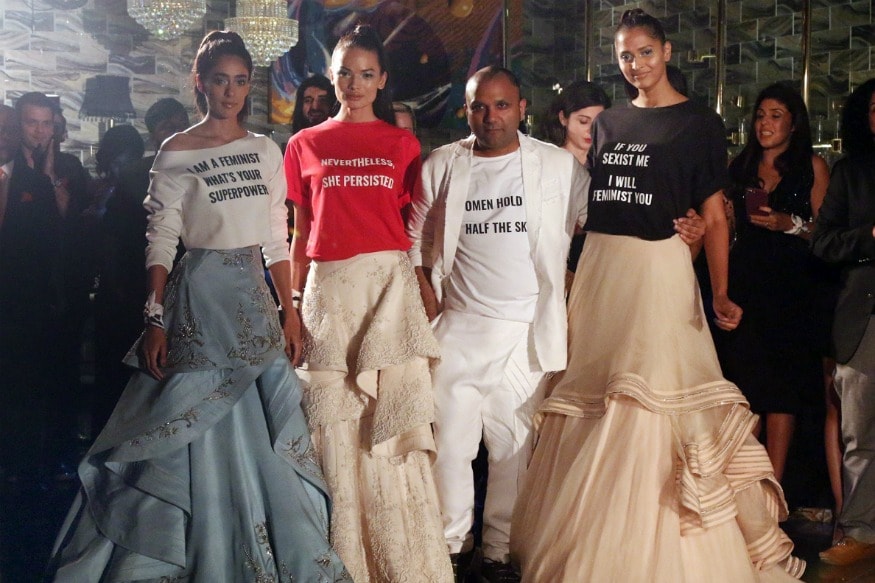 (Photo: Yogen Shah)
Speaking about celebrating womanhood through fashion, designers Saaksha & Kinni told News18.com, "It is important to celebrate womanhood through fashion. We as a team surround ourselves with strong independent women right from our graphic designer, to our design consultant, to our stylist, photographer and hair and makeup artist. It is important women come together and build each other up in the fashion community. It is by working together, supporting each other and promoting each other that women will be empowered and emboldened enough to continue to build fashion brands and empires."
Adding to that, Sushma Mehta Shah of Rejuvenate Jewels, said, "Woman and fashion go hand in hand and this woman's day we celebrate strong independent woman. It's time that women support each other in the fashion space and grow together. We see a lot of designers working with woman artisans, empowering them and making them self sufficient. Giving them a chance to learn and explore the world of fashion through their expert skills."
Lastly, designer Sunaina Khera, in an exclusive chat with News18.com said, "It's a day to celebrate women and it's about time we did so. Here's to fashion houses founded by women, being run by women, for women. It's high time female-run design houses got an equal amount of attention and voice in the industry which is clearly still very male dominated. It's specially important for those in a position of power to empower those you require it. Today let's celebrate womanhood with an open heart and help each other rise; because someone very wisely once said, 'behind every successful woman is a tribe of other successfully women who have her back'.
Get the best of News18 delivered to your inbox - subscribe to News18 Daybreak. Follow News18.com on Twitter, Instagram, Facebook, Telegram, TikTok and on YouTube, and stay in the know with what's happening in the world around you – in real time.
Read full article