News18
»
Lifestyle
»
health and fitness
4-min read
International Yoga Day: Asanas to Combat Stress, Anxiety and Depression
International Yoga Day: Any posture in yoga helps you gain flexibility in the body, that reduces rigidity in the mind thereby being open to and accepting of flow of life. Here are a few of the many.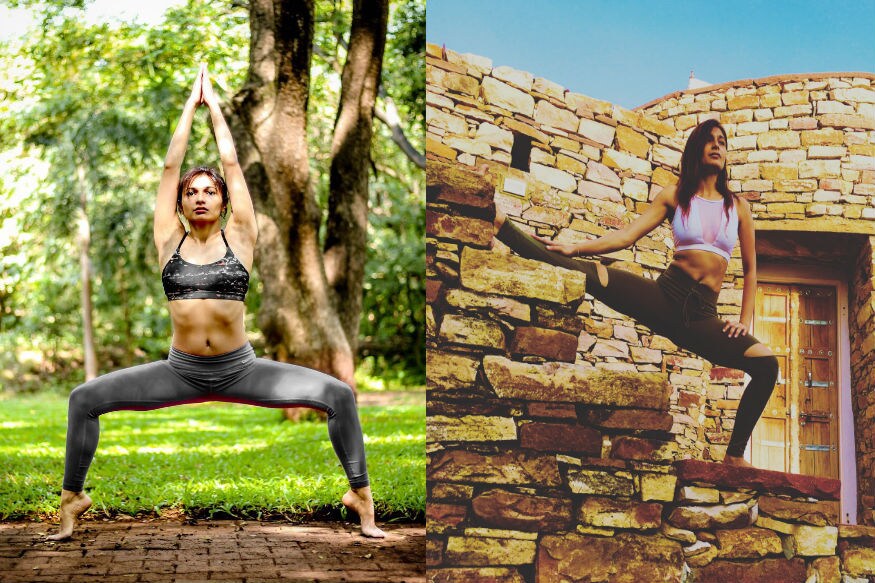 (Photo: Yoga trainer Rupal Sidhpura Faria)
With innumerable cases of illness and death due to depression -- most recently the tragic demises of celebrity chef Anthony Bourdain and designer Kate Spade -- and innumerable adults struggling with immense stress and anxiety, it is important that we not only talk and discuss about such issues openly and frequently, but also find ways so as to deal with them with utmost precaution and carefulness.
In our attempt to find a few ways that could help those struggling with stress, anxiety or depression (S.A.D), we spoke to celebrity yoga trainer Rupal Sidhpura Faria, who spoke about the role of yoga in combating S.A.D and a few postures (asana) that one can practise so as to deal with such mental health issues.
Role of Yoga in combating S.A.D.?
"All the three surface when you're thinking about anything but the present. Yoga is what brings you to the now. It makes you focus on different parts of the body, therefore bringing focus on the breath and stopping varous distrubing thoughts," said Rupal in an email-interaction with News18.com.
Ten postures/things you can do to combat S.A.D.
Any posture in yoga helps you gain flexibility in the body, that reduces rigidity in the mind thereby being open to and accepting of flow of life. Here are a few of the many.
Sukhasana (Duty to Self): Also known as the easy pose.
Technique: Sit crossed legged on a mat with the head, neck and torso in one straight line. Breathe normally.
Focus: Sounds around you, ideally fading sounds of birds chirping or vehicles.
Benefits: This establishes inner harmony with one-self. Elation through poise, calms the mind to further practise. Perfect for self instruction.
Parvatasana (Knowledge and awareness by movement):
Technique: Sit in sukhasana, inhale raising both arms simultaneously above the head and joining palms in namaste position, arms touching the ears. Twist to either sides and bring the arms down exhaling.
Focus: Focus on the stretched part of the body.
Benefit: In each dynamic movement in the posture, the mind diverts to the stretch, bringing about a coordination in mind and body movement and increasing focus and awareness on vital organs of the body.
Utkatasana (Semi standing or squat pose; knowledge by movement):
Technique: Stand with one foot apart, feet parallel, head, neck and back in one plane and stomach sucked in. Fix your gaze. Inhale raising both the hands to shoulder level simultaneously with the heels. Exhale and squat without resting the buttocks on the heels. Hold position. Stand inhaling and heels down with hands exhaling.
Focus: Breathing and burning sensation in the lower extremities.
Benefits: Awareness and coordination of mind and body. Helps strengthen the lower body. Improves Neuromuscular coordination and balance. Inner harmony through graceful movement and blood circulation for all postures.
Ekapadasana
Technique: Stand straight, feet together, keep gaze fixed at any one point. Shift weight on one leg and lift the other to place foot on opposite groin. Join hands at sternum bone, centre of the chest and stay in the posture as you breathe normally.
Benefits: Brings about steadiness in mind. Improves neuro-muscular coordination, balance, endurance and alertness. Exercises hips, knees, glutes apart from other physical benefits.
Paschimmottanasana (letting go in the forward fold):
Technique: Sit straight with legs stretched forward, feet together and toes pointing upwards, inhale bringing palms near the chest, hands bending at elbows, exhaling stretch arms forward to hold your toes or ankles or knees. While inhaling come back to starting position.
Focus: Stretch in the hamstrings.
Benefits: Forward bending helps in letting go of the worries of the future and of the past. Helps greatly in further awareness of vital stomach organs.
Ustrasana (Aishwarya Bhava, self confidence and self reliance through back bends)
Technique: Kneel down, feet and knees together, hands placed on heels, lean back pushing pelvis forward and tilting head behind. Hold posture as you breathe through the stomach. Exhale while returning to kneeling position.
Focus: Compression in the spine as you breathe through the stomach.
Benefits: Develops strength and confidence and a feeling of accomplishment through this back bend. Calms the mind and increases blood flow to the deep muscles of the body.
Bhujangasana
Technique: Lie on stomach with feet together and hands folded at the elbow besides the chest. Inhale slowly raising first the head, shoulders upto navel and eyes gazing backwards towards the ceiling. Hold posture. Exhale while coming back down to resting position.
Focus: Breathing with stomach. Anterior stretch and posterior contraction.
Benefits: Same as Ushtrasana
Other things that one can do:
- Start with a hobby that interests you or keeps you occupied positively like painting, drawing, any sport etc.
- Keep a book to write 10 positive points everyday about the day.
- At the end of the day, sit in a comfortable posture and close your eyes. Witness your entire day in my mind like a showreel without indulging into the day routine. This will enable you to let go of what's done and focus on correcting and improvement of self.
- Eat, sleep, exercise on time.
- Start the day by reading the positive points from the day before and aim at adding more points to the list.
(All the above postures are to be performed under the guidance of a certified yoga professional.)
Read full article
Countdown To
Elections Results
To Assembly Elections 2018 Results