India Couture Week 2018: Kangana Ranaut Sashays Down the Runway in a Victorian Era-Inpired Anju Modi Ensemble; See Pics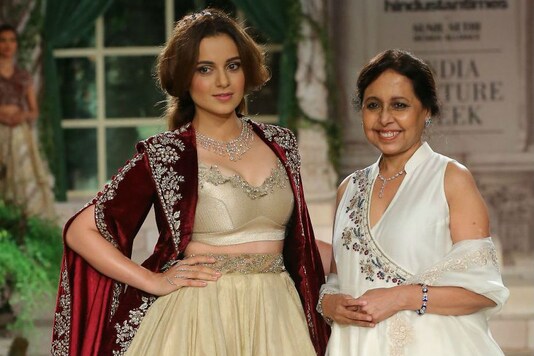 (Photo: Kangana Ranaut turns showstopper for Anju MOdi at ICW 2018/ W Five Communication)
Kangana Ranaut looked regal in a Victorian era inspired Anju Modi ensemble as she turned showstopper for the designer on Day 1 of India Couture Week.
Last Updated: July 26, 2018, 3:01 IST
Edited by: Shrishti Negi
FOLLOW US ON:
Actress Kangana Ranaut looked ethereal as she turned muse for ace couturier Anju Modi, who showcased her collection titled A Maiden's Prayer on Day 1 of India Couture Week 2018.
Anju's collection which was inspired from the Victorian era, was a refreshing change from the designer's usual heavily embroidered garments.
Kangana, who closed the show for Modi, looked effortless as she sashayed down the runway in a jewel-tone embroidered cape atop a beige blouse and skirt that featured intricate work around the neckline and waistline respectively. The diva's hairstyle was also done in accordance with the theme was her makeup.
(Photo: Kangana Ranaut turns showstopper for Anju MOdi at ICW 2018/ W Five Communication)
In a press interaction post show, Modi revealed that the 'Victorian era's aesthetically pleasing art and architecture, classic literature and ostentatious fashion' was the inspirational force behind her collection. Undobtedly the reason why the designer moved away from traditional Indian reds and incorporated a more 'English' colour palette for her recent line.
Meanwhile, while answering News18.com's question on her thoughts about the showstopper attire, Kangana said she was in full character and had taken the look very seriously, even to the extent of getting the hairstyle right, which most Anju Modi models didn't. She said, "This is a Victorian cape, and I have taken the look very seriously. I am in full character, and I feel I can break into a dialogue."
She said Modi's designs were "surreal" and the choreography and the set design "enchanting".
Taking about turning muse for designer Modi, Kangana said, "I had fun because it had so much to do with glamour and pathos. I felt a little choked that it was so romantic, but painfully romantic. So, I enjoyed it."
India Couture Week is being jointly presented by Hindustan Times and Sunil Sethi Design Alliance and will be held from 25-29 July at Taj Palace in the capital.
Next Story