LFW 2017: Young Designers, Craftsmen Take Over The Ramp During Paramparik Karigar Show
The creations left even the most fashion forward audience members in awe with what designs with textiles and handlooms showed beautifully on modern garments.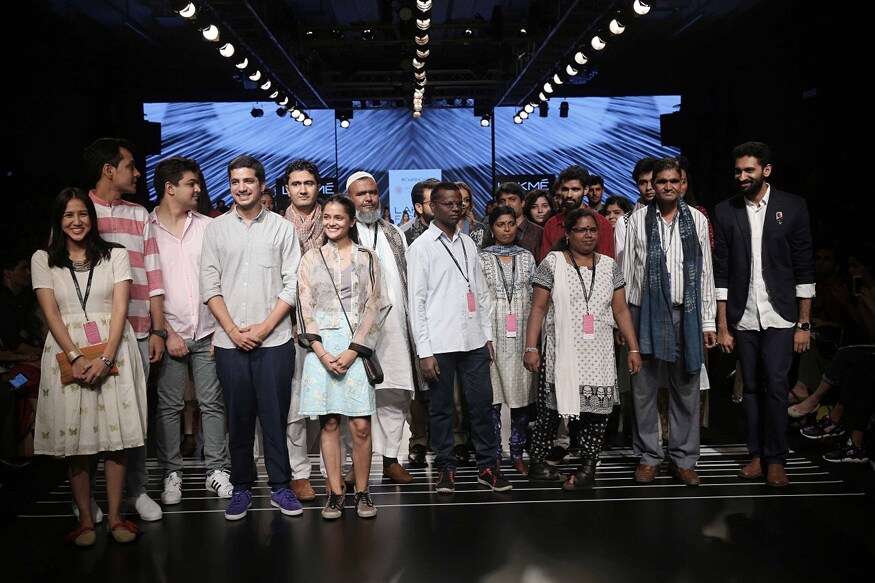 Image: Lakme Fashion Week Team
Mumbai: The Textile and Sustainable Day of the Lakme Fashion Week (LFW) Winter/Festive 2017 here on Thursday began with the 'Paramparik Karigar' show, which showcased an amalgamation of past-meets-present with creations by artisans and young designers.

The creations left even the most fashion forward audience members in awe with what were designs with textiles and handlooms shown beautifully on modern garments.

The Paramparik Karigar initiative was undertaken to provide sustained livelihood to the craftsmen and ensure the participation of their next generation in the continuation of the heritage.

Ratna Krishna Kumar, Member, Management Committee, Paramparik Karigar, said here: "We are proud to be associated with Lakme Fashion Week Winter/Festive 2017 and would like to applaud its endeavour in promoting our craftsmen and presenting hand loom textiles and crafts in an innovative and contemporary form."

The five artisan-designer pairs created a stylish 'jugalbandi' of craft, weaves and contemporary fashion that gave the applauding audience an intense fashion experience.

Inspired by peace and harmony, the artisans and designers not only highlighted the crafts but their creative sensibilities that also had a hint of Japanese and oriental nuances.

The Bagh story by Mohammed Yusuf Khatri featured a display of block printing techniques in the Bagh patterns. The inspiration was the fauna and architecture of the land that enchanted lovers of the Bagh hand block printing and dyeing techniques.

Teaming up with Khatri were Vineet Kataria and Rahul Arya with their label 'Vineet Rahul'. Using the fabrics cleverly, they unveiled their collection called 'Raag', comprising neo-Indian slim line kurtas, wrap trench coats, quilted skirts. The silhouettes of their creations moved from kimono sleeves to detailing with pleated hemlines.

The Dabu story was by Bheru Lal Chipa, who specializes in intricate technique of mud resist form in hand block printing. Teaming up with his five sons, Bherulal created some amazing hand block designs. His two young sons Pintu and Vikas ensured there was a fresh flavour added to the patterns to match the modern needs of the fashion industry. 'Poochki' by Ishanee Mukherjee and Anirudh Chawla showcased Dabu prints in deep earthy tones to give an interesting angle.

Next was a Shibori story by Aranya Naturals, based in Munnar. They are known for their tie-and-dye as well as natural dye. For the show, they tied up with Shreejith Jeevan's 'Rouka' label. Keeping the beauty of Shibori in mind and the sensibilities of the craft, Shreejith used a mix of naturally dyed Shibori along with resist dyeing techniques like batik and ombre dyeing to create engineered pieces for his collection 'Into the Lotus Pond'.

"The fact that these artisans were differently abled did not matter at all because they are amazing with their work. For me, working with them meant that I was going to be working with a wonderful range of techniques of dresses. So, it was more an opportunity than calling it a helping hand," Jeevan said.

"We are always open to the idea of working with crafts and we don't see it as crafts or something which is old. For designers, techniques are important, along with history and sensibility attached to it," he added.

The Bandhej Story by Shohel Khatri from Gujarat gave the Indian tie-and-dye technique his brilliant touch. He tied up with the label 'The Pot Plant' by Resham Karmchandani and Sanya Suri for the show. The designers showcased easy gender fluid garments with a versatile appeal.

Last but not the least was the Ajrakh story by Sarfraz Khatri of Pracheen, which has a legacy in hand block printing. The Ajrakh technique is their speciality. They associated with Anjali Patel Mehta's 'Verandah' label, who incorporated the Ajrakh fabrics for her characteristic high-end Boho chic creations.

Singer Akasa Singh performed live at the show. She performed Sufi songs on modern bass lines, while models sashayed down the ramp as the audience members looked at the creations in awe.

"I am thrilled to be on a stage that promotes sustainable fashion especially with organisations like 'Paramparik Karigar'. A massive shout out to Lakme Fashion week for endorsing them which I am sure is a huge source of encouragement to them," Akasa said.
Read full article
Countdown To
Elections Results
To Assembly Elections 2018 Results