GET Stock

Quotes



Liza Golden-Bhojwani's Journey is a Step Towards Embracing Curves In Indian Fashion Industry
At a time when models all across are struggling to live a life in a ramp-ready frame, Liza Golden Bhojwani, a US-based model, decided to turn the game and accept that one can be beautiful and still have some meat on their bones.
Of the many groundbreaking moments at any fashion show, the top-most includes when the industry insiders not only preach but begin practicing the idea of inclusivity and among that, a battle against the age-old size requirements may be considered a game changer. While abroad, names like Ashley Graham, have cemented their niche as plus size super models, in India there still seems to be a long way to go. At a time when models all across are struggling to live a life in a ramp-ready frame, Liza Golden Bhojwani, a US-based model, decided to turn the game and accept that one can be beautiful and still have some meat on their bones.
In a flashback post shared on her Instagram account a few months back, Liza makes no bones in sharing her story and spreading the message of body love to all struggling women out there. She delineates her transformation from a 'size-two' frame to where she's now. "The left side was me at the start of the peak of my career. My first proper fashion week where I was actually the size I needed to be. I was booking amazing shows that one never thinks they actually could, walking with girls who I once looked up to, it was a serious adrenaline rush...but after fainting one night in my apt whilst preparing one of my very low cal meals (I think it was 20 pieces of steamed edamame if I remember correctly), I called it quits with the diet and workout regime I was put on and decided I could do it on my own," the post reads.
She further adds how her plan of eating a little more went from binging on a bag full of almonds to giving into every craving she once refrained herself from. "I made it through NYFW okay, no one had noticed any weight gain, but by the time I had gotten the LFW I could see the pounds starting to show both in the mirror and on the measuring tape, but I kept quiet obviously not wanting to sabotage myself," she writes.
She has no qualms in accepting that even though she made it through that season, her bookings drastically fell down following her excessive inch gain. She felt she'd reached the lowest point of her life and began doubting her own willpower. "I don't know why of all people I was just unable to keep up with the diets and the regimes. I thought I was weak minded, I didn't care enough, or maybe I just didn't want it enough. I beat myself up for a long time, playing it over and over again in my head how I completely failed. So much was right there in front of me, and I just let it go because I could not let go of my worst enemy, FOOD. I let my agent down, I let clients down, and most of all I let myself down."
Soon in 2014, she decided to begin again from the scratch, but with a healthy bent of mind and a meal of nutritious food items. "In 2012 I was having about 500 calories a day, whereas here in 2014 I was having about 800-1200 depending on my mood and hunger patterns. I was the fittest I ever was in my entire career at this point, I had 6 pack abs, but still, I wasn't fit enough for the likes of VS or other brands."
But as fate would've had it, Liza set out on a soul-searching trip to India and met the man of her life, who put an end to her misery. "2016 was the first time in 3 years where I finally picked myself up and said you know what F this shit I am going to get back to work no matter what. I was struggling to lose weight again, and one day I just thought... why am I fighting against my body? Why don't I just go in the same direction? Stop forcing my own agenda and just listen to my body. And that's what I did, slowly I was coming into my true body form. My natural self, not my forced self."
Today when she looks back, Liza accepts that the toughest part was perhaps "being in denial about the negative affect the forceful weight loss regime" had on her.
"It really suppressed my personal identity, character and hindered my confidence. Today, I find myself completely free of my own personal obsession and oppression and I live my life happily each day," she says while interacting with News18.com.
Considering it took her enough thoughts and time to move from a straight size to a curvy model, was she always hopeful that the fashion industry's size requirements and body type will change? "In all honesty, this all came out of left field for me. I have been a straight size model for nearly my entire career, I never planned on making a switch and I sincerely knew nothing about the curve modelling industry," she says.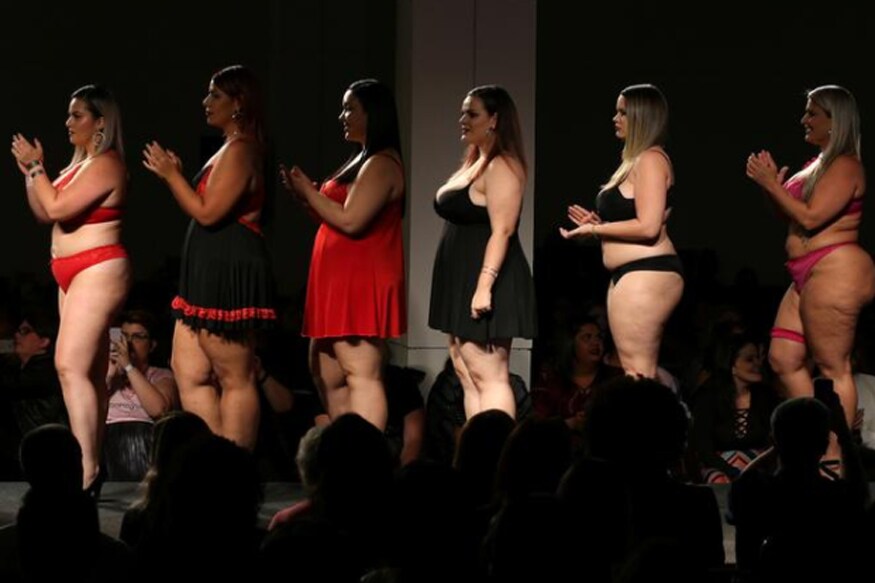 This image is for representation purpose only. Courtesy: Reuters Pictures
"It was not until I started following women like Ashley Graham, that I was inspired to be who I am rather than forcing myself to be someone I am not," she adds.
She's now optimistic about the acceptance of curvy women in the fashion industry and believes that even though the trend is new and still growing, it doesn't seem to be a trending fad. "Yes, the fashion industry is booming with more and more curvy women in major publications, fashion shows, and advertisements overseas. It seems like a permanent market for models over a size 2. I hope that the same thing happens here in India and more women have the opportunity to shine as respected models regardless of their size," she articulates.
"After all, beauty does come in all shapes and sizes, she adds.
Liza, who was a part of a jury set for the second edition of Lakmé Fashion Week Plus Size Model auditions, is more than happy with the turnout. "There were nearly 300 contestants at the all show audition, which just goes to show what an impact it is having already. It's still very new here in India, but my hope is that more and more women will come out and realise that they are beautiful and deserve to shine just as much as a smaller sized model."
It's not just size and weight, but complexion and other such parameters that make the idea of beauty too flawed in our country. Liza, however, maintains that it's not just in our country, but the idea is flawed in every country across the globe.
"We, as humans, have all become so obsessive about fitting into a mould that we'll never be able to fit into. We need to accept who and what we are, learn to love ourselves and be our own person rather than trying to be like somebody else."
"We are not all meant to be the same, the world would be a boring place if that were the case. There is hope for the future generations if we can raise awareness from here on out," she adds.
Also Watch
| Edited by: Kriti Tulsiani
Read full article