Make a Fashion Statement with Handlooms this Festive Season
Bright floral prints with traditional flowers and gajra is sure to grab attention.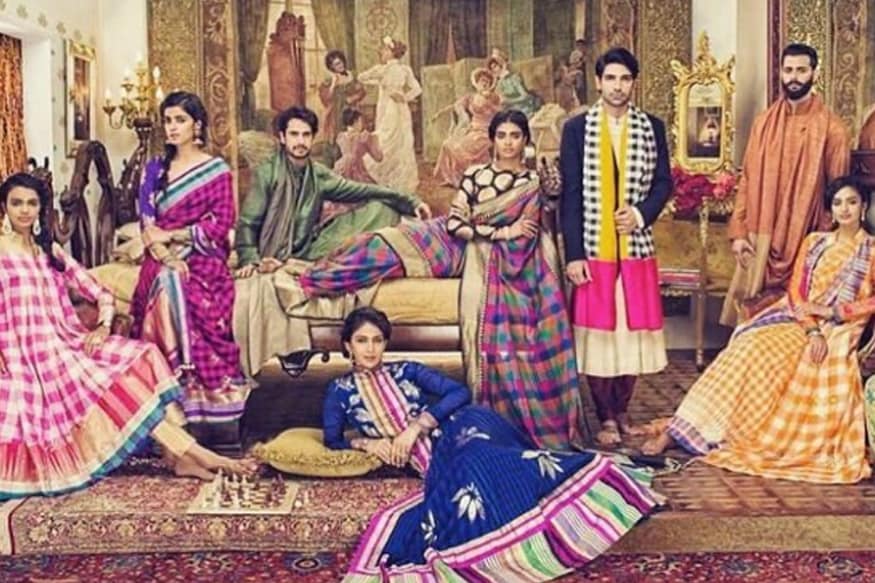 Image: Instagram/ Manish Malhotra
For those who want to give a different twist to their festive wear, try the hand-painted kalamkari on hand woven fabrics or a Dhakai blouse with a patan patola sari and grab eyeballs, suggest experts.
Designers Mamata Reddy and Gaurang Shah have shared inputs:
- Bright floral prints with traditional flowers and gajra is sure to grab attention.
- Opt for traditional woven saris or outfits which represent the pomp and mood of the festival and each of the festivity that you choose to be part of. Patan patola, a textile tradition of double ikat, would be a great example as it is a rare sari piece where the background is white. The sari can be paired with a contrast green zardosi embroidered blouse.
- Ivory and white hues inspired from goddess Saraswati will blend beautifully with the theme of celebrations in their neighbourhood and family celebration during the festive days.
- Pair your sari or outfit with a stateliness blouse to stand out from the crowd. For example a Dhakai blouse with Patan patola sari would look great. A trendy and stylish approach to making a fashion statement is to drape it in new ways that's going to be different from everyone else's.
- Taking inspiration from the times of yore is a great way to make a statement with your wardrobe. Be subtle yet rich should be the motto, make sure to add a dash of your personal style.
- If you are of the vibrant kind, try the blazing red with earthy kalamkari saris. They will certainly add glitter to your look.
- A rich Banarasi sari paired with a kalamkari outfit will be another charming combination, that will add to the style quotient.
- Making a fashion statement isn't all about the clothes. It's about the accessories too. The statement accessory with a bindi would make a perfect balance of tradition and eye catching style quotient.
- You can also experiment a 'jugalbandi style'. The result is that the outfit will then have an unexpected twist as you combine vintage and contemporary styles and create a look in a way that becomes a trendsetting festive fashion statement.
Get the best of News18 delivered to your inbox - subscribe to News18 Daybreak. Follow News18.com on Twitter, Instagram, Facebook, Telegram, TikTok and on YouTube, and stay in the know with what's happening in the world around you – in real time.
| Edited by: Mugdha Kapoor Safaya
Read full article