Manushi Chhillar's Outfit Will Go Down In The Archives As Our Legacy, Say Designers Falguni-Shane
"Manushi Chhillar was keen on getting a pink outfit," said designer Falguni on Miss World 2017's stunning attire.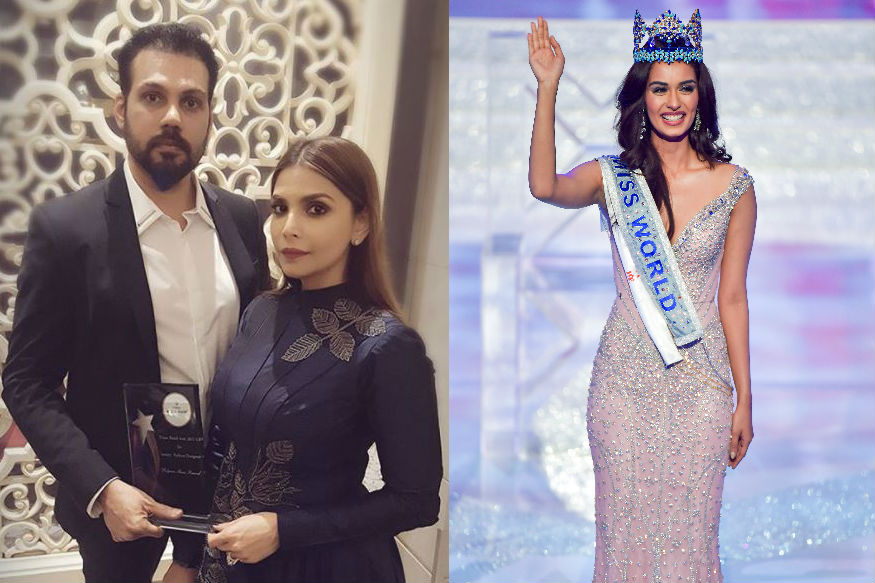 (Photo: Designer duo Falguni and Shane Peacock who designed Manushi Chhillar's Miss World outfit and Manishi Chhillar crowned as Miss World 2017/ Instagram/ Reuters)
In an iconic and proud moment for India, model and beauty pageant holder Manushi Chhillar gave the country what it had been yearning for seventeen long years -- the beautiful blue crystal encrusted Miss World crown.
Stephanie Hill of England and Andrea Meza of Mexico finished as runners-up.
The Haryana girl, who became the sixth Indian to have won the coveted title in Sanya, is also the first one to have won the crown after global icon Priyanka Chopra in 2000.
Dressed in an elegant yet glamorous soft pink beaded gown, Manushi was all smiles as she was handed the crown by last year's winner, Stephanie del Valle of Puerto Rico. Of course, it was Manushi's consistent performance at the contest, the constant hard work, her heartfelt and intelligent answer in the final round and the efforts of her entire team that helped her clinch the title. And it was also the amazingly stunning gown, courtesy Falguni and Shane Peacock, which made her look surreal and contributed in her win.
We spoke exclusively to Falguni, one-half of the 'Falguni and Shane' designer duo, to know what went behind designing the iconic garment for Manushi, the brief they were given and more.
"It's like an epic moment for us. In my heart I always knew. I was officially stalking her, checking all her stories and updates to see how she was faring because we all had hopes. She (Manushi) was groomed extremely well, she spoke very well and even generally she is a very kind-hearted person. All these factors led towards her getting the blue, crystal encrusted crown," said Falguni in an exclusive interview with News18.com. "Also, the belief that everyone had in her and the amazing answer that she gave, made it all happen. Everything was just right," Falguni added.
Credit: @Falguni Shane Peacock India
Speaking about designing the 'perfect' designer ensemble for Manushi to wear for the final round at the pageant, Falguni said that since Manushi wanted a pink outfit and they wanted to go for gold, they designed two outfits for her, something they had never done for anyone before. "We had made two options for her - gold and pink. She was really keen on wearing the pink gown while we wanted to go for gold, so, we decided to go for both. This extra effort (of designing two options) was put in her because we all believed that she had the capability and she was complete winner material," said an excited Falguni.
(Photo: Manushi Chhillar being crowned Miss World 2017/Reuters)
"We wanted to make something in the peach, pink, gold range. Manushi said that she knew she wanted a pink but refrained from discussing any design since she said she totally trusted our vision. So, pink was the color we worked on eventually and somehow she was very sure it was the color that would work for her because it's also about how you stand out in front of the five girls. And her outfit, even though it had a kind of subtlety, there still was a glamour factor to it," Falguni added.
Elaborating on the outfit's design and the embellishments used in it, Falguni told News18.com, "It was an off-shoulder, bodycon gown made out of soft pink tulle and it had a pink lace underlining to it. The outfit was crystallized, so there were small Swarovski crystals all over the gown. The gown was cut in such a way that it enhanced her body type, the cinched waist, the lines on the gown going across shaped the body really well. There was also a long trail attached to the gown which had lots of tulle coming out of it to give her a more glamorized look. Manushi removed that after her walk was done, so during the crowning you don't see it."
(Photo: Manushi Chhillar crowned Miss World 2017/Reuters)
Talking about the 'outfit brief' given at the Miss World pageant, Falguni said that it always has to be soft, it can't be sexy because it is 'beauty with a purpose', and the Miss World must look like that, people must be able to relate with her. "At Miss World, you have to be very careful. You can't go extremely sexy with it, you have to keep it soft. You can't make the constant look sexy because there is much more to it. It's beauty with a purpose and she needs to look like that. People need to be able to relate to her. This is the Miss World brief that is always given to us and we have studied it for last 4-5 years. We have been making the top model as well as the finale gown for all the girls," said the designer.
While speaking about how ecstatic and proud she feels about Manushi winning the crown, Falguni revealed that she would cherish the outfit forever and it will certainly be her window outfit. She also added that the winning garment will go down in her archives alongside other outfits worn by international stars, as her legacy.
Get the best of News18 delivered to your inbox - subscribe to News18 Daybreak. Follow News18.com on Twitter, Instagram, Facebook, Telegram, TikTok and on YouTube, and stay in the know with what's happening in the world around you – in real time.
| Edited by: Mugdha Kapoor Safaya
Read full article