Amid the deafening hooters and the perpetually-maddening chaos, I looked around for a 17th century street in Chandni Chowk. The afternoon sun cast diminutive shadows. I jostled through cattle, carts and cars, until the road bent sharply, a little ahead of Gurdwara Sis Ganj Sahib.
Google told me this was Dariba Kalan, the exquisite jewellery alley in the walled city of Shahjahanabad. The narrowing by-lane, festooned in antiquity, is one of the oldest in the city, and home to some of the chicest silver and gemstone jewellery. Shops on either side brandished heavy and ornate trinkets, as the road tapered further down.
I was on a quest; to locate the supposedly oldest family of perfume makers — traditionally
ittars
. And as I challenged my way through the perpetual pandemonium, the air turned thicker. It held the sentimental spirit of a time bygone.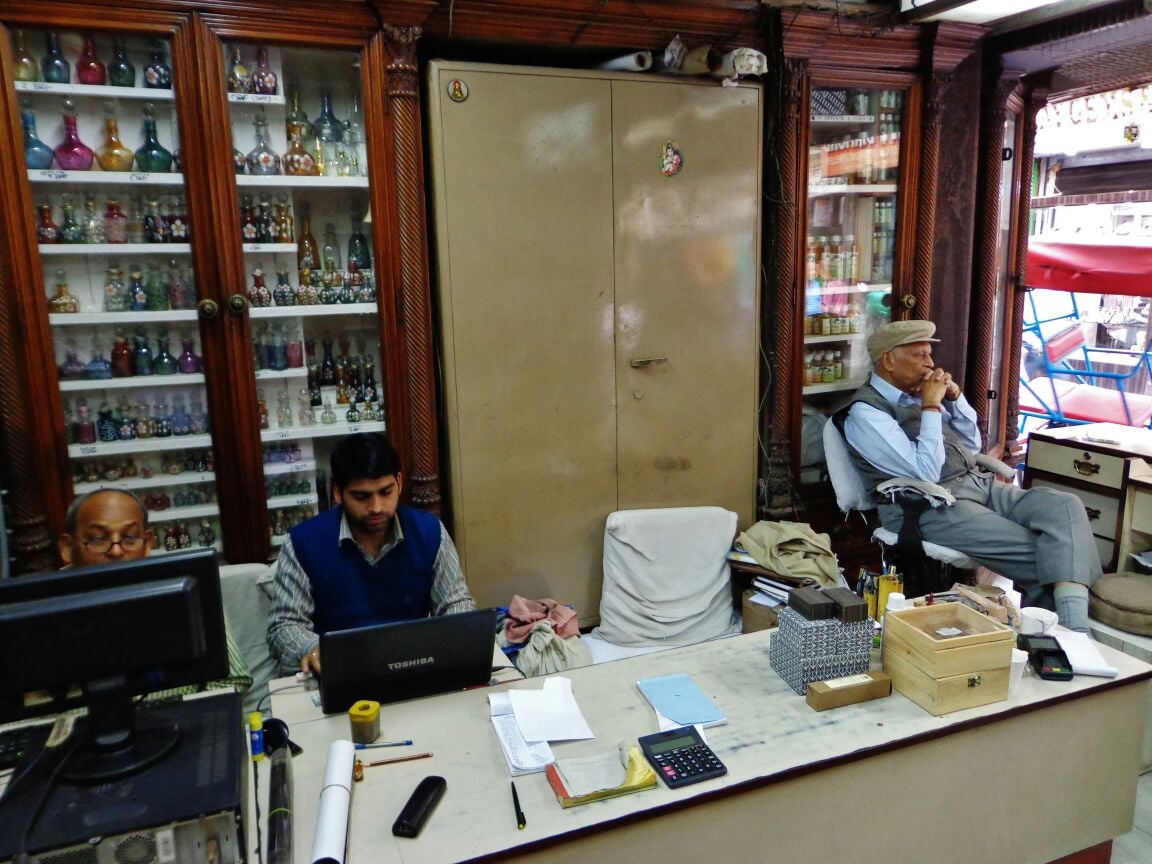 Photo: Prerna Mittra
A jaded old gentleman sat next to his make-shift betel stall.
"Gulab Singh?" I asked.
"Follow the
khushboo,
" he lifted his scrawny finger, helping me further north.
And so, I followed the scent, quite accurately. A few seconds later, my nostrils picked up the overpowering fragrance of cologne. Looking up, I realised I had reached my destination. 'Gulab Singh Johrimal' was ready to ambush my olfactory organs.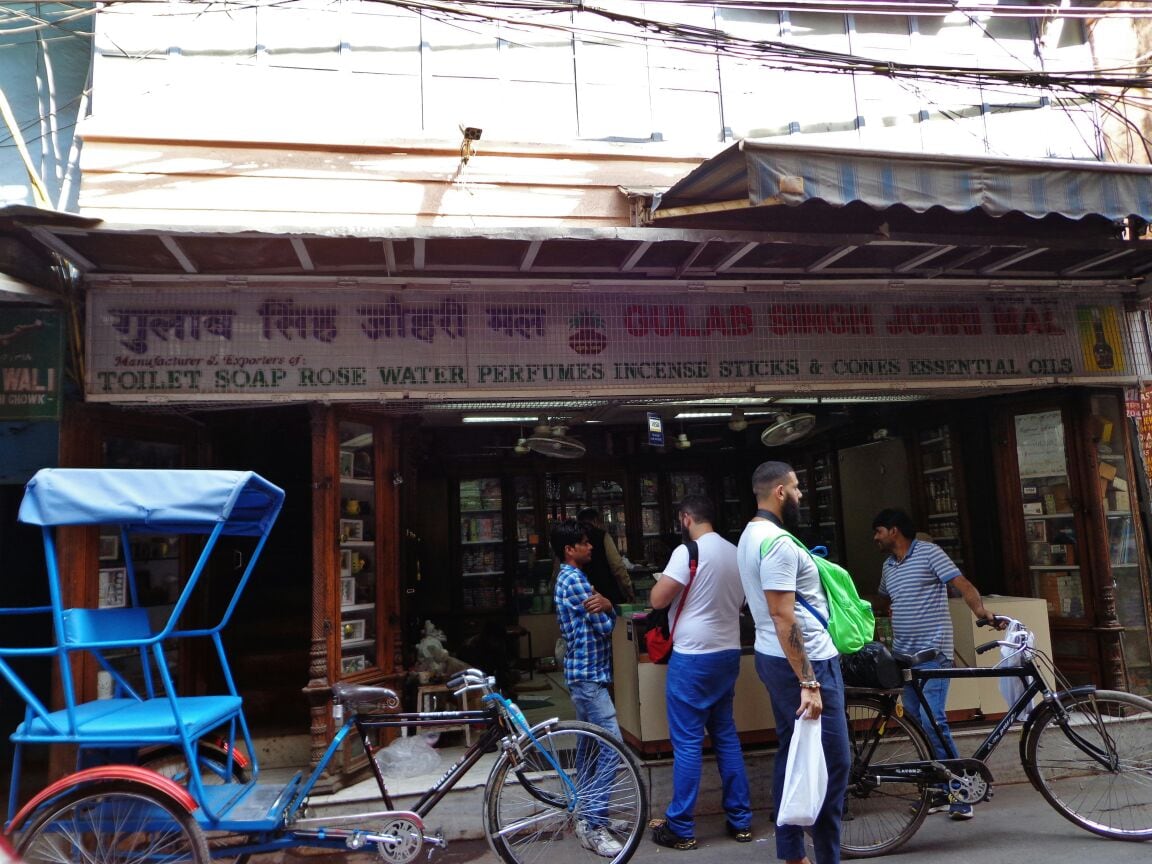 Photo: Prerna Mittra
Inside the quaint shop, unmindful men went about with their everyday chores. A grandfather wall clock as old as time, adorned a part of the wall. The rest of it, was a medley of potent whiffs. Striking pint-size bottles and intricately-painted jars decked the wooden shelves, giving everything a vintage-like filter. Suddenly, it was 19th century all over again!
"My ancestor, Gulab Singh ji started this business in 1816. Delhi was not much populated that time. The Mughal era was nearing its end; we had a different clientele back then," Praful Gundhi, the seventh-generation fugleman of the ittar heirloom, explained.
The family is not in possession of a legitimate record asserting their claims, but has been producing and sprinkling
ittar
for close to two centuries now.
"Nobody knows how this became a family occupation. I inherited it from my father, who got it from his forefathers. We have a list of people who have passed the torch," Gundhi said.
The Gulab Singh perfumery boasts of an array of naturally-made (non-alcoholic) scents. "
Ittar
is a scent made from distillation. The perfume brands sold in malls are mostly synthetic in nature. With the presence of chemicals, you have much more choices in hand. We manufacture both naturally-extracted perfumes and the ones with chemicals."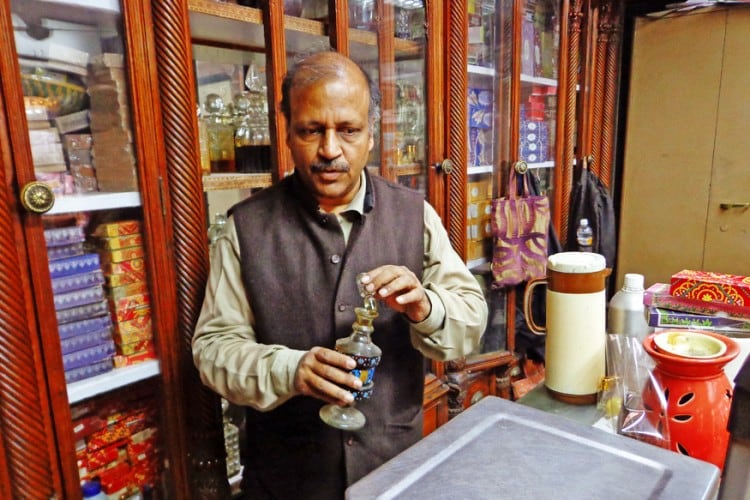 These colognes are produced where the plants are available. "We have seasonal factories from where the
ittars
are sent. They are then collated here," Gundhi said, explaining that the natural perfumes are made of sandalwood oils — the distillation of flowers over sandalwood. They also have pure extracts, of which the flower essence is costlier than ones made of other plants. The perfumers export essential oil-based
ittar
, along with some synthetic ones.
Today, the company has expanded its business, catering to the diverse needs of its customers. What initiated as a cologne-friendly venture, now has its roots in incense sticks and toilet soap manufacturing business. The prices of
ittar
range anywhere between Rs 30 and Rs 32,000.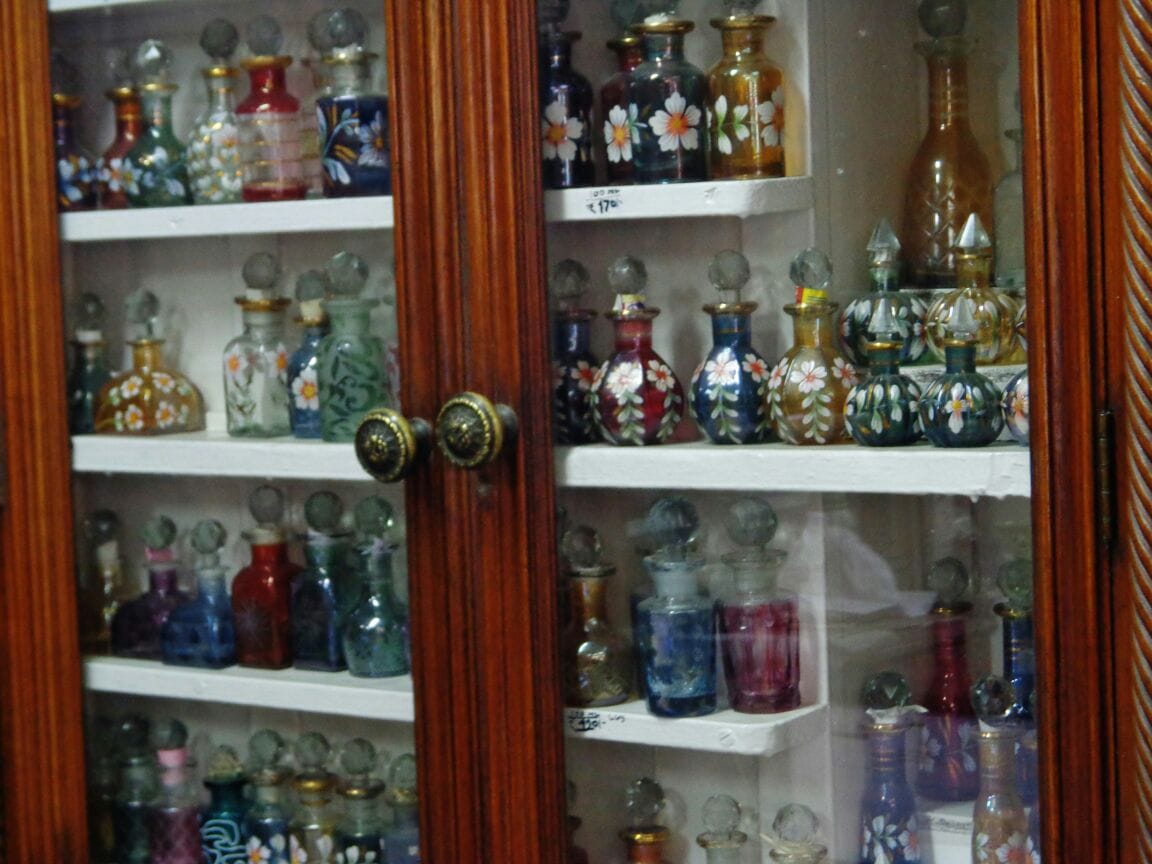 Photo: Prerna Mittra
And in the cut-throat market scents, what sets
ittar
aside? "Our big USP is that we have a variety of perfumes to serve our customers across seasons. In summers, our clients demand
khus
or vetiver, and we sell more of that. In winters, they ask for
heena
— distilled herbs on sandalwood oil. Our sales, however, are perennial," Gundhi said.
Talking about his congenial clientele that comprises both young and old, he said, "We once had erstwhile Pakistan President Pervez Musharraf over. He bought some
ittars
from our store for his mother — a resident of Old Delhi in pre-independent India."
Ittar
is for all seasons, ittar is for everyone. As I left the shop, the overwhelming scent followed me. It lingered on as I manoeuvred my way back to where I had started. Like memories, it dawdled — haunting and nostalgic.
(More Sunday Features)