Oprah Winfrey Turns Cover Star for Elle in a Stunning Sabyasachi Ensemble
Oprah Winfrey, the global icon, graced the Elle magazine cover and she looks nothing less than phenomenal.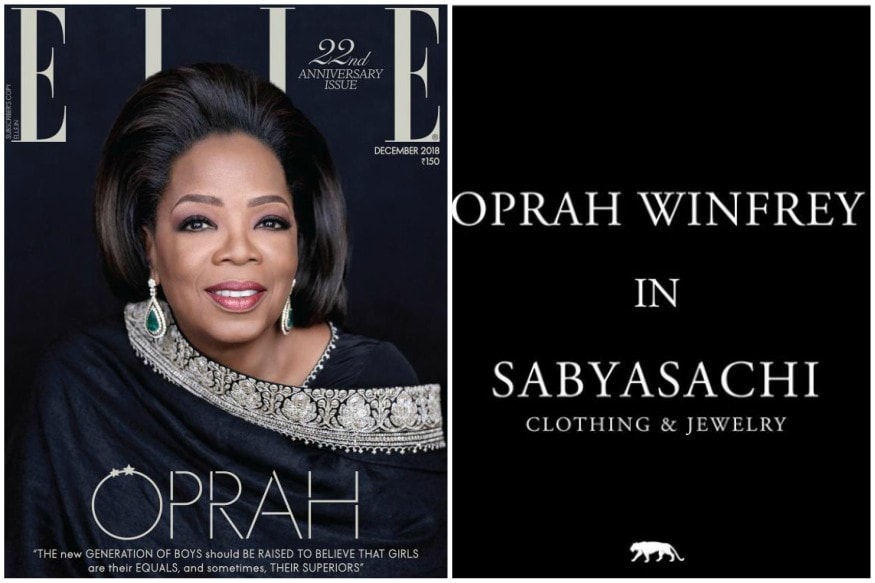 Oprah Winfrey on the cover of Elle Magazine December Issue Image: @Sabyasachi/Instagram
With top notch fashion magazines publishing the last issue of the year, Elle went a step further making their 22nd Anniversary issue grander than the rest. This December when you pick up your Elle copies, we are sure it is going to blow your minds away.
Oprah Winfrey, the global icon, graced the Elle magazine cover and she looks nothing less than phenomenal.
The talk show host wore an outfit by the ace designer Sabyasachi Mukherjee. Wrapped in a black stole and a silk top with a silver embellished border, the media mogul looked elegant. She adorned 2.9 carat Zambian emerald along with dazzling tear-drop diamond earring also from Sabyasachi's Jewellery collection.
It was a complete fan boy moment for the ace designer and he was in awe of Oprah and took to Instagram to share his experience.
"Nothing prepares you for meeting Oprah in real life. On Her maiden trip to India, Oprah attended a dinner hosted by the royal family in Jaipur and I had the good fortune to dress her in a saree for it. We spent some time discussing India and spirituality, as well as Indian art and handicrafts. The opening of my store in Kala Ghoda came up in conversation and Oprah promised to swing by in the morning if she got time off from her busy schedule. I thought she was being polite! Imagine my gleeful surprise (and slight horror) when I realised I was sprawled on the floor like an exhausted starfish after completing the setup of the store, just as Oprah came breezing in, exactly at 10 AM. She was as magnanimous about it as I was mortified. She is larger than life, but also as real as it gets! So, if she says she is coming home for pizza, you better take her word for it and keep that dinner table laid out well in time for her arrival!"
Earlier, Elle released a teaser of their 22nd Anniversary issue with Oprah Winfrey's back on the cover and they definitely built a lot of buzz around who the cover star is going to be. We surely can't get enough of Oprah's charisma.
Get the best of News18 delivered to your inbox - subscribe to News18 Daybreak. Follow News18.com on Twitter, Instagram, Facebook, Telegram, TikTok and on YouTube, and stay in the know with what's happening in the world around you – in real time.
| Edited by: Naqshib Nisar
Read full article