Priyanka Chopra Flaunts Indo-western Bridal Look in 'Benaras Meets Corset' Lehenga & Victorian Necklace
Priyanka Chopra and Nick Jonas gave a heartfelt speech together at their first Mumbai reception on Wednesday, amid loud cheers and applause from the guests.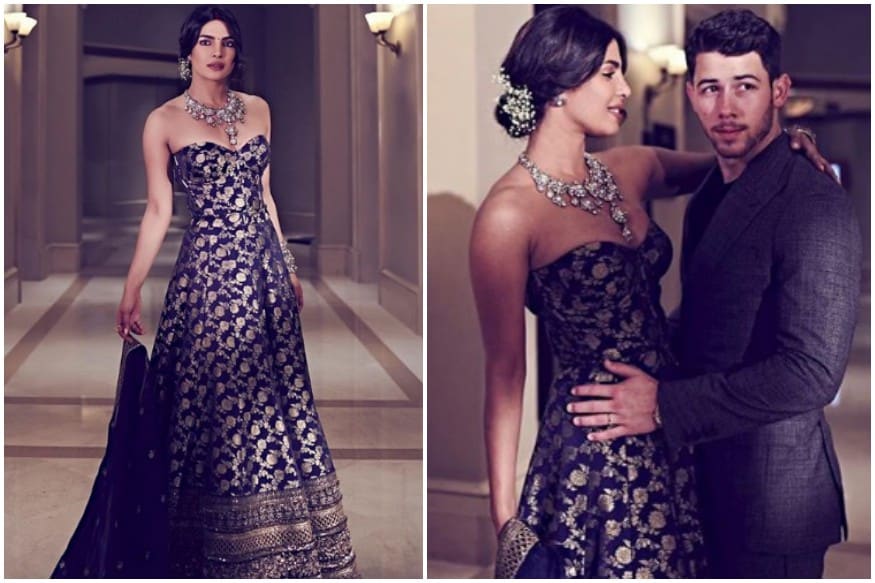 Priyanka Chopra and Nick Jonas at their Mumbai reception.
If you thought that Priyanka Chopra and her husband Nick Jonas have wrapped up their extravagant wedding, we have to tell you that the newlyweds are not done yet. After two lavish wedding ceremonies, the couple is back with a wedding reception.
At JW Marriot Juhu, Priyanka formally introduced Nick as her husband to the media. It drew a collective cheer from the guests who had gathered. Hosted by her mother Madhu Chopra, the reception was attended by family, close friends and the media.
The newlyweds exuded charm while they raised a toast with their family and friends. Like always, Priyanka adds a fusion element to it. Instead of Lehenga-choli, Priyanka wore a Lehenga-corset for her reception.
The intricate golden embroidery made her outfit Priyanka look like a quintessential Sabysachi bride. With the semi-sheer dupatta hung over her shoulder, Priyanka couldn't have looked more glamorous and traditional at the same time. The person behind Priyanka's outfit was none other than ace designer Sabyasachi Mukherjee.
Apart from the corset, the other western element we couldn't take off our eyes off from, was the vintage Victorian necklace adorning Priyanka's neck. Once again designed by Sabyasachi, the necklace was the show-stealer of the evening.
We wouldn't mind her repeating this mother of gems at a red carpet event with her western gown. What do you think, Ralph Lauren?
The couple took to the stage to thank everyone who had arrived. Priyanka began, "I want my husband to meet all the special people here. So thank you so much for being here. Friends of my parents, my mom who is hosting this wonderful evening and my dad, who I know is here. Thank you so much for coming and giving us your blessings and I hope you have a wonderful time tonight."
PC ended the speech by proudly saying, "And this is my husband Nick Jonas," which was followed by a loud applause as the guests cheered for the newly-weds.
Nick took over the mic and started with a joke, "This is my first show in India," as the crowd broke into laughter. He went on to thank Priyanka's mother and other guests who he was meeting for the first time. "It wasn't too far from here that I took Madhu out for lunch and asked if I could marry her daughter. To be here with all of you, who have helped shape who she has become, means a lot to me. You have welcomed me with such open arms. So thank you for that. Tonight is about celebrating and spending some time together. My first introduction to all of you. So thank you again and thanks to Madhu for putting this together."
Turning to Priyanka, he said, "And my beautiful wife, I couldn't be happier being with you."
The reception was held at JW Marriott in Juhu which had their NP logo on display. Priyanka's mother Madhu Chopra turned up in a shimmery lehenga sari.
Priyanka and Nick tied the knot in a lavish ceremony at Jodhpur's iconic Umaid Bhawan Palace earlier this month. The extravagant wedding was followed by a quieter reception in Delhi on December 4, which was also attended by PM Narendra Modi. The couple are throwing a big bash for their friends from the industry in Mumbai tonight.
Get the best of News18 delivered to your inbox - subscribe to News18 Daybreak. Follow News18.com on Twitter, Instagram, Facebook, Telegram, TikTok and on YouTube, and stay in the know with what's happening in the world around you – in real time.
| Edited by: Naqshib Nisar
Read full article