GET Stock

Quotes



Raksha Bandhan: Bipasha Basu, Genelia; Here's How Stars Are Celebrating The Festival
Genelia Deshmukh, Bipasha Basu, Urvashi Rautela and others celebrated Rakshabandhan 2017.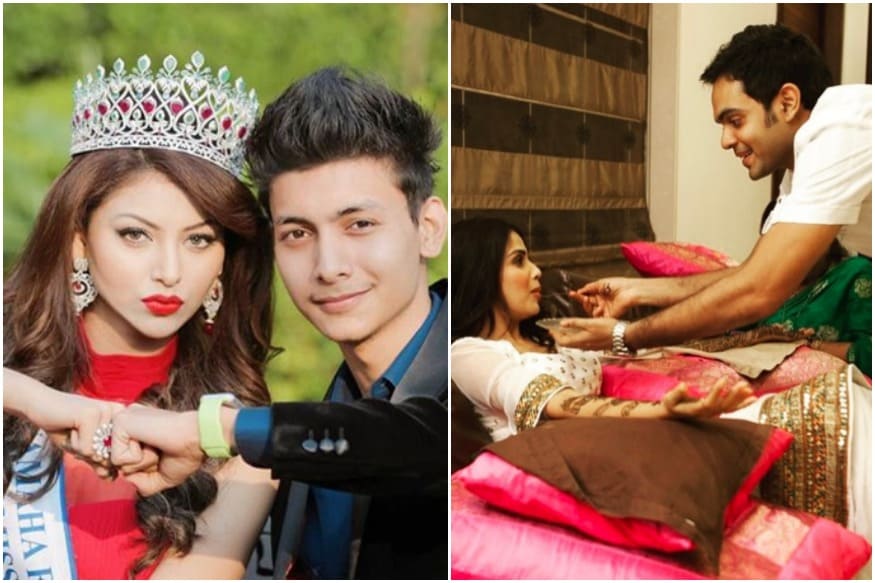 (Photo: Instagram)
It's that time of the year when all sisters tie a thread of faith, trust and undying love on their brother's wrist and in return take an 'unsaid promise' that her brother would 'protect' her from any harm that comes her way.
And while this remains as the underlying thought behind celebrating Rakhsha Bandhan, with time, the meaning and how we look at the festival has evolved. Now, not just brothers but even sisters pledge to 'protect' each other from any trouble that comes in their way.
So, like each year, this year too the festival is being celebrated with much excitement and enthusiasm. In fact, celebrities even took to Instagram to express their love for their brothers and wish everyone a Happy Raksha Bandhan.
Take a look:
Urvashi Rautela
Model-turned actress Urvashi Rautela took to Instagram to introduce her younger brother to the world and captioned the two images that she shared with her sibling with touching words. She wrote, "Heartthrob of billion girls since childhood. You have no idea of the amount of happiness you brought to my life. Sometimes i look at you and i wonder how i got to be so damn lucky . The greatest gift my parents ever gave me was you (sic)."
Credit: @
URVASHI RAUTELA 🇮🇳Actor
Credit: @
URVASHI RAUTELA 🇮🇳Actor
Parineeti Chopra
Actress Parineeti Chopra, too, shared a sweet message for her brothers on social media. She wrote, "Dear Sahaj and Shivang, I don't know when the both of you grew up. Weren't you tiny babies in my arms just yesterday? I don't know when it changed from me taking care of you to you taking care of me. I don't know when you became my friends. I will never know, and I don't need to. I just know one thing - that my life is nothing without both of you. I thank god everyday that he gave me 2 perfect, kind gentlemen as brothers, who will never break my heart. I am amazed at how you live your lives and you inspire me to better mine. There will come a day when I get married and have kids of my own with another man, but you will always be my first loves. Happy Rakhi Harami's !! Now send me gifts (sic)."
Credit: @
Parineeti Chopra
Shraddha Kapoor
The actress's brother Siddhanth Kapoor shared a photo of Shraddha and himself on Instagram and wished his lvoely sister a very Happy Rakhi.
Credit: @
Siddhanth Kapoor
Genelia Deshmukh
Genelia shared a very cute image of her brother helping her eat while she has mehendi on her hands. Here's how she captioned the photo on Instagram. She wrote, "Sometimes we need people to just be there.. Not to fix anything or do anything in particular but just to let u know your being cared for and supported.. That is You , My lil Baby Brother-My Life Support #happyrakshabandhan."
Credit: @
Genelia Deshmukh
Bipasha Basu
While Bipasha has a younger sister, this Rakhi, she celebrated the festival by tying a thread to her friend Rocky S. She wrote on Instagram, "Lucky are the girls who are blessed with amazing brothers. I am too. @rockystarofficial you are my friend , my true brother, my rock - forever. Thank you for loving me and protecting me from everything always. I would not be this strong girl I am today...without you. I love you lots. Happy Rakhi to All (sic)."
Credit: @
bipashabasusinghgrover
Masaba Gupta
Masaba Gupta had a totally different take on the festival. Just like we mentioned earlier, with passing time, people's take on the festival and what it means has evolved. The fashion designer wrote on Instagram, "This Rakhi,I feel even more empowered to be a woman...No longer does the world look at women as damsels in distress . Women today , are our own defence... And if we stand together & build each other up, we can be each other's champions,guardian angels & warrior princesses #HappyRakhi (sic)."
Credit: @
Masabs 🍒
Also Watch
| Edited by: Mugdha Kapoor Safaya
Read full article