RAMADAN MOON SIGHTING LIVE UPDATES 2022: With the sighting of Ramzan Moon in many part of the country on Saturday evening, the first fast (roza) of the holy month of Ramadan will be observed in India on Sunday, April 3. Announcing the same, Delhi Jama Masjid's Shahi Imam Syed Ahmed Bukhari said that the first of Ramadan shall fall on Sunday. Ramzan moon was also sighted in Pakistan and Bangladesh on Saturday evening.
Extending his wishes, Khalid Rasheed Farangi Mahali, Head of Markazi Chand Committee, Farangi Mahal, Lucknow said that the first Roza will be observed tomorrow. Crescent moon was also sighted in Delhi, Bhopal, and Chennai among other cities. The Grand Mufti Nasir-ul-Islam announced that the holy month will begin on April 3 in the Union Territory of Jammu and Kashmir as the moon has been sighted.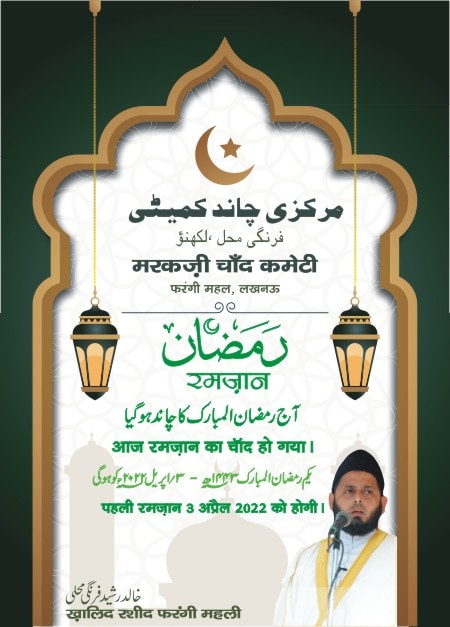 According to the Islamic calendar, the month of Ramadan, also known as Ramzaan, is the ninth month in the Muslim lunar calendar. Each year, Muslims worldwide eagerly wait to raise their spiritual level and surrender to God during Ramadan. In this sacred month, there are some guidelines and teachings of the Prophet Muhammad expected to be followed by all Muslims which also includes 29-30 days of fasting. Besides, it ends with grand celebrations and a feast referred to as Eid-ul-Fitr.
Ramzan Moon sighted by Markazi Chand Committee,Farangi Mahal Lucknow. First Roza tomorrow as the holy month of Ramzan starts from Sunday in India. @CNNnews18 @news18dotcom #Ramadan #Ramadan2022

— Qazi Faraz Ahmad (@qazifarazahmad) April 2, 2022
ALSO READ: Ramzan Mubarak Wishes, Images, Status, Quotes, Messages and WhatsApp Greetings to Share
Prime Minister Narendra Modi extended his greetings on the commencement of Ramzan. "Best wishes on the commencement of the sacred month of Ramzan. May this holy month inspire people to serve the poor. May it also further enhance the spirit of peace, harmony and compassion in our society," PM Modi tweeted.
Greetings on the commencement of Ramzan. pic.twitter.com/Q5YaWzaz38

— Narendra Modi (@narendramodi) April 2, 2022
Extending his wishes, Congress leader Rahul Gandhi tweeted: "Ramzan Mubarak! May this pious month bring good health, peace and prosperity to all."
Ramzan Mubarak! May this pious month bring good health, peace and prosperity to all. pic.twitter.com/1o5WUz7yxm

— Rahul Gandhi (@RahulGandhi) April 2, 2022
Ramadan 2022: When Will Moon Be Visible in India?
With the sighting of the crescent moon, the holy month of Ramzan begin in India, Pakistan, Bangladesh and other South Asian countries from April 2 evening or 1 Ramadan 1443 AH with the first fast being observed on April 3. The visibility of the moon also depends on factors like atmospheric conditions, clouds, and the distance between the sun and the moon on the horizon.
WATCH LIVE STREAM OF MASJID AL HARAM, MAKKAH
RAMADAN 2022: EGYPT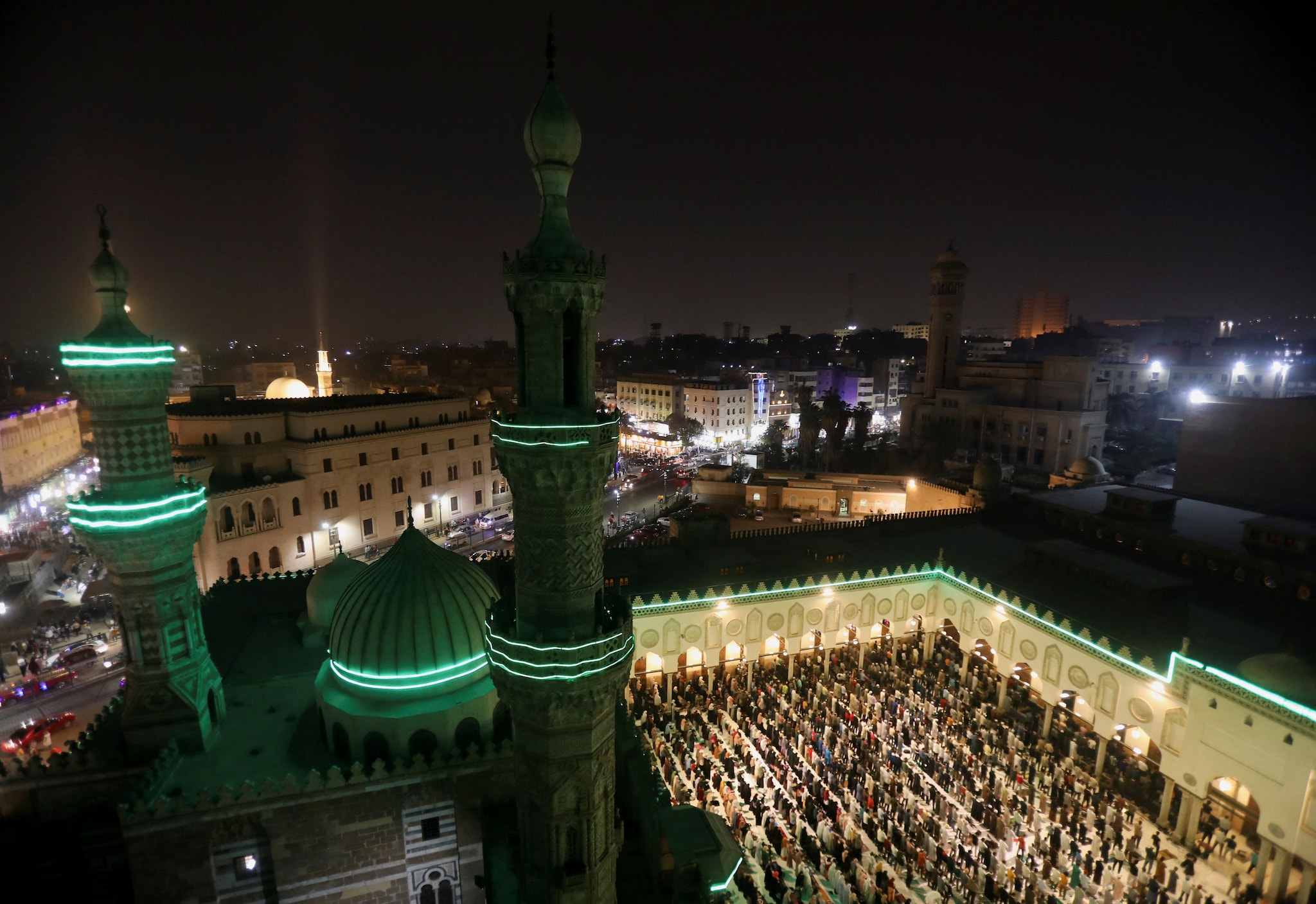 Sehar and Iftar Time for April / May 2022 in India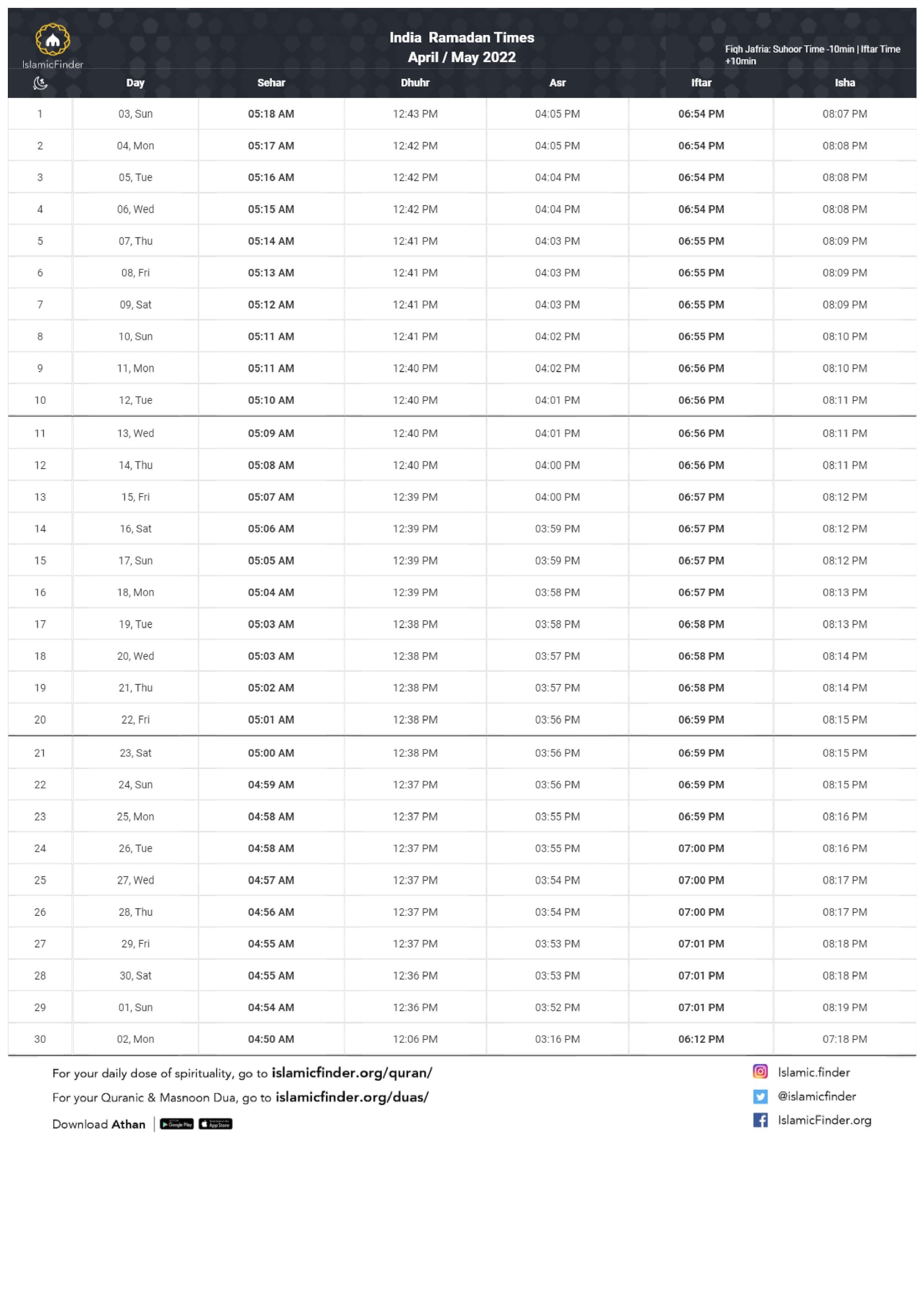 Ramadan 2022 Dates
This year, Ramadan begins on April 2, 2022, and will probably end on May 1, 2022. The festival of Eid will follow the next day. However, these are the tentative dates. It will be decided once we get closer to the holy month and are dependent on the lunar cycle.
Since Umrah- the pilgrimage to Mecca is encouraged during the sacred month of Ramadan, Muslims prefer to go on the pilgrimage during this month.
Ramadan Fasting Ritual
Muslims fast during the divine month of Ramadan. They are not allowed to eat or drink anything after sunrise. People eat Sehri early in the morning before the sun rises. After that, they go for the morning prayers called Fajr. After the sun sets, they break their fast during the Iftar time. After Iftar, people go for the evening prayers called Maghrib, which symbolises dusk.
Timings of sehri and Iftar in India:
It is essential to note that the sehri and Iftar schedule differs due to the sun's position.
Delhi– 04:56 am, 6:38 pm
Hyderabad– 05:01 am, 6:30 pm
Ahmedabad– 05:20 am, 06:55 pm
Surat– 05:21 am, 06:53 pm
Mumbai– 05:22 am, 06:52 pm
Pune– 05:19 am, 06:48 pm
Chennai– 04:56 am, 06:21 pm
Bangalore– 05:07 am, 06:32 pm
Kanpur– 04:46 am, 06:25 pm
Calcutta– 04:17 am, 05:51 pm
Ramzan to start in this Gulf country on Sunday
While the holy month of Ramzan began in almost all Gulf countries on Saturday, April 2, Oman is the only Gulf Cooperation Council nation to mark the first day of Ramadan on Sunday, April 3.
The decision comes after the Ministry did not receive any reports of moon sightings in the country.
US PRESIDENT JOE BIDEN EXTENDS GREETINGS
Jill and I extend our best wishes to Muslim communities here in the United States and around the world on the beginning of Ramadan. From the People's House to your own homes, we wish you and your loved ones a blessed and prosperous month. Ramadan Kareem!

— President Biden (@POTUS) April 1, 2022
French Football Star Paul Pogba Extends Ramadan Greetings
Ramadan Mubarak to all my Muslim brothers & sisters 🤲🏾❤ pic.twitter.com/MSRWZZgPQX

— Paul Pogba (@paulpogba) April 1, 2022
Australian Cricketer Pat Cummins Greets People
To all my friends observing the holy month, wishing you and your family a blessed Ramadan. pic.twitter.com/qaqtWykyKK

— Pat Cummins (@patcummins30) April 2, 2022
 Canadian PM Justin Trudeau Wishes Ramadan Mubarak!
To Muslim Canadians across the country: As you mark the start of Ramadan, and as you fast, pray, and reflect with your loved ones, I want to wish you a blessed and peaceful month. Ramadan Mubarak! https://t.co/3ZWN3b2Rwi pic.twitter.com/MmOox49r8F

— Justin Trudeau (@JustinTrudeau) April 1, 2022
IMPORTANCE OF RAMADAN FOR MUSLIMS
Ramadan is a period of devotion, fasting, charity-giving and self-accountability. It is also a month of forgiving, where every Muslim gets closer to God. According to Muslims, the Angel Gabriel descended from heaven to reveal the Quran, God's message to the Holy Prophet Muhammad, marked by 29-30 days of fasting. Celebrating this festival is a way to honour Muhammad and develop more self-control. READ MORE about the day here.
Fasting Hours To Range From 11 To 20 Hours
The number of hours for fasting in the holy month of Ramadan varies from country to country. It is because the sunrise and sunsets occur at different times across different countries, and therefore, the number of daylight hours also differs. Muslims living in countries like New Zealand observe the fast for 11 hours, whereas those living in European Countries like Norway observe the fast for as many as 20 hours. READ MORE for further details.
Dos & Don'ts for the Holy Month of Ramzan
It is believed that the Holy Quran was disclosed in this month to Prophet Mohammad by God. Besides observing fasts, Muslims follow some guidelines and the teachings of Prophet Mohammad throughout Ramadan. Devotees believe that this time emphasizes religious reflection, self-control, self-discipline, worship and universal brotherhood. READ MORE about the dos and don't for the holy month.
It is 'Ramzan', Not Ramdhan For Indians
In past 7 to 8 years I have seen a lateral shift among the urban Muslim population in India where people have started saying Ramdhan Mubarak or Ramdhan Kareem instead of good old fashioned Ramzan Mubarak. It came to a point where some of my friends texted me back saying "you should select the right spelling while wishing someone". READ MORE to find out details.
Thailand, Southern Insurgent Group to Halt Violence
BANGKOK: The Thai government on Saturday hailed "significant progress" in the latest talks with the main group fighting an insurgency in Thailand's Muslim deep south after the sides agreed to stop violence during the upcoming holy month of Ramadan. A Thai government delegation and representatives of the main rebel group, the Barisan Revolusi Nasional (BRN), met face-to-face earlier this week in Malaysia in the latest round of talks after peace dialogue resumed in January after a two-year pause because of the COVID-19 pandemic.
More than 7,300 people have been killed in insurgency related violence since 2004 when a decades-old rebellion flared up in the provinces of Narathiwat, Yala, Pattani and parts of Songkhla, a predominantly Malay-speaking Muslim area in majority Buddhist Thailand.
The BRN said in a statement that the two sides have agreed to stop violence during Ramadan, which runs from April 3 to May 14, to "create a safe and prosperous atmosphere" for the community as a process of "confidence-building" to "establish meaningful peace." (PTI)
Read all the Latest News , Breaking News and IPL 2022 Live Updates here.