Remembering Sridevi: Her Iconic Looks Will Inspire Generations To Come
A true fashionista and a muse and inspiration to many, Sridevi's style and incredible sense of fashion is something that will live on forever.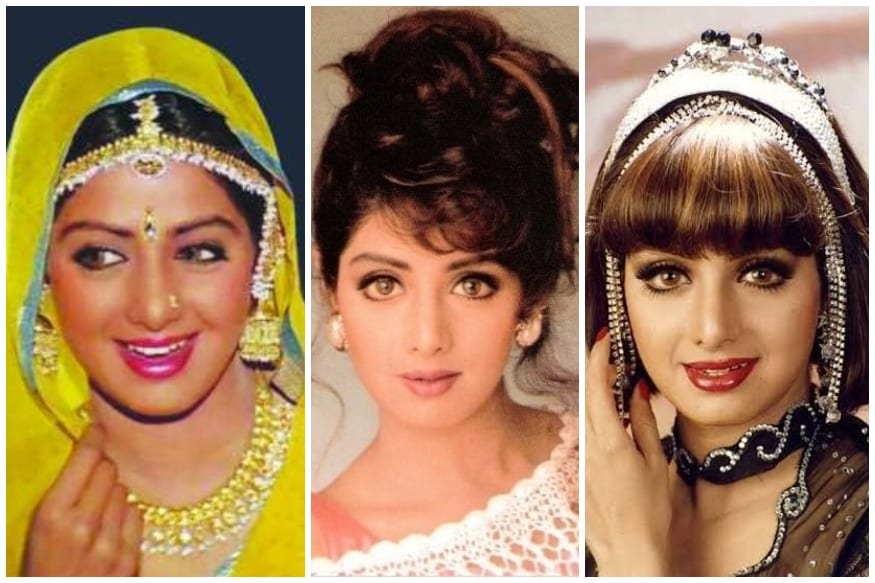 A true fashionista and a muse and inspiration to many, Sridevi's style and incredible sense of fashion is something that will live on forever.
Shock and grief gripped the nation as people woke up to the tragic news of veteran actor Sridevi's untimely demise due to a massive cardiac arrest as she breathed her last in a hotel room in Dubai. And while it has been several months since her untimely demise, a period which has seen the launch of her elder daughter Janhvi's career in that same film industry, the pain hasn't subsided entirely still.
From a child actor to India's first female superstar, Sridevi made her way into the hearts of thousands of fans across generations through her incredible acting prowess and flawless sense of style that inspired generations to come. Her iconic looks in films became trends that women across age groups emulated in real life, hoping to become a little like the diva that Sridevi was.
Her grace, elegance, charming persona and the grounded way with which she carried herself was a rare combination for a superstar of her stature. Nevertheless, she always stuck to doing what she thought was best for her, her family and the kind of work she wanted to do — whether it was opting for path-breaking scripts in 80s and 90s, or shouldering films at a time when men were the game-changers and box office rulers in the film industry, to opting to take a break at the peak of her career and making a comeback after 15 years by choosing an unconventional role and yet still recreating the same magic onscreen with her fantabulous acting and charismatic style.
Sridevi was a born actor and a true fashion icon, for she loved fashion both on and off screen.
After receiving critical acclaim for Sadma, Sridevi's Himmatwala, directed by K. Raghavendra, and co-starring Jeetendra, saw the actress rise to instant stardom in Bollywood. It was this film that earned her the epithet 'thunder thighs' and saw the diva become a fashion icon for many, after she confidently danced around painted pots placed on a beach in the song Naino Mein Sapna, playing her part, flaunting her curvy figure while covered in thick makeup, sparkling jewelry and dressed in dazzling Amrapali-styled outfits that weren't exactly a cakewalk. Only someone as elegant, secured and poised as Sridevi could have donned the loud outfits and pulled it off on the silver screen. So she did and how!
Be it her iconic look of a vengeance-seeking, slithering snake in human form, dressed in a white blouse designed like a corset and a matching skirt and dupatta in Nagina, a boho-inspired look in Khuda Gawah or her glittering gold look as Hawa Hawai, Sridevi cast a spell on her fans with each look that she created on screen.
In Mr India, Sridevi redefined saree as an attire that could look graceful and sexy at the same time. In the famous song Kate Nahi Kat Te, we saw the superstar set pulses racing with her killer dance moves and sensuous avatar, clad in a plain blue chiffon saree teamed with a matching blouse.
In Chaalbaaz, she competently essayed the double role of the sweet, innocent and vulnerable Anju who sported only Indian attires while at the same time acing the western looks as the beer-swigging and knife-wielding Manju. Her 'raincoat with a matching umbrella' look in the song Na Jane Kahan Se from the same film is unforgettable.
Then came the era of chiffons sarees. Sridevi oozed sensuality as she flaunted the modish yet sophisticated translucent yellow and white chiffon sarees paired with cut-sleeve blouses in Chandni. Soon after, chiffon sarees became all the rage and till date women recreate Sridevi's 'Chandni look', donning the iconic yellow chiffon saree.
No matter what look she sported or what attire she donned, Sridevi nailed it every time with her dignified and attractive personality.
In Laadla, while Sridevi essayed the role of Sheetal Jetley — an ambitious, career-oriented businesswoman, she gave us a lesson a two on corporate fashion and power dressing. At a time when women were playing second fiddle to the 'male dominated' film industry, Sridevi redefined cinema and the way women looked and carried themselves in films in several ways. Her chic style, pencil dresses, sheer tops, pant-suits, which were rarely seen on screen in those days, established her as India's true fashion icon.
In Judaai while she played the role of a middle-class house wife who forces her husband to remarry a rich girl (Urmila Matondkar) in order to lead a luxurious lifestyle, she effortlessly pulled off sarees throughout the film.
And after a 15 year hiatus, when she returned to the silver screen, Sridevi recreated magic once again with her simplicity and gracefulness in 2012's English Vinglish. While she played the role of a middle-class homemaker, who is mocked by her husband and children for her inability to converse in English, Sridevi wore a wide range of sarees in film effortlessly, amazingly portraying and representing the middle-class Indian women who do all their household work clad in the beautiful six-yard wonder.
In fact not just on screen, Sridevi was a fashion lover and a style icon off screen as well. From pant-suits, dresses, separates, gowns to exquisite saree, Sridevi was seen flaunting all kinds of attires and sporting different designer wear on several occasions. A true fashionista and a muse and inspiration to many, Sridevi's style and incredible sense of fashion is something that will live on forever. And while her untimely demise has left a void that can never be filled, Sridevi's exemplary body of work and her iconic looks will continue to influence and inspire both the film and fashion industry in times to come.
Get the best of News18 delivered to your inbox - subscribe to News18 Daybreak. Follow News18.com on Twitter, Instagram, Facebook, Telegram, TikTok and on YouTube, and stay in the know with what's happening in the world around you – in real time.
| Edited by: ---
Read full article