Reversible Sarees: Designer Payal Khandwala's Collection Aims at Reinventing the Quintessential Indian Garment
A designer with a deep understanding of her craft, Payal Khandwala comes across as a huge fan of sarees, which she keeps reinventing, to make them more relevant, appealing, modern yet maintaining its classic charm.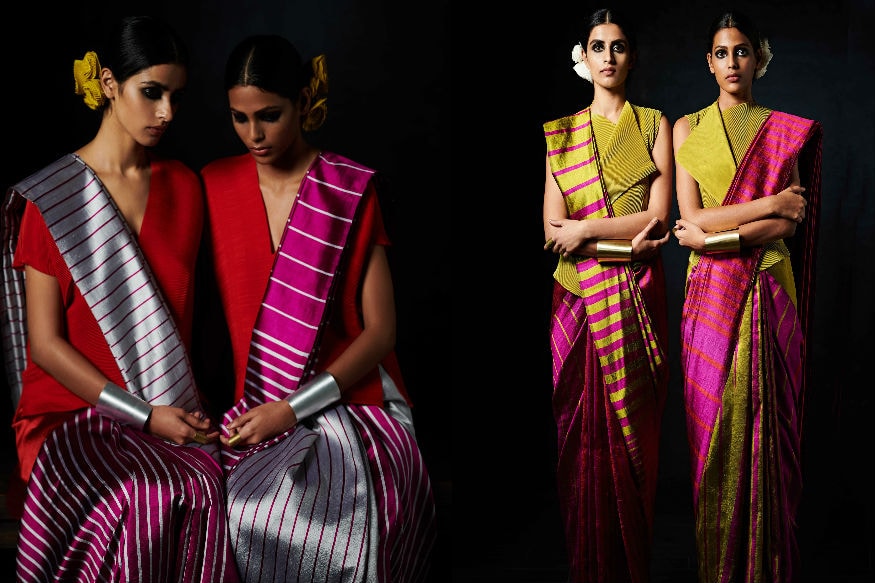 (Photo: Payal Khandwala team)
From 'the little saree' to 'reversible sarees', designer Payal Khandwala has come a long way in the fashion industry, carving a niche for herself and her artistic collections that are a perfect example of luxury combined with minimalism.
A designer with a deep understanding of her craft, Payal comes across as a huge fan of sarees, which she keeps reinventing, to make them more relevant, appealing, modern yet maintaining its classic charm.
"To me, saree is an uninterrupted piece of fabric 6 metres long that can be draped as desired. It is timeless, elegant and is so inclusive. It works well with various body shapes, sizes and with the young and the old alike," said designer Payal Khandawla in an exclusive chat with News18.com.
Known for her innovative use of colours and textures, colour blocking being her signature style, Payal's latest collection 'Gemini' -- a collection of reversible sarees -- is another attempt by the designer to reinvent the traditional Indian six-yard wonder in ways so as to introduce it into the wardrobes of those who fear stacking up the beautiful garment in their wardrobes after wearing it once or twice and to maximise the utility of an outfit.
"As a Gemini and a saree lover myself, I've always wondered how to make the garment more multipurpose than it already is."
"I always wondered, what if we could wear the same saree twice, with the same drape and same blouse yet somehow make it look different both times? I wanted to extend the experience of wearing separates that can be teamed differently each time, to sarees as well, so that it can in some way become a little more creative than it already is. So I conceived it to be reversible," said Payal to News18.com.
Speaking about the concept of reversible saree and how to sport it, Payal said, "The reversible sarees are designed in a way that it can simply be flipped, so that when rotated it can be worn two ways. There are two contrasting pallus, extended in length for maximum impact. The body of the saree remains the same, whilst it works seamlessly with either end.Reimagined to be modular, we can reuse and repeat the same saree twice without it looking the same."
"We also added some more shapes that can be alternatives to the blouse. These include halters, tube tops and our latest offerings of permanent pleated blouses, tops, tanks and waistcoats, in addition to our signature wraps and tunics."
Talking about the fabrics used in designing the reversible sarees, Payal mentioned that the sarees were handwoven in natural fibres - silk and cotton.
"Our saris are handwoven in mulberry silk and cotton, in plain and twill weaves. The palette ranges from our bright summer hues of scarlet, citrine, sapphire, chartreuse, and magenta to silver, coffee and charcoal. Accessorized with our handmade pleated flowers, recycled from studio waste, to dress the hair and minimal Tachi arm cuffs in stainless steel and brass - this collection doubles the fun of styling the saree in a restrained yet luxurious but dramatic way. The spirit as always is fierce and feminine and still intrinsically India modern."
Lastly, suggesting that she is all for sustainability given that it is the need of the hour, Payal said, "As a philosophy we are sustainable because we don't follow trends and always suggest clothing that is timeless and seasonless, including our sarees. This way besides been sourced and manufactured responsibly the idea is to reuse, repeat and rewear your clothes. This shift in buying patterns will hopefully help reduce the cheap, dispensable clothing that ultimately ends up in landfills."
Get the best of News18 delivered to your inbox - subscribe to News18 Daybreak. Follow News18.com on Twitter, Instagram, Facebook, Telegram, TikTok and on YouTube, and stay in the know with what's happening in the world around you – in real time.
| Edited by: Shantanu David
Read full article