Royal Wedding: Meghan Markle May Be Just The Right Royal Bride To Usher the British Monarchy Into The 21st Century
Unlike Princess Diana, who had to abide by most of the palace rules, Meghan Markle has made it very clear from the beginning that she will not be living her life by someone else's terms, or so it seems.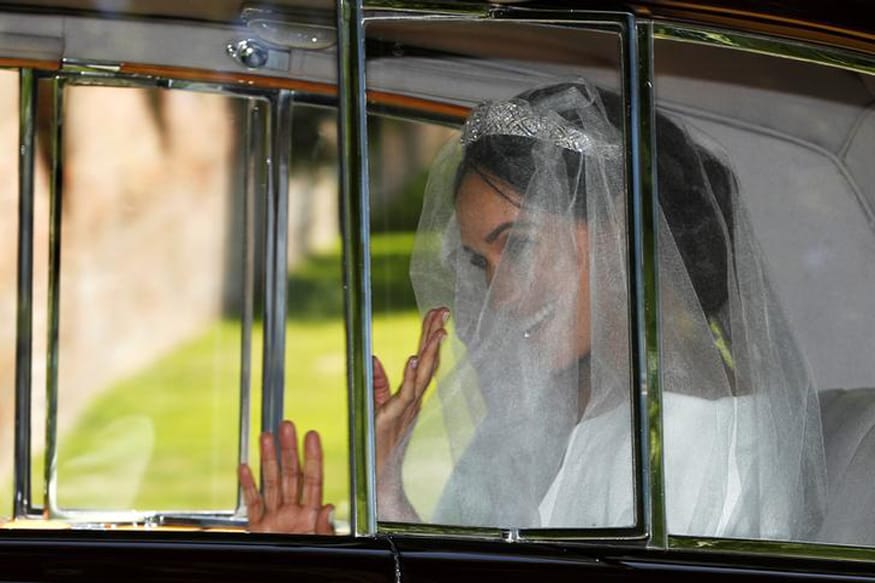 Meghan Markle departs for her wedding to Britain's Prince Harry, in Taplow, Britain, May 19, 2018. (Courtesy: Reuters Pictures)
Meghan Markle, the new Duchess of Sussex, who married Prince Harry earlier today in a beautiful ceremony at St George's chapel is officially a part of the royal family now. Markle, a well known Hollywood actress, walked up the Chapel today, unchaperoned by anyone (for the initial part) which happens to be quite a statement, because, no other British royal bride has ever done it before. However, this isn't the only unorthodox statement Markle has made so far. Ever since the announcement of her engagement on 27 November, 2017, with Prince Harry, Markle has bravely broken many preexisting royal protocols, signaling in no subtle terms, that she will not be yet another aloof, beautiful royal figure who waves at the crowds from the distance, and with an immaculate smile plastered on her face, as she politely shies away from making political statements.
No siree! That's not Meghan Markle. When Markle was 11-years-old, she started a protest campaign against a sexist television advertisement, which had a tagline saying, "Women all over America are fighting greasy pots and pans." She wrote letters to then First Lady of the United States, Hilary Clinton, to a kids news program as well as to the soap manufacturers, Procter and Gamble, whose product was being advertised by that commercial and complained about how sexist the advertisement was. Within a month, Markle not only received a letter of encouragement from Clinton, but her local news channel also covered her protest, and Procter and Gamble changed their tagline to: " People (instead of women) all over America are fighting greasy pots and pans."
Markle has changed little since then. She has, over the years, very publicly fought for equality of gender. The British monarchy is famously neutral when it comes to making political statements, but Markle has not even attempted at royal political correctness since her engagement with Prince Harry. Earlier this year, speaking eloquently about the women's movement, Markle said, "You will often hear people saying we are helping women find their voices, and I fundamentally disagree with that. Women don't need to find a voice, they have a voice, they need to feel empowered to use it and people need to be encouraged to listen." It was a refreshing departure from Kate Middleton's polite avoidance of commentary on all social and political issues. Earlier this year, at the BAFTA awards where the dress code for women attendees was black -- as a mark of support to the Times Up movement -- Kate Middleton chose to wear a bottle green dress with a black ribbon (it was neither here nor there) thus provoking a major backlash for not taking a clear stand in favour of women's movement. But, if you think of it, Middleton is hardly to be blamed.
According to Royal protocols, women from the monarchy are not only discouraged from taking a political stance, but also from wearing black during public events. In fact, these aren't the only customs for the royal women to follow. A series of do's and don'ts are often listed out as a part of the royal code of etiquette, most of which Markle has so far very gracefully and very bravely violated. According to Kensington palace rules, it is frowned upon to hug royal guards and staffs. However, Meghan who happens to be a non formal person, would hug the palace staffers often. Reportedly when someone pointed it out to her that it is not the usual thing to do, Markle apparently shrugged and said, "I'm an American. I hug."
While we have been accustomed to the poised grace of the British royal family for years, it's refreshing to see the casual charms of Markle. She not only signs autographs for little girls (yet another thing Royals don't do, lest their signatures get forged) but also draws a smiley face alongside. She hugs and greets royal fans. In this regard, she is a lot like Harry's mother, Diana, who was often called the People's Princess because she was so accessible.
However, unlike Diana, who had to abide by most of the palace rules, Markle has made it very clear from the beginning that she will not be living her life by someone else's terms, or so it seems. She wears black as and when she chooses, and her outfits are often unconventional and bold choices, a welcomed departure from Middleton's elegant yet 'too safe' style statements. She often indulges in public displays of affection. She and Harry are unlike most other royal couples in this regard, who are often too guarded and carefully poised in their public appearances. She also spoke about Harry publicly and intimately during a magazine interview right after their engagement, which another royal bride-to-be has never done.
The palace and the royal family, however, have been more than welcoming to Markle. Last year, right after the couple announced their engagement, Markle celebrated Christmas with the royal family. It was an unprecedented occurring because, before Markle, no other bride-to-be was allowed to attend Christmas with the royal family.
However, this isn't the only first that the royal family has had when it comes to Markle. To begin with, Markle is the first American bride to be fully accepted by the British royal family. Also, before this, the monarchy has never had a bride of biracial background. Markle's father is a Caucasian while her mother is an African-American. She is not only a popular actress, well-known for her tv series, Suits but had also been an entrepreneur.
Markle is also a divorcee and was previously married to TV actor and producer, Trevor Engelson. The last time a Prince of Wales married a divorcee, he had to abdicate the throne and live his life in isolation (Remember Prince Edward and Wallis Simpson). However, this time, thankfully the palace, Britain as well as the rest of the world are celebrating with great pomp and show the marriage of Prince Harry with Meghan. In a way it is a really good omen because this makes Markle a harbinger of change; someone who can gracefully pave the way for modernism in the traditional British royal household.
Get the best of News18 delivered to your inbox - subscribe to News18 Daybreak. Follow News18.com on Twitter, Instagram, Facebook, Telegram, TikTok and on YouTube, and stay in the know with what's happening in the world around you – in real time.
Read full article