GET Stock

Quotes


Powered by


The Many Beautiful Ways To Drape A Saree: This Online Project Shows You How
Featuring over 60 photos depicting saree drapes from 15 states, the online exhibition is a part of Google Arts & Culture's #WeWearCulture project which looks at documenting fashion from around the world.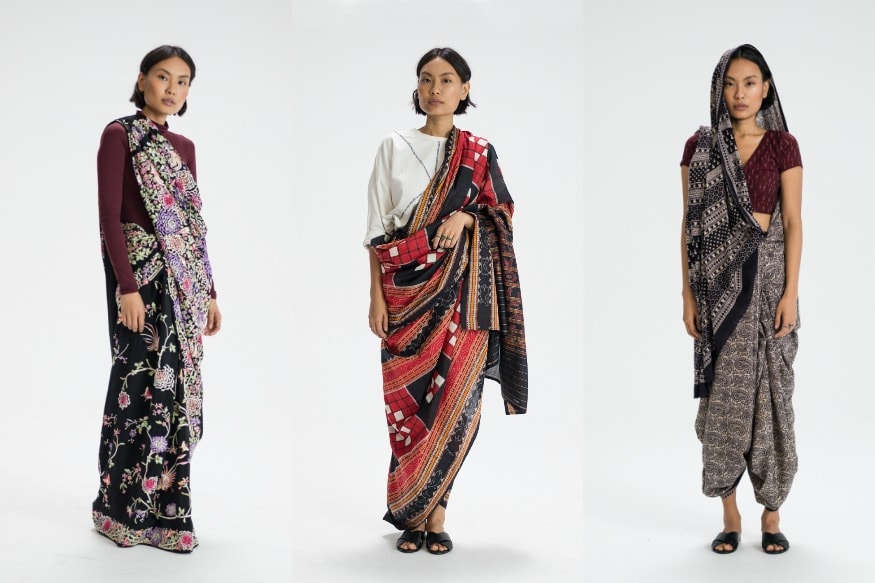 (Photo: Bon Duke)
A saree is probably one of the most beautiful and elegant garments that has happened to women and to the fashion industry. While back in the day, sporting sarees was usual, be it casually or at a special occasion, things have changed drastically over the years. Now, women don the traditional Indian drape occasionally, mainly at social events, given the complicated draping and the uneasiness and difficulty in going about the day in the six-yard wonder. And even though not many women and girls take to wearing sarees on a daily basis, there is no denying the fact that nothing makes a woman look as graceful and beautiful as does a saree.
And while a saree is considered to be one of the most versatile garments, most women wear the attire in the traditional manner, sticking to the Nivi drape which has its origins in the state of Andhra Pradesh that features the pallu draped over their left shoulder and several neatly done pleats in the front. However, there are several different ways of draping the garment which aren't very popular.
So, to popularise the uncommon, never-heard-before regional drapes and styles in which one can wear a saree, Bengaluru-based Boder & Fall - a digital platform championing India's garment, textile and craft community, is doing their bit one online photo at a time.
Therefore, in order to 'focus on the sari's importance' and its 'relevance as one of India's most tangible cultural contribution', the organisation has released a
preview of images
that showcase women donning regional Indian drapes in various differnt styles. And this online project is part of a larger project titled
The Sari Series: An Anthology of Drape
- a non-profit film series features over 80 short films that demonstrate how to wear the regional drapes which will be released in the fall of 2017.
This online preview of the yet-to-be-release film series is an effort to bring to the world hundreds of ways in which women in India don the gorgeous attire and a way to highlight the lesser-known, classic Indian textiles and weaves.
A part of Google Arts and Culture's #WeWearCulture project which looks at documenting fashion from around the world, this online exhibition which features over 60 images depicting saree drapes from 15 states.
According to a Border & Fall Press Release while elaborating on the partnership and project's relevance, founder Malika Verma Kashyap said, "We are delighted to be part of #WeWearCulture, and to offer a preview of our project months before the films are released. The platform is built to disseminate art and culture, and our project shares these very same goals. #WeWearCulture offered us an incredible and unique opportunity to partner with Google, and to share with the world."
Here are a few Indian regional drapes that the online exhibition features. Take a look.
Kuncha Saree Drape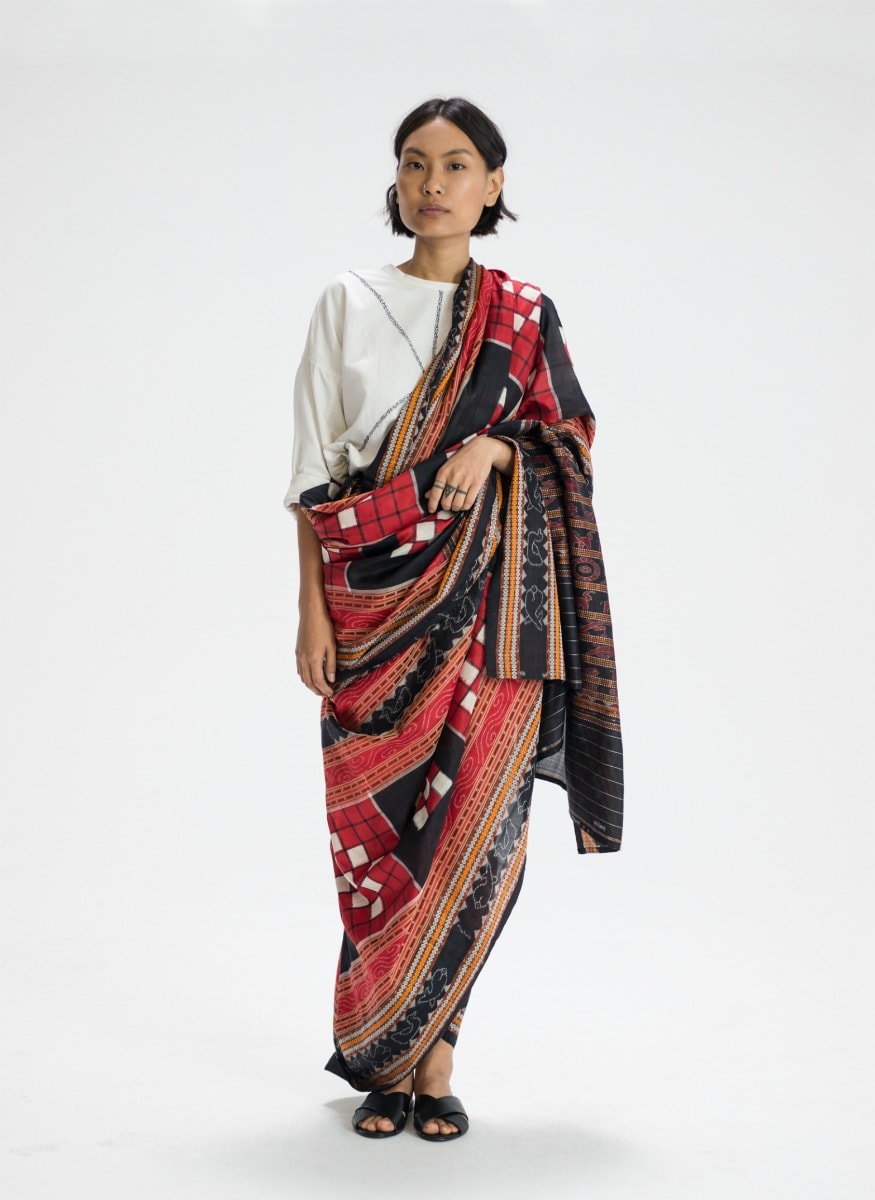 The Saktapar saree which has its origins in Odisha, is "woven with an ikat weave" and are "traditionally woven in red and black yarn-resist cotton and have a have distinct three border checkerboard pattern".
Kuchipudi Men's Drape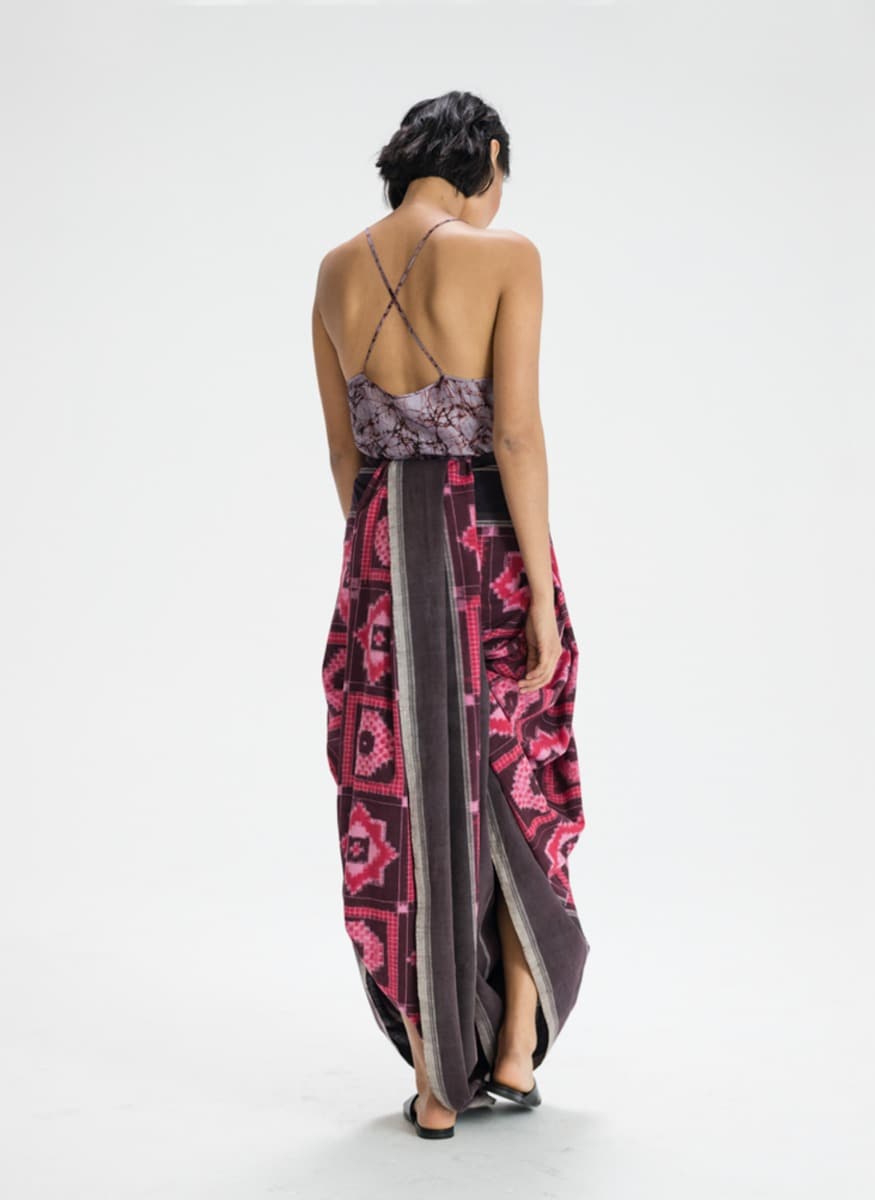 The telia rumaal saree from Andhra Pradesh was originally "designed as a neck scarf for the Middle Eastern market, but was later adapted on the loom to become a sari". As its caption reads, "This sari is woven with the complex double ikat weave (both the warp and weft threads are dyed prior to weaving), and is traditionally woven with vegetable dyed lightweight silk that has been treated in oil to retain its colour."
Coorg Saree Drape
The Mysore silk sarees "are prized for their softness, rich colors, and use of pure silk and gold zari".
Seedha Palla Saree Drape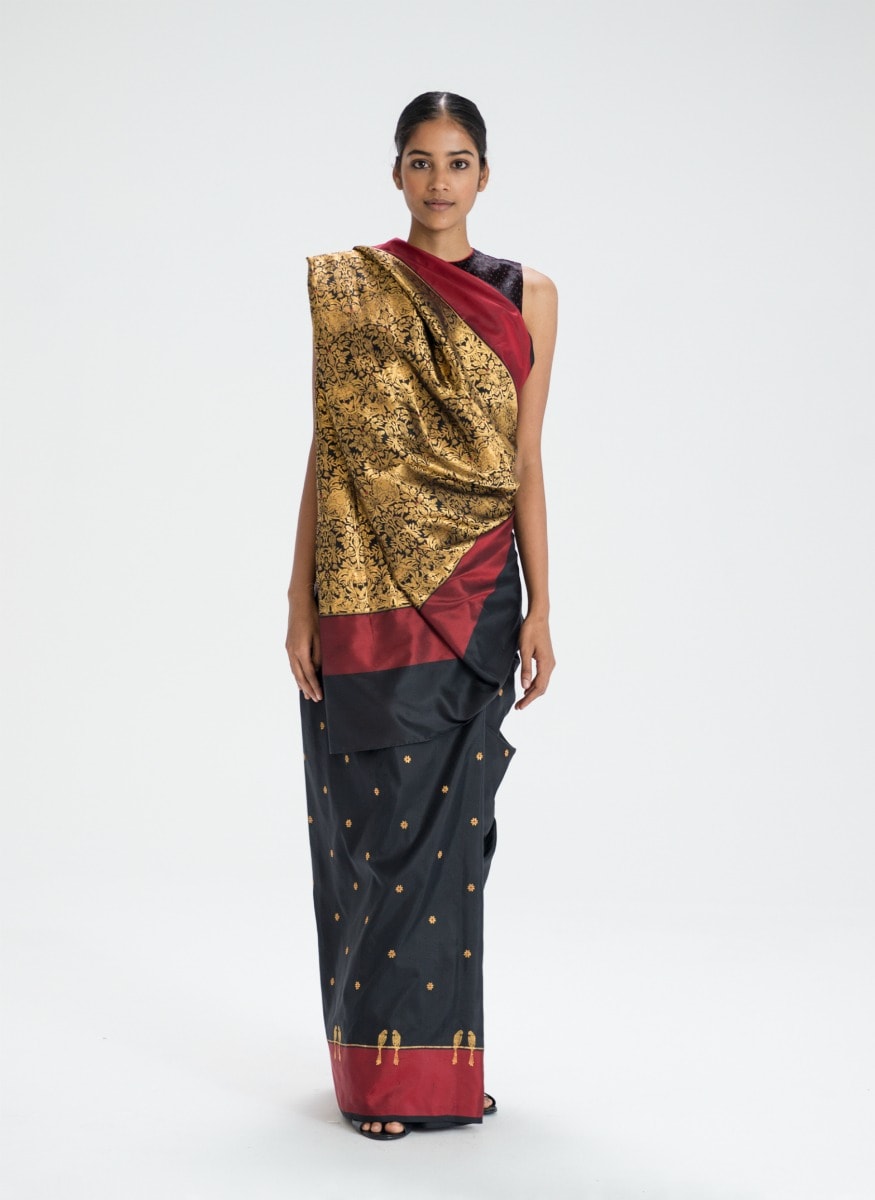 One of the most popular and loved sarees, the Banarasi saree, made in Benaras, Uttar Pradesh, is still considered by many as "an essential trousseau requirement". Although there was a brief period of unpopularity for the Benarasi saree, it has regained its lost popularity over the years after consistent efforts by saree enthusiasts and fashion designers to revive the lost love for Benarasi.
Parsi Saree Drape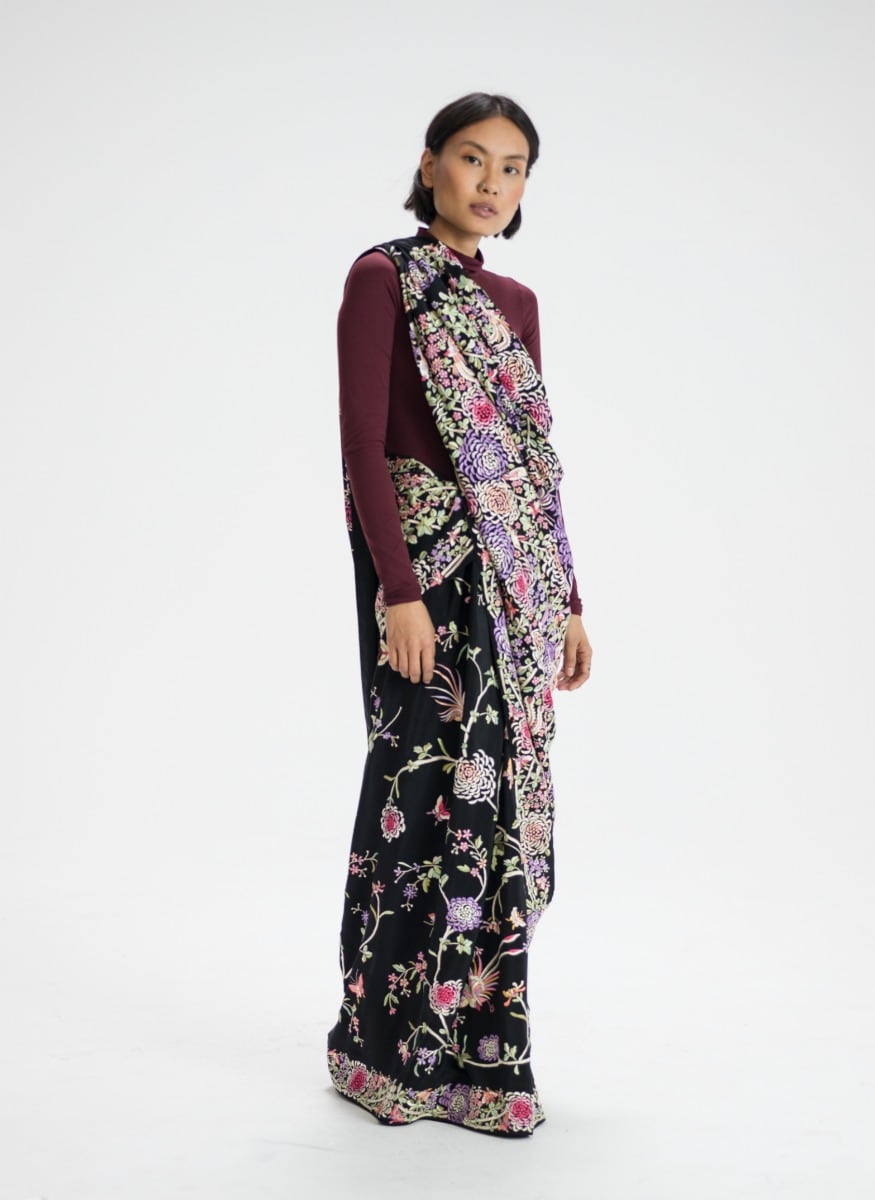 Parsi Gara Sari which has its origins in present day Iran, is "developed in many colours, often depicting symbols of nature and pictorial scenes". "The gara embroidery is an exquisite and intricate hand embroidery made by Parsis," reads its caption.
Jhabua Saree Drape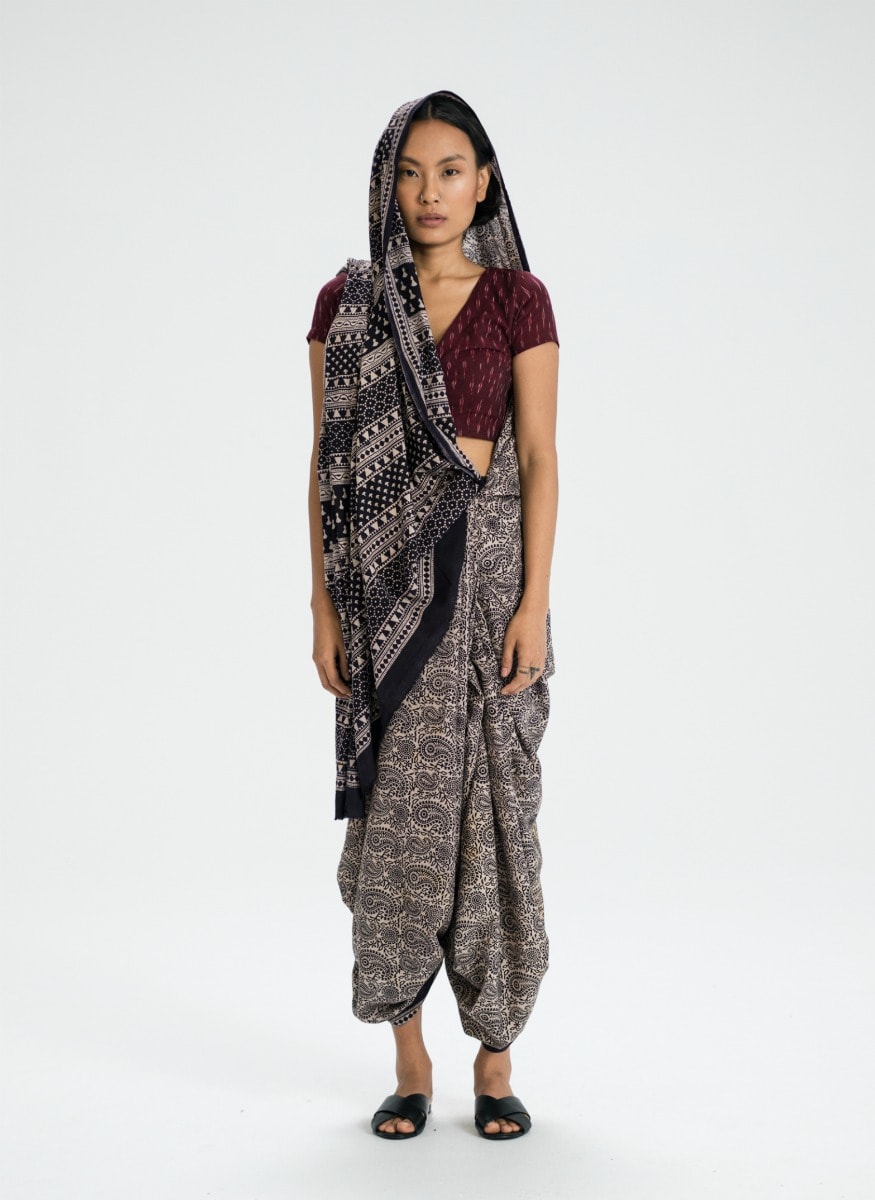 The Bagh print saree "is a traditional hand block print made with natural, vegetable dyes" which often feature "replicated geometric and floral patterns in red and black over a white background."​
(Image Courtesy: Bon Duke)
Also Watch
Read full article