GET Stock

Quotes



The Other Side Of Fashion Weeks: Business, Deals and Profits
Are fashion weeks only about pizzazz and paparazzi?
Are fashion weeks only about pizzazz and paparazzi? Are they only a platform to make it to page 3? Or are they just one of those glamorous events were one wishes to don the best outfit from their wardrobe? No, of course not.
One of the major reasons why fashion weeks attract people from all walks of life is because it is so much more than the evident shine, glitter and glamour. Perhaps, this is why even biggies from the industry and even established designers keep coming back to the hullabaloo of fashion weeks every year. It's pure business! Not just for designers who spend hours and months creating the best of couture but also for retailers who transcend all barriers of space and come to India to buy what's best in store.
These extravagant events offer new entrants, a chance to be under the strobing limelight and the established ones to further strengthen their hold in the fashion world. With the aggressive rise of social media and the emergence of plethora of ancillary industries, the scope for networking has further improved. Maximsing their profits and making a mark in textile market are two of the primary goals in any designer's mind.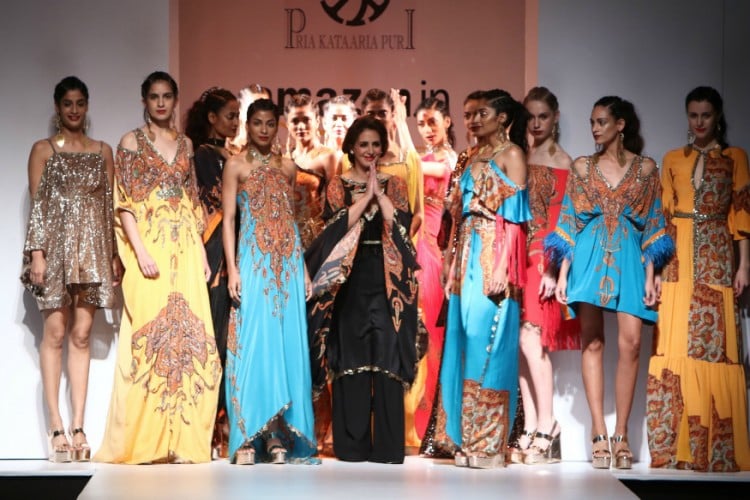 While most of the buyers are from India itself, other international buyers come from either Eastern countries or Gulf countries including Saudi Arabia, Kuwait, Jeddah, Riyadh and UAE.
"Indian textile market offers the best workmanship at the best prices", says Maya, who hails from Lebanon and owns various stores in Jeddah and Riyadh. She comes to Amazon India Fashion Week every year to make wholesale purchases from various designers including Payal Pratap, Hemant and Nandita. She believes that Indians are best at what they do and doesn't mind spending 100-300$ if she's getting exactly what she wants.
When asked about what she looks for in the creations, she promptly said, "I've been coming here since 12 years. I'm here for kaftans. I look for beautiful colours, textures, embroideries and a blend of ethnic workmanship with modern shapes. We usually pay 100-300$, wholesale prices".
These few days of bling aren't just profitable for buyers but also for designers, who now have a niche market for themselves. Samant Chauhan, a well-established couturier, is elated with the buyers' response as he's "totally packed for next six months". He also mentions that the response is something you can't really predict. "Each time we make pieces that we think nobody is going to buy, we end up booking maximum orders on that. It's a tricky business and very unpredictable too. Everyone is looking for something different and something experimental".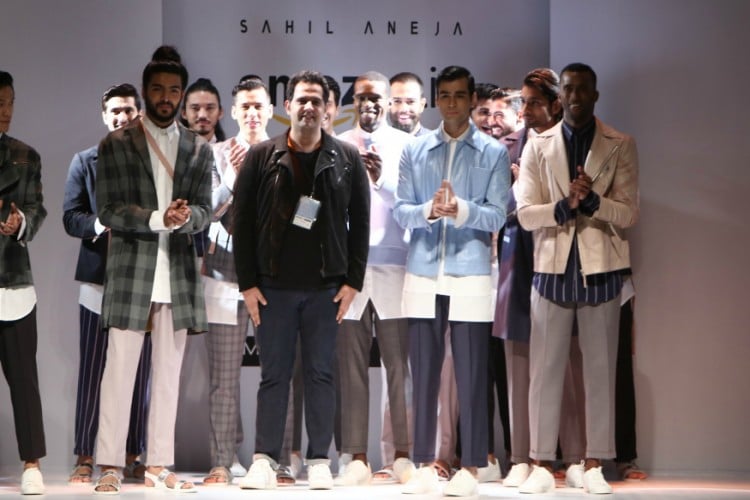 Gaurav Jai Gupta, who has a stall at FDCI's AIFW, had end-to-end appointments on day three of the 5-day event. He credits his buyers to be well aware of what they need. "They all know what they want. They're very clear about it".
"Each store has its own selling point. With me, it's a very mature clientele who know what they want", he adds.
Buyers from different parts of the world have different needs and with time the designers have come to terms with it. "What they look for is not universal. It's very buyer specific. People who're from Saudi look for something which can be easily converted to a long kaftan while those from Austalia, America or Anthropology buyers look for lighter silhouettes", says Geeta, who has been associated with designer Kavita Bhartiya for 25 years. She also says that the cost of the stall is nothing near to the profits they make.
So, next time when somebody asks you if a fashion show is only about glitz and glamour, you go ahead and say no. Because it's beyond the showbiz of A-listers, it's actually a very tricky business and one can only hope that it' ends up being a win-win situation for all.
Also Watch
| Edited by: Kriti Tulsiani
Read full article