Srinagar to Leh: The road from one heaven to another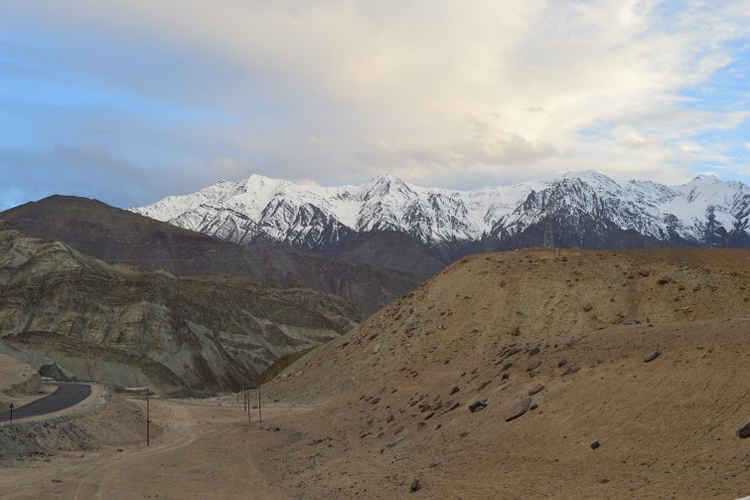 If you're a 20 something, you must definitely have had a conversation with friends, siblings and cousins about going to Leh-Ladakh on a bike. Has your plan worked out yet? If not, make sure it does, even if you are 30 or 40 years of age. Leh is not one of those places you can skip. The place is a different level of beauty altogether. It's something that you won't get to see anywhere else in the world. If Kashmir is heaven, I would personally call Leh 'heaven part-II'.
Srinagar, the first stop
Someone has rightly said that Kashmir is heaven on Earth. The green mountains make just the perfect boundary for the waters of Jhelum and the ever so calm Dal Lake. I'm amazed at how people have quickly picked up the pieces after the devastating floods of 2014 and have moved on bravely. Srinagar looks as pretty as ever.
Day 1 in Srinagar started late in the afternoon, thanks to the delay in our SpiceJet flight from Amritsar. We had hired a taxi for a couple of days with the help of a friend in Srinagar. Boarding the taxi, we went straight to Shankracharya Temple.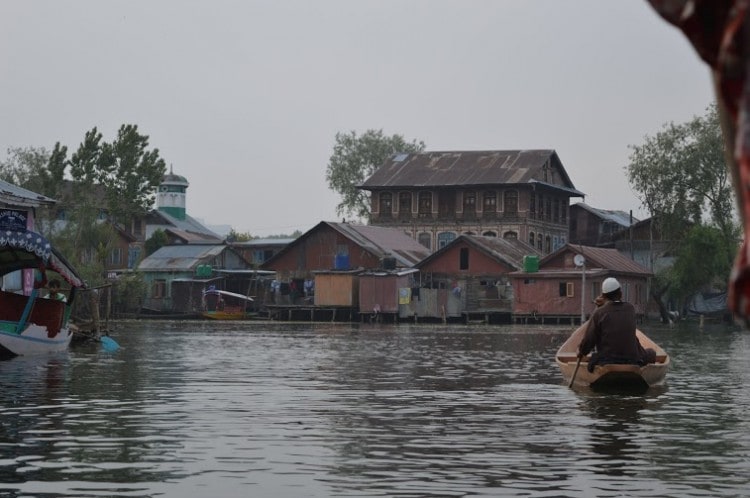 Climbing 200 stairs to the temple was not tiring, but so surreal in the cool breeze with the sounds of birds chirping and the temple bells. The view of Dal Lake from the temple top was spell binding. They do not allow you any camera or even your phone inside the temple premises and hence, no pictures. The beauty of Shankracharya is something you have to capture in your eyes. It is taken care of by the Indian Army and they indeed keep the sanctity and the security of the temple intact.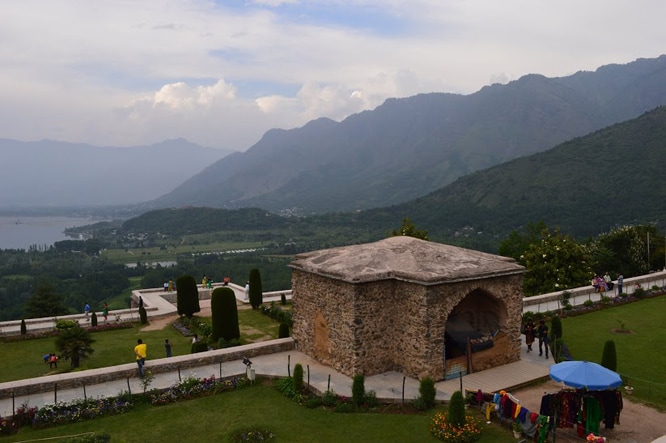 We then headed to Dal Lake where we had booked a houseboat for our 3-night stay, again through a friend. Houseboats there have names like 'New Zealand', 'Australia', 'Bombay' and even 'Qutub Minar'. If you plan to visit Srinagar, make sure you stay on a houseboat at least for a night. You can sit at the houseboat balcony all evening, do nothing and just look at the water, the small lights on the hills, hear the sound of the oars of 'shikaras' pushing the water and you won't even realise how time just flies. Go for a shikara ride and you'll see how people even have their houses, their shops on boats. You'll also be greeted by vendors selling jewellery, food, clothes on 'shikaras', and do not miss the floating post office on the lake.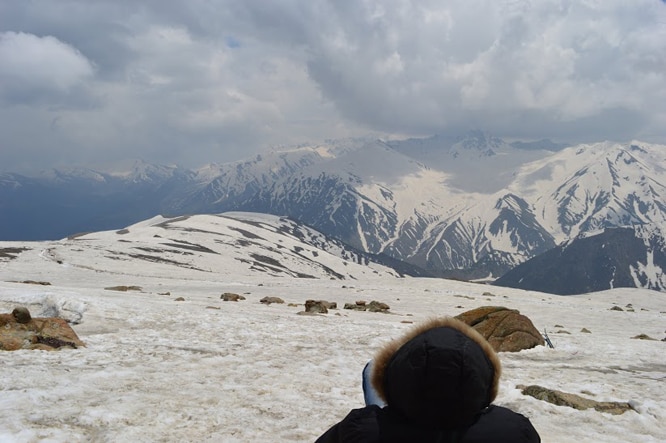 The next day, we headed to Gulmarg, which is like a dream. The cable cars (gondolas as they call it) taking you to the top of snow-covered peaks is an exciting experience. And when you land on the peak, it's like a stunning white playground with sparkling snow. Go skiing here, slip on the snow, play with snowballs and feel the chill here. Following the Gulmarg afternoon was scrumptious dinner at a friend's home. I'm lucky to have such a sweetheart friend in Kashmir.
It was at his wonderful home that we had authentic Kahwa and delicious Kashmiri delicacies. We spent the last day in Srinagar exploring the Mughal gardens, praying at Hazrat Bal and watching the whole of the valley from Pari Mahal that left me speechless. Srinagar looks like a fortress with Army men deployed every few metres, but nothing can take away from the serenity, the charm and the magic of this heaven on earth.
Take the road to Leh
My dream of a road trip to Leh began during my graduation years. Plans were spoken of, but they never really worked out. Thanks to my husband, who just made the bookings one fine day for Srinagar and Leh followed. If you are anywhere in North India, a flight to Srinagar and then a road trip to Leh would perfectly fit your budget. If you are looking at flight tickets straight to Leh and the airfare scares you, drop it right there.
The only good thing about flying to Leh is that you'll save time. But after having taken the road from Srinagar, I'd say that if you fly to Leh, you'll miss out on the beauty of Sonamarg, the adventurous rollercoaster ride of Zojila, the winds of Drass (the second coldest inhabited place in the world after Siberia), the patriotic feeling of being in Kargil, the colours of nature through the road to Leh and the extremely swanky signboards. Another advantage of taking the road is that you get acclimatised to the weather and can breathe normally by the time you reach.
Breathtaking love at first sight
It was around sunset when we entered Leh after a 12-hour journey on the road, yet none of us felt tired or even felt any sickness. What welcomed us to Leh was a blend of red, yellow and blue sky, gigantic mountains – some brown, some pink, some green. Wow! I was completely bowled over by Leh in that very moment. No photograph can actually bring out what it really feels like to see those mountains in the setting sun. Another thing that keeps you busy and entertained while you are close to Leh are the brilliantly thought signboards by Border Roads Organisation. Some of my favourites were – 'Better be Mr Late than Late Mr', 'If married, divorce speed', 'Be smooth on my curves' and 'With whisky, driving risky'.
Leh – market, monasteries and Royal Enfield
We stayed at our uncle's house in Spituk, which is a 10-minute drive from Leh. Day 1 in Leh began roaring sounds of commercial and defence aircraft landing and taking off and the sight of the larger than life mountains hiding behind a thick cloud cover. We headed to the main market where we ate the best chocolate donut ever at the German Bakery.
Even though I'm a fan of Dunkin and MOD, nothing beats the huge, filling and yummy donut you get there for just Rs 40. Only one donut was enough for the two of us. Next we headed to find out what more we could do here and that is when we spotted bikes. How can you not ride a bike in Leh? It's like the smooth roads in the middle of those huge mountains are shouting out loud – go get your bike. That's exactly what we did. We rented a Royal Enfield, grabbed a map of Leh and the ride began. Our first stop was the Thiksay monastery, approximately 20 km from Leh city. On our way, we rushed through strong winds, pinching raindrops and chilling weather. All of a sudden, we were in sub-zero temperature, which is pretty normal for the people of Leh. Adventurously carrying on with the ride, we reached Thiksay monastery.
All monasteries are situated at a slightly higher area that secludes it from the rest of the city or village. This makes each monastery look spectacularly awesome. As we climbed up the monastery, the view of the clouds, the mountains, kept getting more intimate. As we reached the temple area, we were lucky enough to witness the prayer being chanted by monks and the Lama (main priest).
A monk there explained us how the Buddhist prayer is conducted and also told us about the significance of the rotating wheels that we see at monasteries. At the monastery canteen, we ate delicious Tibetan food and some hot chocolate to feel warm. Next, we headed back to Spituk from where our uncle took us to Shanti Stupa, known as the highest point of Leh. The 360 degree view of the city from the stupa is again something you can't afford to miss. As it grew darker, the stupa looked even more lovely with the lights turned on.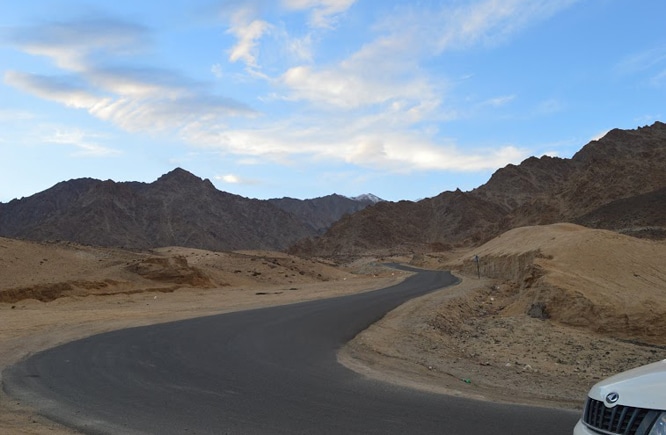 Then came the dinner at Chaska Maska, a very cool cafe in Leh market. Do try the dosa there.
On Day 2, we first rode to the Magnetic Hill. While my husband couldn't resist riding the bike up the hill, back on the road he also tried to check if the bike really moves with its ignition off as per popular belief. At first glance, I thought it was the slope that helped the bike move, but it moved even if you stopped at what looked like flat surface.
I hope I can understand the theory behind it some day. We then made our way to the Patthar Sahib Gurudwara. It is believed that a demon tried to kill Sikh Guru Nanak Dev, by throwing a rock at him, but could not. The gurudwara is maintained totally by the Army. Right opposite to the gurudwara is the Nanak Hill, which has approximately 850 stairs to climb. We looked right at the peak of the hill and couldn't stop. Very slowly, step by step, we made our way to the top, with our breath racing and Oh My God! What we see from the peak was absolute delight. That view was a treat to the eyes, it was like a gift fro having climbed hundreds of stairs. Being there was like meditating. An advice here is that if you have a breathing problem, which tends to escalate in Leh, take each step slowly and start climbing only if you are confident of doing it.
Climbing up those stairs felt like an achievement and so did reaching back down. We did it. Between Spituk and Leh lies the Hall of Fame, dedicated to our armed forces. It has the history of Leh, the various battles fought bravely by our men to protect our land and the honours bestowed upon them. We also watched a half an hour documentary on the Kargil war. That gave me goosebumps. It's unbelievable how our soldiers live and fight in the toughest conditions. Here's a salute to them. Next, we went to Tesemo monastery and Leh Palace.
Towards the evening, we returned the rented Enfield and searched for a travel agent to get us to Pangong Lake at a pocket-friendly price. Travelling can cost you a lot if you are less than four persons. We weren't getting company on such a short notice. At the last travel agent's shop, we bumped into a couple from Poland, looking for company to go to Nubra Valley. While I was hell bent on going to Pangong, everyone else insisted that we go to Nubra and so did my husband, since he wanted to see Khardungla (the highest motorable road in the world). Therefore, I gave in.
The road to Nubra Valley and some snow fall
The journey from Leh to Nubra Valley includes first climbing up the hill and then driving down. It's amazing how these hills keep getting better qand beautiful as you take different roads.
This time on the Khardung road, we moved from giant brown mountains to huge white ones with fresh snow shining like diamonds. As we were close to Khardungla, we were greeted by snowfall (in June). It's unbelievable how the Indian Army keeps working on maintaining these roads in such difficult conditions round the year. I remember Maria (from Poland) say, "I really admire the people who have made these roads and are taking care of them."
At Khardungla, at 18,380 feet, it was freezing cold. But we stepped out and saw how proud it felt that the highest motorable road in the world is in India. Moving ahead, we passed the clean green waters of the Shyok River that runs through Nubra Valley. Next was the Deskit Monastery. You must not miss this one. While you drive up the monastery, what meets your eye is a larger than life statue of Buddha right in the middle of the mountains. That sight is like poetry!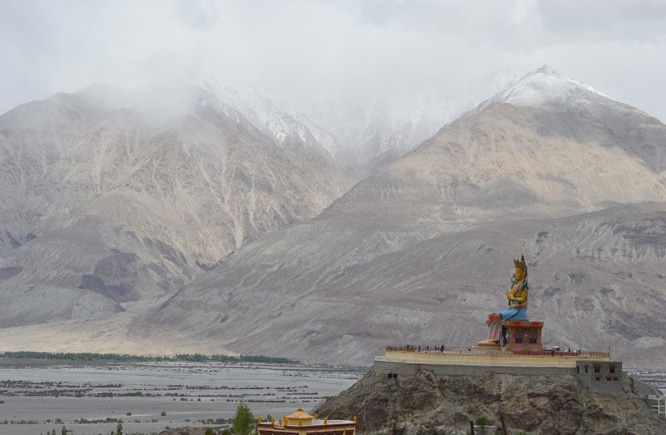 And then, entering Hunder in Nubra Valley felt like magic. Suddenly in the middle of the hills, we were in a desert with sand dunes and rarely found double-hump camels. We were welcomed by an impromptu sand storm which came and went within minutes. What followed was a ride on the warm, furry camels and a relaxing sunset, sitting on top of a sand dune. We spent the night in Hunder in Nubra Valley, beside a bonfire with daal chaawal and Old Monk, listening to stories of Ukraine and Poland from Michael and Maria and telling them about India.
Back from Nubra Valley, we had finger-licking good dinner at the New Wazwan restaurant in Leh market and did some shopping.
Little monks and time to bid adieu
On our last day in Leh, we visited the nearby Spituk monastery and came across more cute scenes. It was World Environment Day and we saw little monks from a school picking up garbage and cleaning the surroundings, holding placards. We decided to join them and even got ice candies with the children as refreshments. From the top of the monastery where there is also a temple of Hindu Goddess Kaali, we finally saw an aircraft take off and clicked pictures with the kids.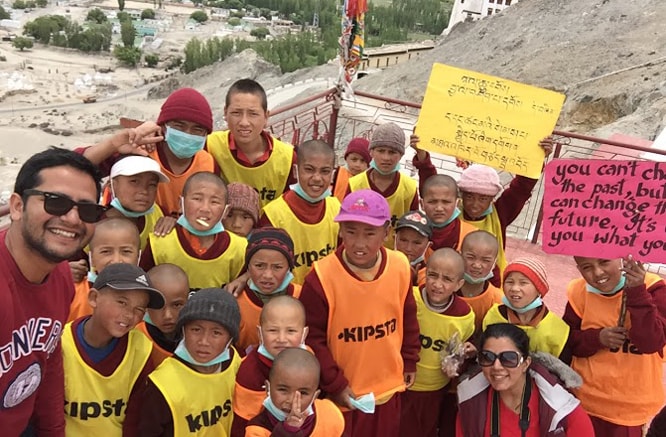 As evening came close, it was time to head back home. When you're in Leh, five days are not enough. Go for at least ten days since it's a place both for unwinding an going adventurous. I'm going back to Leh again in a couple of years for sure and I suggest you make your plans work too. Ignore those who say Leh-Ladakh is expensive. Just take a flight to Srinagar, take the road to Leh and stay in a guest house. A fully furnished room at a guest house in Leh will cost you as low as Rs 600 per night only.
Don't skip this journey. What meets the camera is just one per cent of Leh. The rest 99 per cent is all the magic you see, you feel, you experience and you breathe. If I could expand the three letters of Leh, I would say Lost Endlessly in Heaven.
Get the best of News18 delivered to your inbox - subscribe to News18 Daybreak. Follow News18.com on Twitter, Instagram, Facebook, Telegram, TikTok and on YouTube, and stay in the know with what's happening in the world around you – in real time.
Read full article