0/288 Seats ((145 Seats to Win)
Alliance
BJP+
YSRCP+
TDP+
INC+
OTH
Wins + Leads
0
0
0
0
0
+/- 2014
+0
-0
-0
+0
0/90 Seats ((145 Seats to Win)
| Alliance | BJP+ | INC+ | BJD+ | OTH |
| --- | --- | --- | --- | --- |
| Wins + Leads | 0 | 0 | 0 | 0 |
| +/- 2014 | +0 | -0 | -0 | +0 |
TIPPLING POINT | In Mexico, You 'Batanga' Your Tequila When You're Not Gulping Down Mezcal
Mexico is the home of tequila and mezcal, the spirits that derive from the agave fruit. So a visit to Mexico without tasting them is almost like enjoying Nepal minus the Himalayas.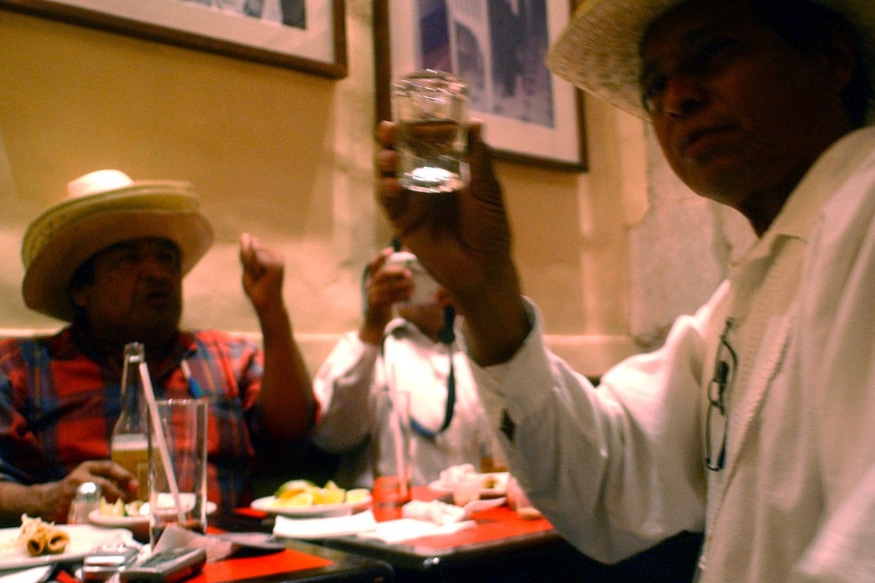 Mexican men drink mezcal in one of the specialist bars in the city of Oaxaca (Reuters)
So you are on your flight to Mexico. Well and good. What to drink from where? And how to?
Travellers to new places, especially if they like to test the local 'waters' always go online before the actual travel. Well you read there, Mexico is the home of tequila and mezcal, the spirits that derive from the agave fruit.
So a visit to Mexico without tasting them is almost like enjoying Nepal minus the Himalayas.
In Mexico you notice that bars, cafes and cantinas are the key social hubs in the capital. The traditional no-nonsense bar, the cantina with unadorned tables is the ideal place to begin the pilgrimage. If you have big money you start from Zona Rosa (the 'Pink Zone'), international party centre, in the city around which, a majority of clubs are located. For the curious and the likeminded souls, there are also gay and lesbian joints like the Amberes. Be informed, these happening places get full to their hilt with customers from Thursday through Saturday evenings.
So now what to drink?
If you want to begin from the roots, take a long walk along the beach to a pulqueria which serves pulque, a pre-Hispanic, fermented alcoholic beverage. Or try the agave-based liquor, mezcal. Or go for its suave cousin, the ultimate, the one which the place is known for - tequila.
But how do you choose your poison? You can always ask your bartender for suggestions. Or read the fine print on the bottle. One that says 100% Agave is perfect. And believe it or not, contrary to popular belief Mexicans do not spoil good quality tequila with the much-touted the lime-and-salt accompaniment (Still if you want to cut its fire you can always keep them handy), even though cocktails are kosher for them.
So in your Mexican trip if you have time to squeeze in only a single bar where should you head to?
Head to the Mexican town of Tequila, a western Mexican town, where the fiery spirit with the same name was born centuries ago. Your eyes may miss a small, nondescript cantina named La Capilla, the oldest bar in town. Enter. Let your eyes be not deceived by the basic atmosphere, but you are standing inside a bar which figures in the bucket list of 50 unexceptional drinking joints in the world. The recipes handed down from its original owner Don Javier Delgado Corona to his bartender grandson have relished thousands of travellers from the world over. But what makes La Capilla this famous?
Batanga!
Batanga is a simple rejuvenating mix of tequila, coke and fresh lime poured into a tall glass with its rim dusted with salt. It is so effortless that you think you can easily build it at home. Why should one bother to fly over continents to reach this garden variety bar tucked in a corner of Mexico to sip this! You wonder aloud. The 90-year old Don Javier, still behind the bar doesn't remember the exact date he created this wonder drink decades ago. The drink was instant hit. He smiles and shows his knife. The old man believes, the magic behind Batanga's unique character that millions of people over the world tried emulate in vain, lies not in any secret ingredient. He thinks it could be this long knife that he uses in his cantina to chop up the lime and stir the cocktail. Who knows!
Here's his recipe for making Batanga:
50ml Tres Agaves Blanco Tequila
2 squeezes of lime
Top with Coca Cola
Rim with Salt.
So raise your glass. Say 'salud!' (health).
(Manu Remakant is a freelance writer who also runs a video blog - A Cup of Kavitha - introducing world poetry to Malayalees. Views expressed here are personal)
Get the best of News18 delivered to your inbox - subscribe to News18 Daybreak. Follow News18.com on Twitter, Instagram, Facebook, Telegram, TikTok and on YouTube, and stay in the know with what's happening in the world around you – in real time.
Read full article