GET Stock

Quotes


A Look at The Top Trending Destinations For Canadians in 2018
Interest in Cartagena as a tourist destination has risen dramatically among Canadian globetrotters.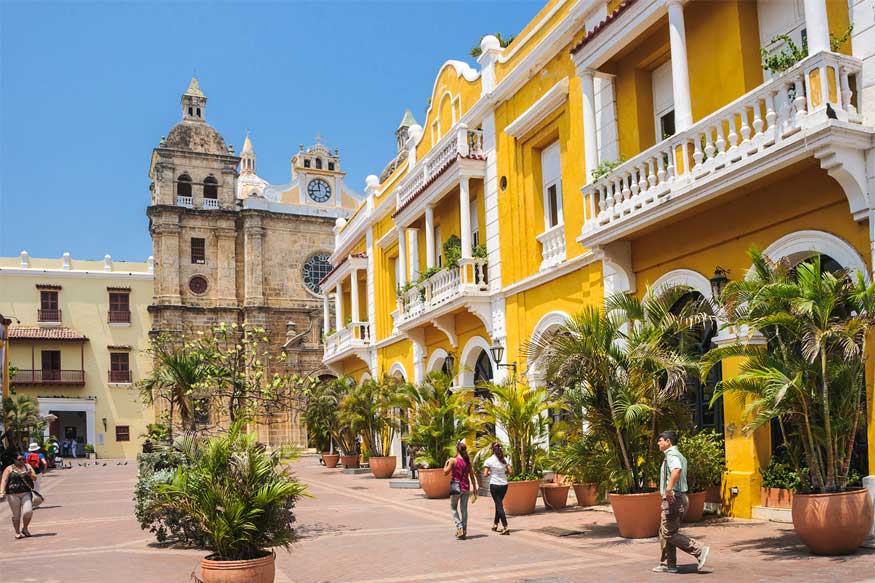 Cartagena, Colombia (Photo courtesy: AFP Relaxnews/ KenWiedemann/ IStock.com)
Colombia's Cartagena has emerged the top trending destination of 2018 for Canadians, in a new forecast that predicts which destinations Canadians will be heading to in the new year.
According to Kayak's 2018 Travel Forecast, interest in Cartagena as a tourist destination has risen dramatically among Canadian globetrotters, with a 58 percent spike in travel searches for the stylish city compared to the previous year.
For the report, analysts looked at searches conducted on Kayak's Canadian portal between June 1 to Dec. 1, 2017, for travel from Canada between Jan. 1 - June 1, 2018.
Analysts credit increased flight routes, record low crime rates and a booming economy to the rising interest.
Cartagena is also touted as a romantic, Caribbean getaway, thanks to its old city center, cobblestone streets, and sun-soaked beaches.
Rounding out the top five spots on the trending destinations list are Casablanca, Morocco, Phuket, Thailand, Osaka, Japan and Bali, Indonesia -- all far-fetched destinations for Canadian travelers.
"Flying within Canada can cost travelers a small fortune. Perhaps because of this, we see less Canadians travel domestically, looking instead to destinations where they can maximize their time off while getting the best bang for their buck," explained David Solomito, VP NA brand marketing, Kayak in a statement.
Another standout destination for Canadians is the Maldives: Along with landing sixth on the top trending destinations list for 2018, the tropical island is also the top travel deal of 2018, with flight prices down 31 percent from the year before.
- Travel hacks 2018 -
Kayak's travel forecast also comes with a few tips and tricks on how to maximize the travel year ahead.
For instance, for domestic flights, experts recommend flying in April when the median airfare is at its lowest. Flying in April to a destination within Canada could save travelers more than $150 compared to taking the same flight in December.
When it comes to international flights, the most expensive month to fly is July, when the kids are out of school and the weather is at its warmest in the Northern Hemisphere. Budget flyers are better off reserving their international trip in February, when median flights can drop under $670, says Kayak.
Meanwhile, budget-conscious flyers may also want to consider domestic destinations like Saskatoon, Edmonton and Kelowna, which are posting price drops of 30 percent compared to last year, and US cities like Boston, Dallas, Palm Springs, Chicago, Denver and Tampa, which are also seeing prices drops of at least nine percent.
Here are the top 10 trending destinations among Canadian travelers:
1. Cartagena, Colombia - Searches up 58%
2. Casablanca, Morocco - Searches up 51%
3. Phuket, Thailand - Searches up 50%
4. Osaka, Japan - Searches up 49%
5; Bali, Indonesia - Searches up 46%
6. Male, Maldives - Searches up 44%
7. Jacksonville, Florida - Searches up 38%
8. Faro, Portugal - Searches up 38%
9. Oranjestad, Aruba - Searches up 37%
10. Kahului, Hawaii - Searches up 36%
Top 10 Deal Destinations among Canadian Travelers (destinations that have decreased in flight price year over year)
1. Male, Maldives - Flight prices down 31%
2. Boston, Massachusetts - flight prices down 19%
3. Dallas, Texas - Prices down 16%
4. Palm Springs, California - Prices down 15%
5. Chicago, Illinois - Prices down 12%
6. Denver, Colorado - Prices down 11%
7. Jacksonville, Florida - Prices down 11%
8. Belize City, Belize - Prices down 11%
9. Copenhagen, Denmark - Prices down 10%
10. Tampa, Florida - Prices down 9%
Top 10 Most Popular Destinations among Canadians (the most searched for destinations on Kayak)
1. Orlando, Florida
2. Fort Lauderdale, Florida
3. Cancun, Mexico
4. Honolulu, Hawaii
5. San Jose, Costa Rica
6. Las Vegas, Nevada
7. Puerto Vallarta, Mexico
8. Miami, Florida
9. Los Angeles, California
10. Kahului, Hawaii
Also Watch
Read full article