Destinations That Differently-Abled Travellers Can Explore
Don't let the wheelchair stop you from satisfying your wanderlust.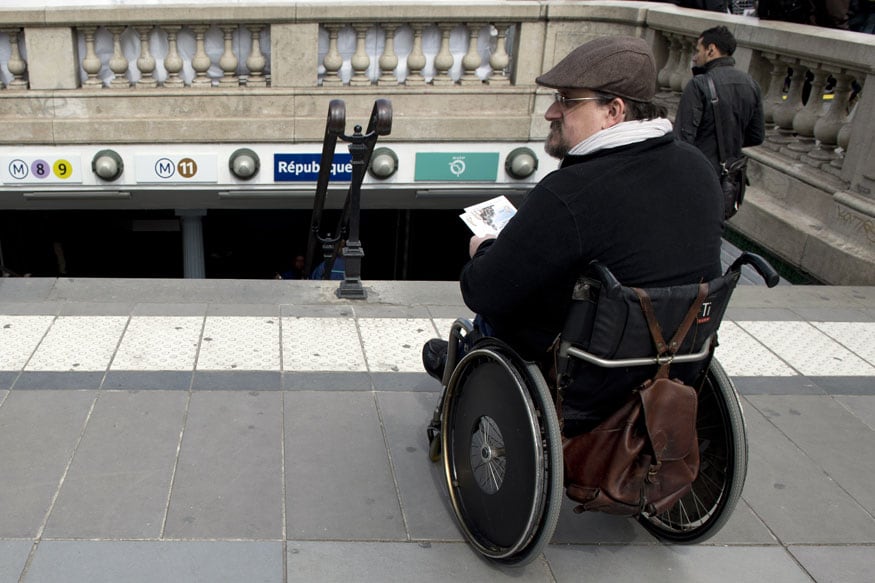 Image for representational purpose only (Photo courtesy: AFP PHOTO/ALAIN JOCARD)
Don't let the wheelchair stop you from satisfying your wanderlust. Fulfil your dreams, as your thoughts take little steps out of your inhibiting mindset because here are some places where differently-abled people will love to explore their abilities and will have a cherish-able experience.
For children
Morgan's Wonderland (Texas):
Gordon Hatman, a philanthropist, made this theme park for his daughter when he noticed that she was differently abled. This was the first one to be developed only for people with a disability. This carefully planned park provides wheelchair-accessibility to almost everything.
Trade Winds Island Resorts (Florida):
Being one of the first hotels to have been given the designation of "Autism Friendly" by the Center for Autism and Related Disabilities (CARD) it has many facilities and provisions for the autistic kids and the staff/employees are trained in a peculiar manner to communicate better with autistic kids.
Dollywood (Tennessee):
This calm theme park with many rides, provides access for people with varying levels of disabilities.
Autism on the Seas:
Initiative by this national-nonprofit offers babysitting to kids with autism, downs-syndrome and cerebral palsy. Their partners include cruise-lines, like the Royal Caribbean and the Carnival cruise-lines.
Atlantis (Bahamas):
Atlantis provides amazing facilities like double water tubes (so that the parent and the child both can ride together), little sites to enable children take sensory break and some wonderful kids' program.
YMCA of the Rockies (Colorado):
Did you ever imagine that your disabled child could ride on daunting terrains and perform sports like horseback riding, hiking, archery, and ropes-courses? Well, YMCA is the place to be at, if you thought that your child couldn't play such sports because here they have modified these sports to enable differently abled children to have the experience.
Smugglers Notch:
Sumgglers Notch offers therapeutic swim lessons (Swim Whispers), Autism Mountain Camps, eight outdoor heated pools and four water slides.
For all age-groups
Beaches:
Hanauma Bay (Honolulu, HI), Kailua Beach Park (Honolulu, HI), Ludington State Park (Ludington, MI), Rehoboth Beach (Delaware), Silver Strand State Beach (Coronado, CA), Ocean Beach (San Diego), Mission Beach (San Diego), Pacific Beach (San Diego) and La Jolla Shores (San Diego) are some of the amazing beaches where differently abled people can get access to wheelchairs or beach mats or boardwalks going up to the water's edge and some added perks too.
Specialized Tours and Programmes:
The National Sports Center for the Disabled (Winter Park, CO), The National Ability Center (Park City, UT), Autreat (an annual convention that happens at different places), Israel 4, Access 2 Africa Safaris and Disabled Adventure Outfitters are some opportunities for differently abled people to experience sports/ recreation programs/ athletic camps/ sensory-friendly environment/ tour guides fluent in American sign language.
Miscelleneous:
Many museums like the Tate Modern Museum (London, England) offer wheelchairs, Touch Tours, audio-guides and a sign language multimedia guide for visitors with disabilities; historic sites like, Monticello (Charlottesville, VA) where partial access to wheelchairs if offered along with sign language tours and touch tours and other like Stonehenge (England) with a wheelchair accessible paths for visitors offering audio tours and Braille guides are also great places to have an experience of. Also, some close to nature sites like the Rocky Mountain National Park (Estes Park, CO), Congaree National Park and Frederik Meijer Gardens and Sculpture Park have some beautiful boardwalks to offer. Last but not the least Disney World, Legoland and Holiday World are some amazing theme parks that are a must-go-to.
| Edited by: Manila Venugopal
Read full article