LIFESTYLE
Emirates' New Private Suites Feature 'Zero-gravity' Seats, NASA-inspired Technology
The suites in First Class feature floor to ceiling sliding doors for extra privacy and offer up to 40 square feet of personal space.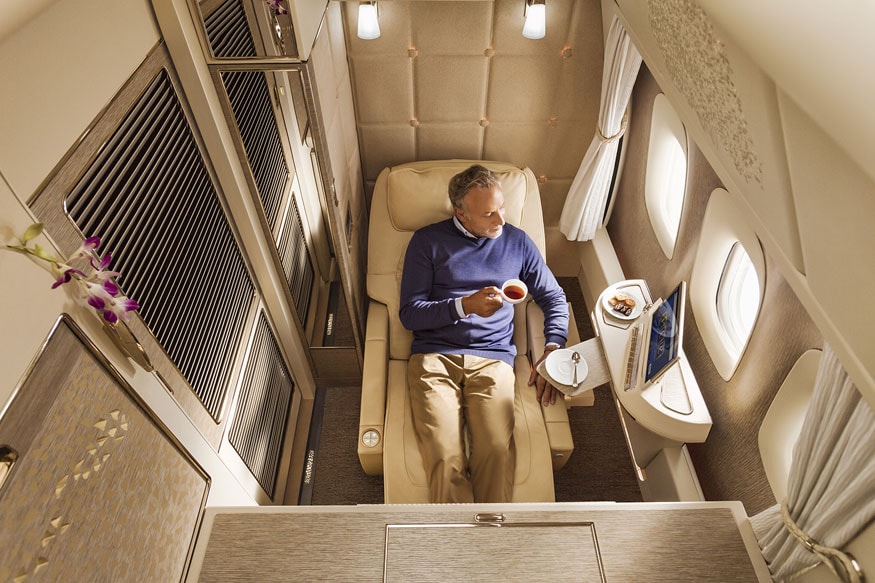 First Class suite aboard Emirates (Photo courtesy: AFP Relaxnews/ Emirates Airlines)
Emirates has pulled back the curtain on a multi-million-dollar redesign of its Boeing 777, which includes Mercedes-Benz-inspired private suites, "zero-gravity" leather seats, and the industry's first virtual windows for passengers in the middle aisle.
It's the latest salvo in the ever-competitive airline industry: Earlier this month, Singapore Airlines monopolized headlines after unveiling its newest offerings aboard its A380s -- a double-decker aircraft that boasts the title of the world's largest passenger airliner.
This week, however, the spotlight returns to the Middle East -- arguably the standard-bearer for in-flight luxury -- thanks to a slew of new features which tap into NASA technology and the esthetic of the Mercedes-Benz S-Class, the German luxury carmaker's flagship car.
To start, suites in First Class feature floor to ceiling sliding doors for extra privacy and offer up to 40 square feet (4 square meters) of personal space.
Think walk-in closet, outfitted with luxury amenities.
A color palette of soft greys, cream and champagne -- the palette of wealth -- is used for soft leather seats and interior finishes.
Seats in private cabins also recline into a flat-bed, and can be placed in a "zero gravity" position thanks to NASA-inspired technology which aims to impart a feeling of weightlessness.
For comparison, Singapore Airlines offers a full-flat double bed in its private apartment.
Virtual Windows
The upgraded Boeing 777 will also introduce what Emirates is pitching as the industry's first virtual window for suites located in the middle aisle.
The innovative technology projects the view from outside the aircraft using real-time camera technology, to create an artificial window seat and open up the space.
While Singapore Airlines enlisted French luxury brand Lalique, Emirates has partnered with Byredo and Bulgari to provide amenity kits.
Suites on both airlines also feature full-length closets.
Meanwhile, over in Business Class, details like diamond stitch patterns on leather seats, ergonomically designed headrests, and wood-panel finishes evoke the interior of luxurious sports cars.
Seats also recline into a full-flat position and feature privacy panels, shoe stowage and personal mini-bar.
Revamps to Emirates' Economy Class include a new grey and blue motif and ergonomically designed seats.
Emirates flies the Boeing 777 to 140 cities on six continents from its hub in Dubai.
| Edited by: Manila Venugopal
Read full article