195/288 Seats ((145 Seats to Win)
Alliance
BJP+
YSRCP+
TDP+
INC+
OTH
Wins + Leads
133
31
31
18
13
+/- 2014
+12
-06
-02
+01
195/90 Seats ((145 Seats to Win)
| Alliance | BJP+ | INC+ | BJD+ | OTH |
| --- | --- | --- | --- | --- |
| Wins + Leads | 133 | 31 | 18 | 13 |
| +/- 2014 | +12 | -06 | -02 | +01 |
Hong Kong Tops List of World's Best Cities For Public Transportation
Analysts looked at the overall performance of mobility systems in 100 cities around the world.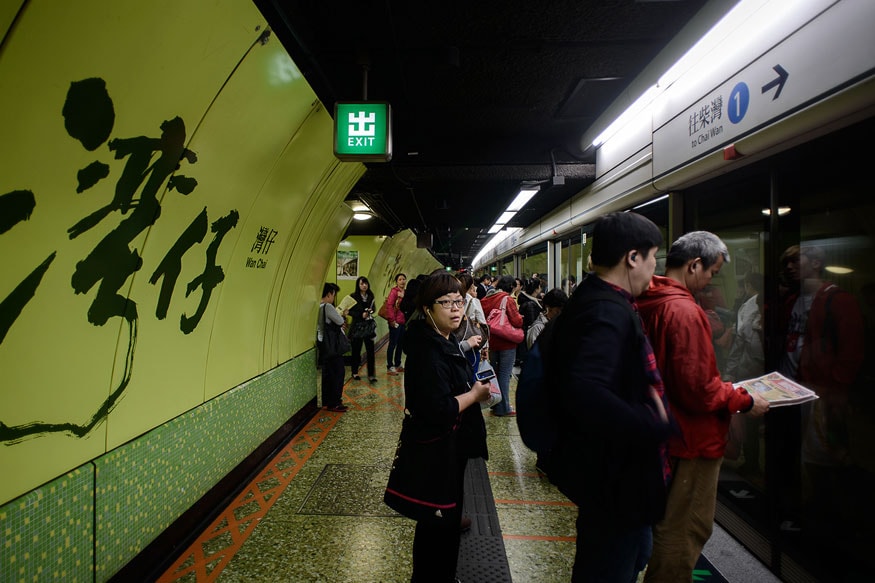 A woman uses a mobile phone as she waits for a metro train in Hong Kong. (Photo courtesy: AFP Relaxnews/ PHILIPPE LOPEZ)
Hong Kong has emerged the world leader in public transportation in a new sustainability index that ranks the best cities for urban mobility.
In the 2017 Sustainable Cities Mobility Index, published by design, engineering and consultancy group Arcadis, analysts looked at the overall performance of mobility systems in 100 cities around the world.
The results are based on 23 indicators, which were then grouped into three sub-categories: people (safety, access, ridership, upkeep), planet (environmental record, congestion, delays, biking infrastructure, air pollution) and profit (public finance, affordability, economic health).
Thanks to an innovative, well-connected, modern, efficient metro network, and high ridership rates, Hong Kong claimed the top spot on the list.
Two other Asian cities -- Seoul and Singapore -- likewise nabbed fourth and eight spots, respectively.
But by region, the results of the index reveal that Europe boasts the best public transit in the world, as European cities take up seven of the top 10 spots.
After Hong Kong, rounding out the podium are Zurich and Paris.
Researchers credit Europe's performance to an already established and well-used metro network --think London's underground -- strong biking infrastructure in cities like Amsterdam and Copenhagen, and high shares of commuters who use public transport.
European cities are also more environmentally conscious, using greener modes of transportation, the report says.
North America doesn't make an appearance until 23rd spot, thanks to New York. Overall, researchers note that while some metropolitan cities enjoy well-funded and comprehensive transport systems, many other cities across Canada and the US run on underdeveloped public transport systems, and rely excessively on private cars.
Like North America, Australian cities also sit in the middle of the overall index due to weak public transportation infrastructure.
Meanwhile, the bottom of the index is predominantly made of up cities in the Middle East and Africa such as Jeddah, Amman, Riyadh and Kuwait City, where public transit is poor and roads congested and polluted.
Here are the top 10 cities on the Sustainable Cities Mobility Index 2017:
1. Hong Kong
2. Zurich
3. Paris
4. Seoul
5. Prague
6. Vienna
7. London
8. Stockholm
9. Singapore
10. Frankfurt
Get the best of News18 delivered to your inbox - subscribe to News18 Daybreak. Follow News18.com on Twitter, Instagram, Facebook, Telegram, TikTok and on YouTube, and stay in the know with what's happening in the world around you – in real time.
| Edited by: Manila Venugopal
Read full article